London's famous department store, Gamages, at 125-129 High Holborn, closed on this day in 1972. A. W. Gamage Ltd was one of the city's leading stores, in fact Gamage himself innovated the idea of department stores well before Harry Selfridge came up with the idea and it was perhaps the best one in town!
Most of Gamages' can be seen in this 1907 view looking west.
The famous store was begun by A. W. Gamage in 1878. It expanded rapidly and soon had a whole block on the north side of High Holborn, almost next to Chancery Lane station. It was a massive store, and even had a modern extension on the corner with Hatton Garden.
The store was also one of the early UK pioneers of the mail order catalogue. In the first years of the 1900s the heftiest of its mail order catalogues was somewhere in the order of 900 pages! This achievement is rarely acknowledged as Gamages is clearly not listed in the roll call of such pioneering companies on Wikipedia. A book could easily be written on Gamages however I'll try and discuss the more important elements as well as divulge some new information.
Gamages' own motor cycle brand! 1905 advert.
Gamages sold almost anything, even going as far as selling zoos! Cars were not missed out either and the store had its own brand of car and motor cycle from 1904 onwards, the latter priced at just £35 to start with. Gamages was the destination for many children especially during xmas. A toys mail order catalogue was issued annually about October every year in readiness for the festive season.
Mammoth railway at Gamages. Advert from 1964.
The huge draw for most heading to Gamages' store was its many fantastic departments with everything one could possibly want. Its toy department in some ways surpassed Hamleys especially with regards to model railways and action toys. Ironically Hamleys had begun in the same road as Gamages, having set up its first shop in 1760 before relocation to 86-87 High Holborn and eventually Regent Street. Thus we can say High Holborn procured some of the best toy shops in the world!
Gamages had an annual Xmas bazaar and it was a magnet. The visits to Gamages were always very well looked to, they were no problem as it was a straight run into town for us on the 25 bus. On these visits my aunt also used to meet a friend of her's, Grace, who worked as a barrister nearby, and we would always eat at Gamages. I recall the huge crowds at the store and the fantastic model railway department, with its huge train layout was absolutely stupendous. Some of my Lone Star Treble-0-Electric trains and accessories were purchased were purchased from the store I think about 1963.
There are several matters I have found of interest regarding Gamages and these are to do with facts pertaining to the company's history. The biggest of these was the owner's real name. Was it Albert or Arthur? Many sources go for one or the other without knowing which is actually correct. The latter is used much more across the sources. Institutions such as The National Portrait Gallery claim its Albert whilst the Victoria & Albert Museum say Arthur. Who's right?
I decided to settle this matter for once and all. Upon investigation I found The Directory of Directors for 1927 says its Albert as do most documents and reputable books including law journals and court documents of the 19th and 20th century. Further, genealogical records shows an Albert (b1855) for Hertford/Herefordshire but no Arthur anywhere on or near that date so the former is clearly the right name and we have Albert Walter Gamage as the full title.
Many sources claim Gamage was the son of a Hereford farmer however others say he was born in Hereford, the son of a glazier/plumber. Is the farm link correct? I have my doubts.
Clearly the issue of Gamage's first name can be quite easily settled however the parentage is more difficult. It does seem that his father was indeed a plumber/glazier/decorator and in due course he did become a farmer. Its wrong to say Gamage was the son of a Herefordshire farmer as that wasn't the father's original occupation when Albert was born.
Albert Gamage is said to have been born in Victoria Street, Hereford, just a short distance from the famous cathedral. The actual road and houses no longer exists. The road name still lives on but its now part of the A49 dual carriageway through the historic city.
First ever Gamages (on the right) at 15 High Street, Kington, Herefordshire (Source: Google.)
By the time Albert Gamage was 21 he had set up his first ever shop, selling ladies wear. Without a doubt this was the first ever Gamages store, opening during 1876 in the town of Kington, Herefordshire. The actual building has been in some doubt. Early sources say 13 High Street however it appears from recently discovered documents the first ever Gamages store was in fact based at 15 High Street, Kington.
Its quite possible Albert Gamage may have traded from one or both of those locations hence the confusion. This first ever Gamage store continued to trade in Kington until at least 1881. There is some mismatch of dates/ages so its not easy to find out exactly, however within a year or perhaps two of establishing his first shop, Gamage had moved to London.
Albert Walter Gamage. Source: Grace's Guide
Many stories will tell you Gamage became an apprentice at a drapers in the City of London before leaving to set up his own business. This explanation is rather odd as he already owned a store – did he really need to be an apprentice? One is not quite sure what to make of this. A possible explanation is perhaps he was merely learning the trades of far bigger companies before starting his own mega business? However as that doesn't sit well considering the circumstances, I think the apprentice story must be somewhat doubtful.
Albert Gamage died on 5th April 1930. His body was 'laid in state' at the company's Holborn store.
Besides Holborn and Kington, Gamage too established a store in Dublin's famous Grafton Street. This shop lasted just a few years. Adverts placed in the Irish Times announce the store as 'One of the sights of Dublin.' Although there is no exact date, Gamage's Dublin store had closed by the end of January 1905.
Other stores in London were established at Oxford Street and Romford. Only the latter had any success. The first Oxford Street store was at Marble Arch. Its best known to most these days as Primark. The name of the building itself when first opened was Hereford House (nowadays its known as New Hereford House.)
Hereford House was designed in an art deco style by the architects C.S. and E. M Joseph with the famous Edwin Lutyens. A substantial amount of the building's external design happens to be Luytens' work, especially the classical styles with columns seen on the upper levels. It is said without these embellishments designed by Luytens, the building would have looked rather bland.
Messrs Josephs are not a well known architects despite having been responsible for dozens of buildings throughout London, especially early council estates built between the 1890s and the 1930s. Their most famous work however is the Shell Mex House overlooking the Thames Embankment, built at the same time as Gamages' Marble Arch store. Similarities can be seen between the two although the Gamages building is more classical in appearance.
The present Primark store at Marble Arch, which was built for Gamages in the 1930s.
The Marble Arch store was a great connotation in terms of Gamages as it appeared to hark back to the place where Gamage himself was born. However its not actually that. On the site at one time stood Hereford House and its gardens, a stupendous example of the several large town houses that once stood along the east side of Park Lane. Hereford House was demolished in the early 20th Century.
Gamages' venture in Oxford Street at the Marble Arch was to establish this massive building and generate new sources of business. It clearly cost the company a lot of money. It turned out to be a very expensive failure. The building cost over a million pounds and included 75 flats. It opened in August 1930 and left Gamages with considerable debts.
Apparently the upper levels in the centre of Hereford House were open to the sky and there was a garden and golf course. Both Selfridges and Derry and Toms were obviously not the only ones latching onto this new craze of building roof top gardens! (I am not sure if any gardens still exist although aerial maps do show there are still openings within the said premises.) Besides the latest in modern lighting, the new Gamages store was one of the first in the UK to have air conditioning.
The company wasn't the first London store to use escalators however it was an early advocate.
The problem with Gamages being in Oxford Street was it was just far too popular. Hence the new store's downfall. By January 1931 a number of legal actions were being taken against A. W. Gamage. One particularly objected to the huge crowds being drawn to the store. The first day it opened its said a hundred thousand visitors came to Gamages!
This continued practically on a daily basis and other businesses were soon complaining because the store's crowds invariably obstructed their doorways and drove their customers away, resulting in trade being halved. Even though Gamages placed sentries along the pavement to ensure its customers stayed clear of other businesses the matter ultimately came to a head in court.
The judge in charge of the proceedings criticised Gamages and said it couldn't be allowed to do 'this sort of thing in a London street.' The case was quite complex however Gamages lost. Injunctions were served against the company. On top of that creditors wanting their money too were circling the company and writs were served against the store. Gamages had to move out.
I am not sure when this was achieved however it seems it had vacated the premises by March 1931 as there is mention the store had just seven months of trading. The operating subsidiary which was established to manage the Marble Arch store, Gamages (West End) Ltd, was put into receivership and the store itself was sold off by auction for just a third of the cost originally expended building it.
The loss of the flagship Marble Arch store must have been a cause for the company to desire an even larger store at Holborn. It was quite large already yet further acquisitions soon meant it had acquired practically the entire block between Leather Lane and Hatton Garden. Every single bit of it was put into use as part of the department store.
Gamages' site after demolition. Source: Pinterest.
As if that wasn't enough a modern block was added onto the store's eastern end overlooking Hatton Garden. In many ways it still just wasn't big enough! Gamages had a very substantial presence and continued to draw massive crowds of people on a scale few other London stores have experienced.
The Gamages site today. The road layout's changed and the statue has moved.
These before and after pictures of the former Gamages site in High Holborn dont really do justice. The road layout itself has been considerably remodelled and the statue formerly in the middle of the junction has been relocated to the west. In both views the Prudential building next door is easy to see.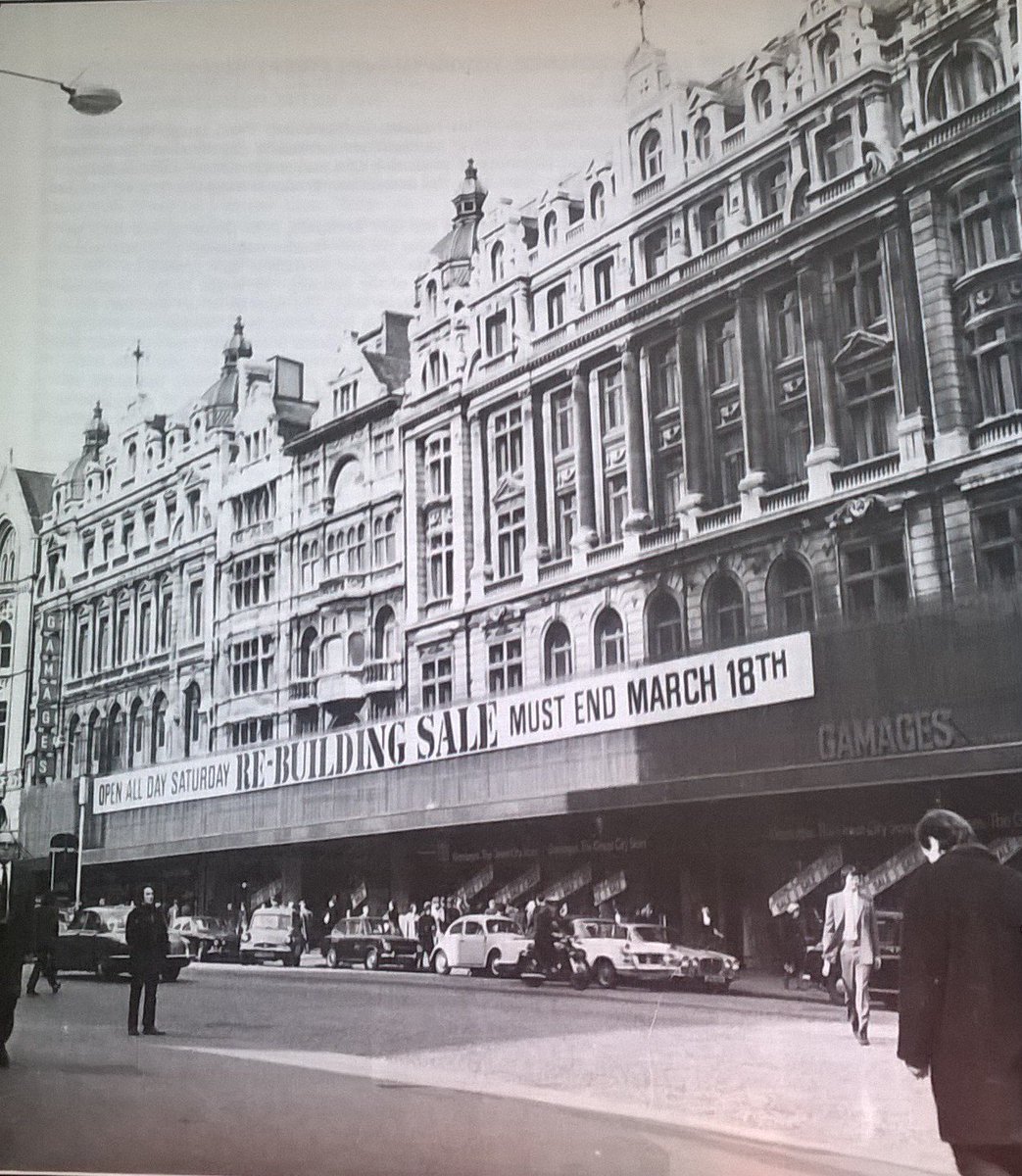 Gamages' closing sale March 1972. Source: Twitter
Gamages' success made it an enviable target for investors. Several attempts to buy the company out were passed over however Sterling Guarantee/Town and City Properties acquired the company in 1970 with an eventual view to redevelopment of the site. The old buildings were seen as tired and outdated. The finance for the new redevelopment would be provided by Prudential, whose headquarters ironically stood next door in an equally old and outdated building – 138-142 High Holborn – and which still exists to this day!
Sterling announced on Thursday 3rd February 1972 that Gamages would have just six weeks trading left and then be closed to allow redevelopment. These six weeks were advertised as a 'rebuilding sale.' Clearly the store had every aspiration of returning here once the new development was up and running.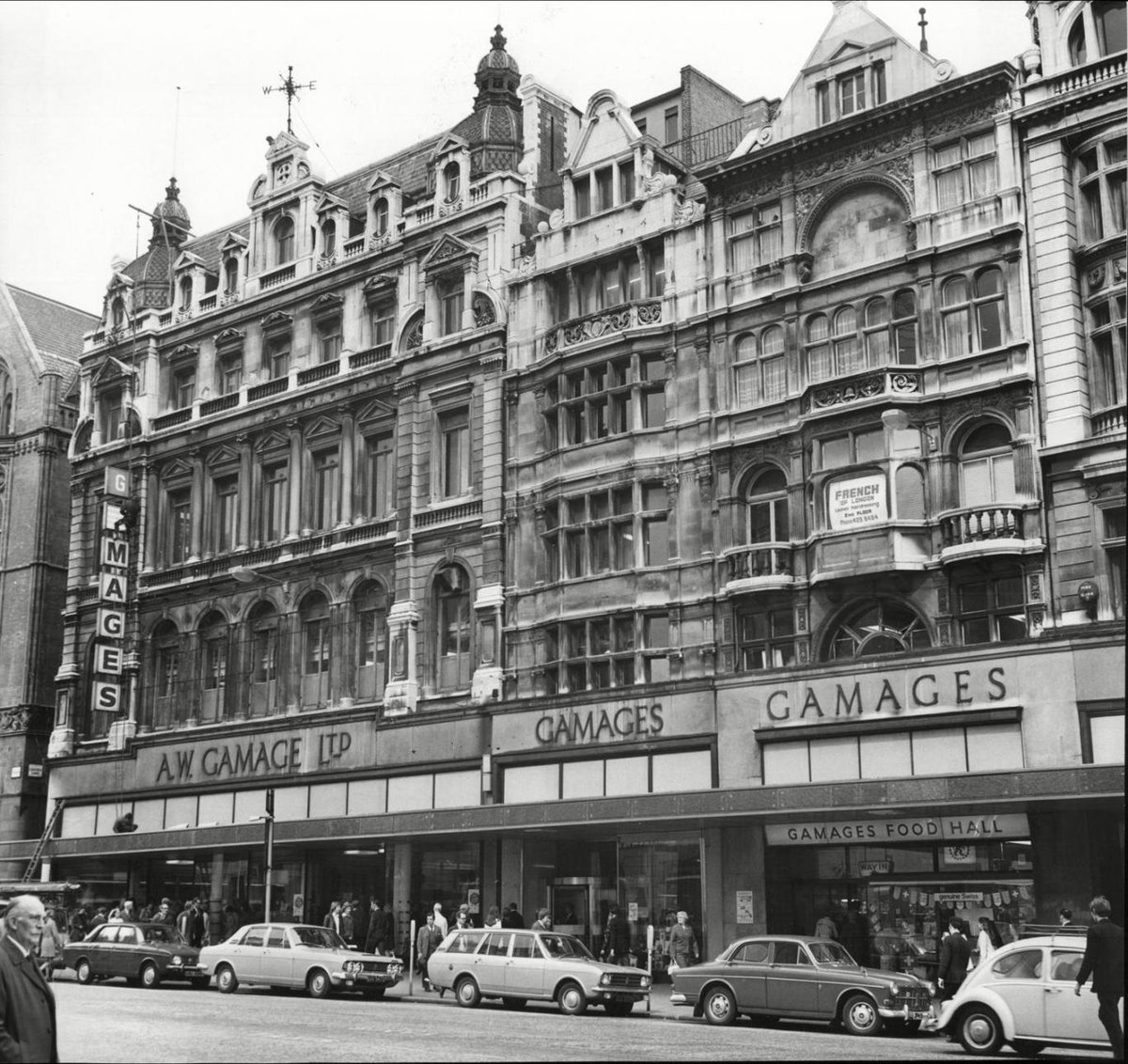 Gamages in 1970 – two years before it closed. Source: Twitter
In fact new plans for a new Gamages store were drawn up. Its not the building that went up however! The company actually devised an earlier rebuilding scheme back in the 1950s, and this artist's illustration by Claude Buckle shows what Gamages may have looked like had the proposal got off the ground.
As mentioned at the beginning of this article, Gamages' final day of trading at High Holborn was on the 18th March 1972. Although a much reduced concern moved into temporary premises at Oxford Street and the mail order business was continued from premises in Hatton garden, the eventual view of moving back into a redeveloped premises at High Holborn floundered for the company folded – it seems this was towards the end of 1973. By then, Gamages was no more.
One characteristic I have observed whilst researching Gamages is that the company had very short lived successes elsewhere (with perhaps the exception of the one at Romford and that first store in Kington.) It seems to me it was probably very unlucky in its attempts to set up new venues elsewhere other than High Holborn itself. On its own home ground it did exceedingly well. In terms of this, the enforced move to smaller premises in Oxford Street and the relocation of its mail order department in a temporary location was clearly beyond the company's remit and abilities.