On or about 26th April 2021 a routine check on a GWR IET at Stoke Gifford discovered problems in the sub structure, that which supports the body and the bogies. There were cracks in the frames and some of these were up to 15cm. These are located where the trains need to be raised on jacks for servicing and inspection. Eight Class 800s were taken out of service and inspected. However the rest of the total fleet (85 out of 93 to GWR and 65 to LNER) were allowed to continue in service probably because it was thought only that specific batch of eight trains was affected. NOTE: This is a live blog its being updated whilst matters continue in terms of the 800's problems.
These problems found on a GWR IET more than a week beforehand (ten days in fact) and then on the 8th of May 2021 there was panic as entire fleets were taken out of service. Not only was it the 800s but also the Class 385s too. The problems were first discovered about the 25th of April 2021 (BBC report from 27th April 2021 and a discussion on Rail Forums begun 26th April.)
As the BBC quotes, it was just two Class 800s that had the cracks with another six suspected of having 'possible issues.' If there were problems apparent by the 26th April why was this not being dealt with quicker – maybe they thought it was a one off (eg just those initial eight of GWR's Class 800s) and then discovered a different set with perhaps bigger cracks or something to that effect around the 7th (or early on the 8th) and alarm bells were set ringing.
I wrote this post once the crisis had begun starting on Monday 10th May, and it was being done in real time as per the tweets that came up. I also made several visits to Paddington and as well as one to King's Cross to see how the situations were ensuing.
As I say on the top of my blog, my posts aren't anything of importance, thus if you prefer something more professional or even someone who's abled and at least has a certain amount of credibility well there's other blogs and sites that would serve those needs better! I don't make the claim any of the stuff I write is accurate nor do I falsify any of it. I do my best of course seeing that I have disabilities including communication and language difficulties – problems that are not even small ones.

Pictures of the cracks from The Scotsman (although its seems these are 385 specific it shows the problem at hand.)
The thread, especially this post (illustrated above) from UK Rail Forums does explain to some extent what actually happened with that initial discovery of the problem.
As the tweet below shows, early am on the 10th May 2021 GWR suffered the highest number of cancellations of any train company. GWR's own tweets were advising people not to travel today, or tomorrow, and they admitted things would be uncertain for the rest of the week.
Since GWR has its fleet almost totally suspended (in deference to LNER's whose fleet is much newer) its being said GWR is urgently seeking to source available trains from other companies as a temporary stop gap because the problem is expected to persist for at least a week or more on GWR's services out of Paddington to the West of England and South Wales.
Indeed as per the above tweet, Real Train Times around lunch time was showing a special move from Crewe to Laira The tweet below shows this service. Initially some had said it was a Class 477. Turns out it was a 37! Actually it was an empty stock movement to deliver these coaches to Laira, nothing to do with helping to rescue GWR!
By this time GWR 387s were doubling as express services to Didcot. Train times given below are by no means comprehensive or fully accurate!
Extras to Didcot were as follows: 10.32 and hourly from the main line platforms (usually platform 5.) excepting those that which would be the 17.34 and 18.34. Other services were at 00.27 past the hour from the suburban platforms. The 17.20pm was reformed to become an express service and intermediate stops were cancelled.
Later in the day GWR ended with just two IET 800s in service. Note the mention that some C2C 387s could be drafted in to help out.
At about this point people were suggesting the GWR 387s could go to Swindon on express services, but many were doubting it as total clearance hadn't really been procured for such use, for example these trains would have to proceed with a train manager beyond Didcot. Since GWR hadn't got to this stage of things many were sure it wouldn't happen. One tweet sent on the 10th May assured quite confidently it would be done:
However on 11th May GWR achieved it – 387s doubling in as 110 mph expresses to Swindon! The first tweet shows possibly the first service in such formation (12 coach 387 with train manager) heading to Paddington:
The next pictures show that one mentioned in the tweet was the third such service of the day to run.
According to Train Beacon the first of these started at 09.28am and were to run hourly through the day (excepting at 15.28pm) and the last at 21.28pm. Departures from Swindon were at 00.40 past the hour. (Later ones were at 00.37 past the hour.) According to RTT the last from Paddington for Swindon as planned would in fact be at 22.28.

Christian Wolmar penned a letter to the Times newspaper airing his views on the GWR/LNER Azuma/IET debacle. Source: Twitter
Shown below is Wolmar's own tweet on the matter. Trigger warning… its a paywall if you should want to look at the page in question! The letter itself is reproduced above for gratis!
C2C's stock en route to Reading to help GWR out with its problems. Software mods necessary of course. Southend and the Essex coast is a total different kettle of fish – more salty compared to Didcot and the River Thames. The C2C 387s definitely need acclimatising to GWR's route…. (joking of course, its a software issue naturally!) It will be interesting to see how these trains manage on 110 mph timings (unless they're drafted onto stopping services instead.) C2C's own route doesn't even permit such speeds!
Class 91s and Mk 4 carriages were drafted in urgently to help with the 800 shortage. Very fortunately there are still a few sets about even though some have now been scrapped. Some sets were kept for reintroduction in June when LNER's services would be given a boost, – however the current crisis has changed all that!
I took photographs of the fourth working of the day, the 15.33 King's Cross to Leeds. The earlier turns are depicted below, this being the 10.03 from King's Cross to Leeds. David Horne has pictures of the 15.33 working – there were LNER staff with David Horne filming its departure. Strangely at the time I was there two other trains arrived. One was a Thameslink, and the other a GNR service. Both consisted of Class 387s formed of red liveried ex Gatwick Express stock! The Thameslink train formed the 15.52 to Royston, whilst the GNR set formed the 16.12 to Ely.
The Metro newspaper on 11th May carried an article suggesting 'cracks under trains could cause weeks of disruption.'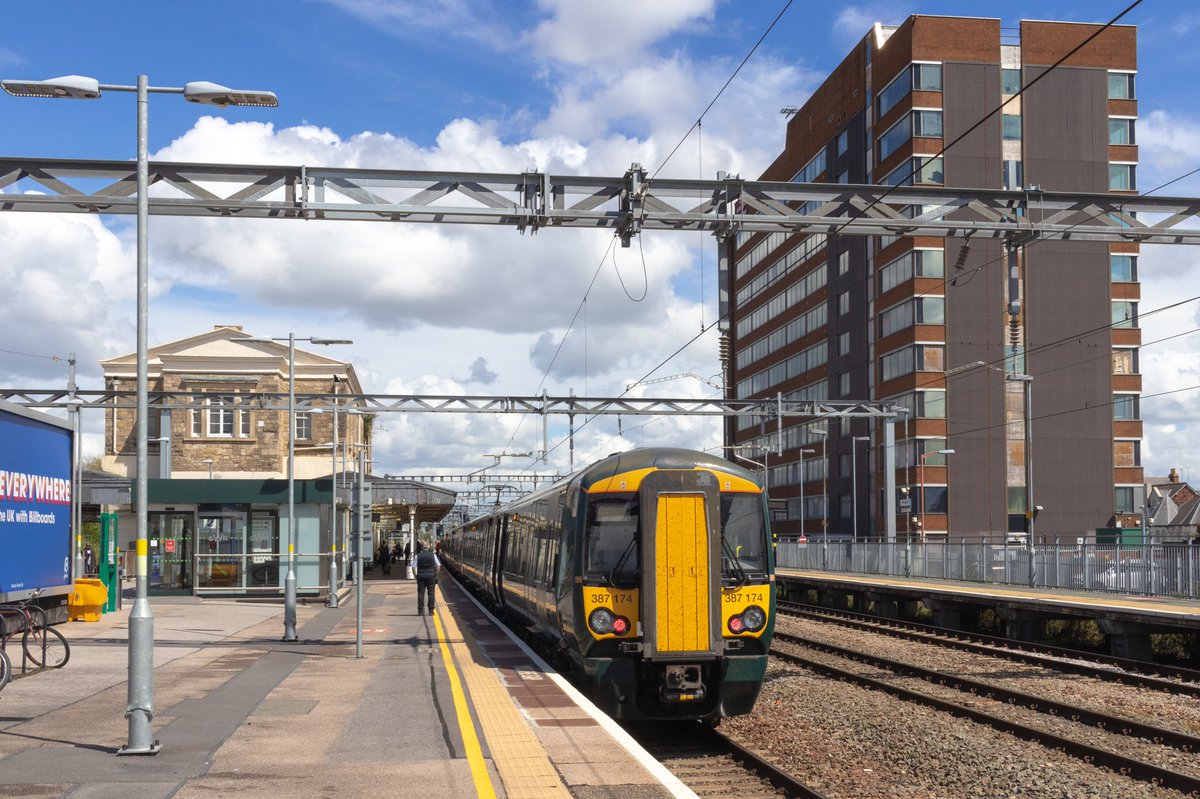 One of the express Class 387s about to leave Swindon for Paddington on 11th May 2021. Source: Twitter
Notice the numbering of the 387s in these two photographs. That's an interesting sequence – 174, 164, 154 and 144!
I took this photograph of three GWR Class 387s at Paddington on 11th May 2021. 387164 has just arrived empty in platform one. Curiously the other two were 387154 (in platform 4) and 387144 (in platform 5 as empty stock.) 387154 formed the 16.28 express service to Swindon.
In terms of how long the Class 80x crisis would last, Rail News too carried an article published 12th May 2021 with rather more detail…. here's some of it in edited form:
The return of all Hitachi-built Intercity Expresses to normal service is 'a long way off', according to notes of an internal industry briefing seen by Railnews. The document also reveals that two types of cracking have been discovered and that welding to repair the damage will be a 'highly specialist job'… The longest crack found so far is 285mm long – almost a foot – and 86 out of a total of 93 trains are affected with either yaw damper or lifting pocket cracks, or a combination of both. The metal involved is 7000 grade aluminium, and the briefing warns that this 'requires highly specialist welding to the point it will have to be overseen by The Welding Institute'.
If this is the nature of the problem and needs specialist certification to sign off – then its certainly looking like the issue will continue for weeks. One person suggests it would take a year to go through GWR's fleet!
Riveria trains, Nemesis Rail (and NYMR apparently) are preparing stock for the purpose. It'll be interesting to see what actually happens! The usual caveats of providing older stock is that its generally not accessible, however people are saying in the circumstances some trains are better than no trains.
158 cancellations the other day – and 162 today (12th May.) Despite more trains being used this higher number is possibly because of those services that were covered by these three IET's which have of today been stopped completely.
At the time of writing (10.00 am on 13th May as this post is being written live since 10th May 2021) its been said GWR currently have no IETs in service… and the highest number of cancellations again. Additionally Class 387 and Class 165 services were for a while this morning suspended between Reading and Oxford due to signalling problems.
C2C's 387s arrived at Reading today hauled by DRS 57306:
C2C's unit just after its arrival at Reading Traincare Depot. Source: Twitter
Its been said Class 387s will be going to Bristol too. Real Time Trains had details of a diagram for the 13th May involving a 387 on what is without a doubt a straight out and back trip to Bristol Parkway.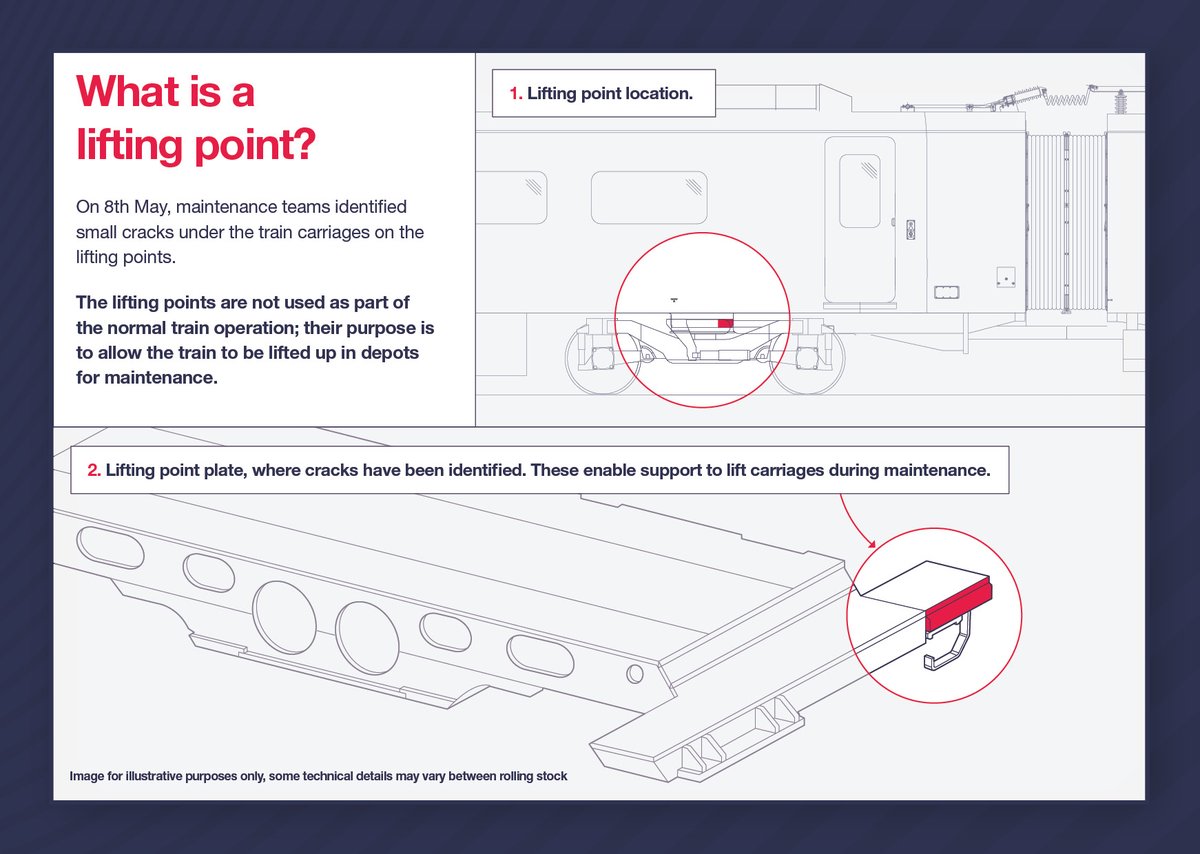 Interesting graphic from Hitachi depicting the issue with the Class 800s IEPs/Azumas. Source: Twitter
It seems at least two IET 800 units had made it back to the main line today and one was forming the 14.38pm from Paddington to Swansea:
The other formed the 13.04 to Exeter, running nearly half an hour behind time due to its leaving North Pole IET depot 36 minutes late. Was that a last minute decision made after an inspection one wonders.
Around this time the BBC were reporting that the Class 800s would be returned to service if the cracks clearly posed no problem. That refers to those cracks found on the lifting plates. A regime has been agreed between the rail companies and Hitachi as to which trains will be allowed back in service and which wont. It was being cited as these plates were 'used for maintenance and not passenger journeys, regulators have agreed they are safe to return.' Thus there should be an increase in train availability from the weekend onwards. However a good number of trains with significantly bigger cracks will still be held in the depots until they are checked and repaired.
The RET times for North Pole IET depot does show a number of Class 800s (as some will put it – Class 80x sets – to generalise the whole fleet) on active duty and either arriving or departing for Paddington to enter service.
GWR replied that it was indeed running. RET details.
Photograph I took of Paddington's train shed early evening on 13th May 2021 with 800036 in platform four forming the 18.47 to Swansea.
Judging from timetables and what could be seen on the departures at Paddington, GWR are today (13th May) apparently using their available IETs on South Wales services (as well as some Exeter St. Davids trips.) It seems a wise move because at least GWR can take passengers from London out to these destinations where alternative rail based service (these being diesel services such as 165 or 'Castles') would be able to take passengers onward to their eventual destinations.
One thing that I don't think will likely happen now (as a result of this morning's decision to permit more trains in service as long as the cracks are not problematic in terms of the trains' operational ability) will be the other stock such as C2C 387s that was brought in to help out are no longer required. Anyway should this crisis continue to any extent over the next week or anything untoward happens, I may do another update.
QUICK UPDATE FRIDAY EVENING 13TH MAY 2021
Hitachi released a full statement this morning on the issues with their Class 80x IETs/Azumas and also Class 385s.
It looks like GWR services will be back to normal from next Monday 16th May (well more or less, there'll no doubt still be some restricted or altered services.) GWR is pretty confident that 99% of its services will run.
Its said that 20 IETs were in GWR service today.
The C2C 387s are finally in services but currently restricted to Reading-Newbury diagrams. GWR have confirmed these will be in use next week too. Some observers on Rail UK Forum think its possible the three units might be split up to form mixed units and undertake other diagrams from next week.