Transnistria (or Pridnestrovie as the locals prefer it called) is a country that doesn't exist, its not recognised by any other countries in the world. I'm sure you've never heard of it as I hadn't. The Pridnestrovian Moldavian Republic isnt to be found on any list of the world's countries either! Its actually a forgotten part of the former Soviet Union – the older population had respect for the USSR and believed it was a great country too. The break up of the Soviet Socialist Republics however propelled Transnistria/Pridnestrovie into obscurity and its essentially remained in a timewarp. If one holds a Pridnestrovian passport and no other sort, it's pretty useless for no country in the world will accept that! The country in fact has a Government and a President, so why does it not exist?
Bald and Bankrupt in Pridnestrovie. The memorial commemorates those who died in the war with Moldavia 1990-1992.
But first, why is it preferably known as Pridnestrovie and not Transnistria? The latter name (also spelled Trans-Dniester after the country's main river) was forced upon the locals in WWII, and evidently the locals want to use the old name because the newer one has bad connotations. When the USSR collapsed in the 1990s the Pridnestrovian Moldavian Soviet Socialist Republic was set up as an independent country, but that fell through, especially after a war ensured with Moldavia, and the country has remained in limbo ever since, a place that's not recognised by anyone, not even the UN. Its officially a part of Moldavia and known as Transnistria, but again the locals don't recognise that element of things and they much prefer to have their own government and the rest of it. Thus its essentially an autonomous separate unity, a place without a country.
When I said a Pridnestrovian passport was useless, that doesn't preclude its citizens from ever leaving. Nearly everyone has either a Moldavian or Ukrainian passport too thus they can come and go as they wish. Also foreign tourists who wish to visit Pridnestrovie do not need a visa at all. Apparently one just needs to show their passport of country of origin, explain the reasons for their visit and where they will stay, and the border guards will issue an entry card valid for up to 45 days. EU residents need only an ID card. As we're no longer in the EU Brits need to use the border guards/entry card route. Wikitravel has plenty of tips and advice, plus a few caveats too.
In terms of tourism to the country the wisdom offered is somewhat wry. "One of the reasons why people come here is the unique political status of Pridnestrovie. They feel curious and interesting. You can even come up with a slogan: 'Have time to visit Pridnestrovie until it is recognized.' Of course, this is ironic because we want recognition!"
Pridnestrovian officials too rue the country's non-existence status, 'It makes us sad that our independence isn't officially recognised, but we feel independent. We have our own constitution, government, military, currency and even passports.'
Journey into the unknown! A Soviet era ride in the Pridnestrovian Moldavian Republic. (Clip from the Bald and Bankrupt video.)
In his video, the Bald and Bankrupt discusses the derelict funfair and how it relates to the fall of the Soviet empire: 'The abandoned ferris wheel of Transnistria probably hasn't worked since it was built or since the end of the empire in 1990-1991. I can imagine those Soviet families coming here in the past taking their kids out here in this the ferris wheel for views of the city, and I suppose they had no idea when they did that, just a couple of years later everything they knew the country that they knew would crumble, the empire, it was so unpredictable it was so unpredicted. Experts who had spent years at university and teaching about Soviet studies they had no idea – they thought that the Soviet empire would last for another hundred years, and then suddenly it crumbled like that – and these places are kind of like what they're kind of like the reminders of a past empire – like the the sphinx is a reminder of the Egyptian empire this is the reminder of the Soviet empire.'
We know a fair bit about Pridnestrovie now – but where exactly is it? Its a small lengthwise piece of land sandwiched between Moldavia and Ukraine, and essentially forms a very wide border between the two aforementioned countries.
Map of of Pridnestrovie & its location. (BTW the country doesn't have an airport!) Source: Wikitravel.
Politically, in terms of government and governmental affairs Wikipedia has this detail on the country's President: 'The President of Transnistria is the highest elected official of Transnistria, a small unrecognized country which declared independence from Moldova in 1990. The president of the republic is the country's head of state and is also commander in chief of its armed forces. Per the Constitution of Transnistria, he also represents the country abroad. The President of the Pridnestrovian Moldavian Republic, as Transnistria is officially called, is elected by the citizens of the republic on the basis of universal, equal and direct suffrage by secret ballot for a term of five years.'
The country sees itself closely aligned to Russia rather than its adjacent neighbours, but it would rather be fully independent than be an annexe of any other country.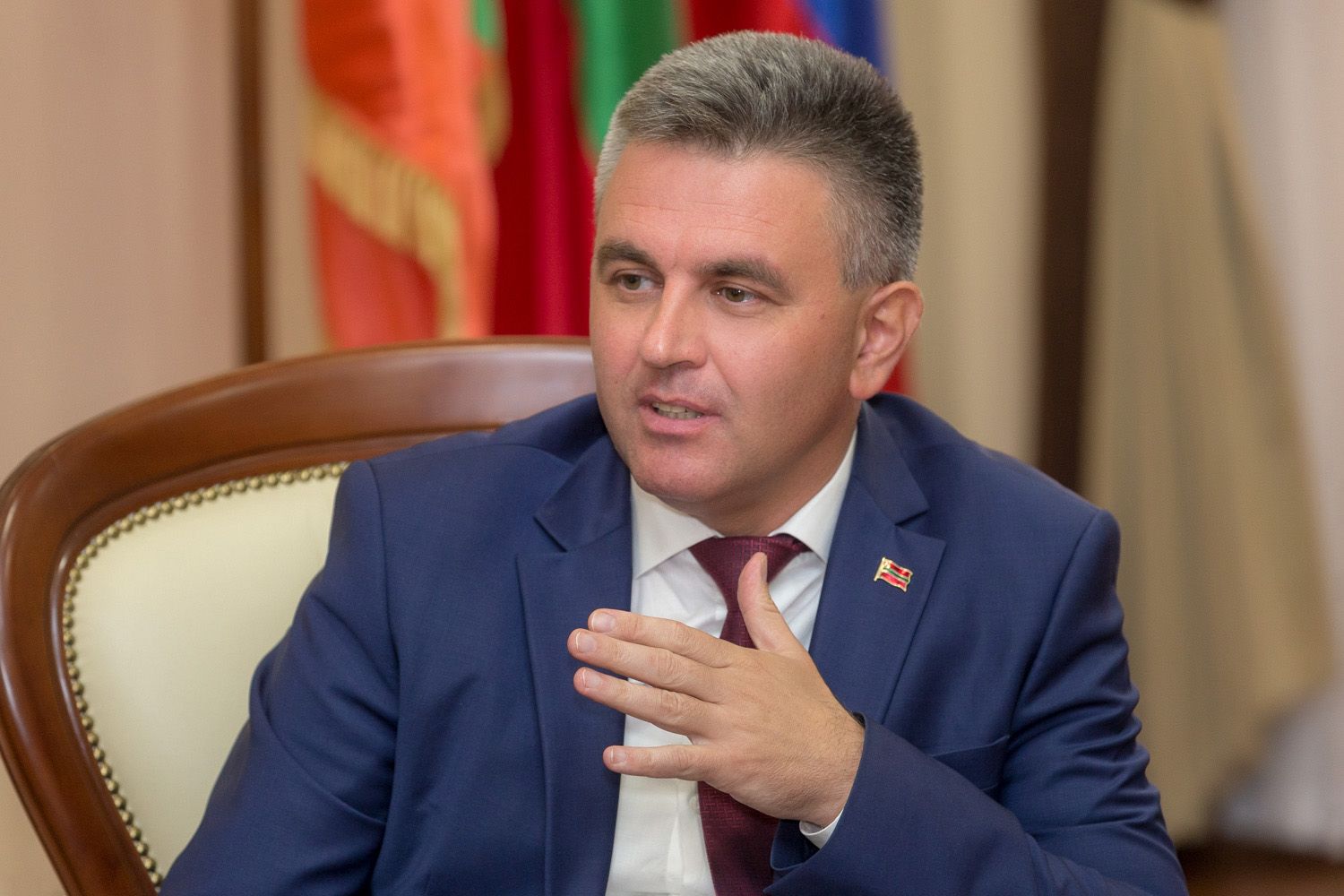 Vadim Krasnoselsky – the current President of Pridnestrovie. Source: Novosti Pridnestrovya
Pridnestrovie's President Vadim Krasnoselsky has held office since 2016. Here's the link to the Presidential website.
Tiraspol spelt in large Russian text (eg Тира́споль.) This is from another You Tube video on Pridnestrovie.
I've watched several of the Bald & Bankrupt videos and they are great, there's some great ones to be had in the former Soviet bloc, and often there's an insight into these countries one usually does not see in other videos. He also visits Asia, South America and other destinations and gives such a fascinating insight into each location. But this particular one I really liked because it was very unique, even though there's little transport in it (apart from the disused bus station I've mentioned and a trolleybus which can be spotted briefly in the streets of Tiraspol, the capital of Pridnestrovie.) The video was published on You Tube exactly two years ago and I don't know how I missed it, since its just recently popped up in my notifications – but does that even matter?
A Pridnestrovian trolleybus! Its known as a Zui-9 – of which thousands were made until 2014. (Clip from the Bald and Bankrupt video.)
A modern trolleybus ride in Tiraspol, even though the fare collection is somewhat primitive! The conductor has an apron from which tickets are issued and change is given. Normally such aprons would be seen as being more fitting for a kitchen!
Although Pridnestrovie is overall a poor country they are modernising and expanding their trolleybus systems rapidly and they have what appear to be some of the more modern vehicles in Europe. Below is a video (sorry no English version) which shows the President of Pridnestrovie opening the latest extension to the capital's trolleybus system just a few months back. The country takes pride in its trolleybuses, they've even this year introduced tourist specific trips using red trolleybuses. There is a railway, its built to the Russian broad gauge of 1520mm. Tiraspol has a main station and this lovely building is featured on the website of the Pridnestrovie Railways, which has been in operation since 2004 following a breakaway from the main Moldavian railway system. Its however a small system entailing just a couple of lines out of Tiraspol, but part of it also forms the international rail route between Moldavia and Ukraine.
Tiraspol station as seen on the Pridnestrovie Railways website.
Pridnestrovie's President opens a new trolleybus.
Whilst discussing transport, here's a Soviet phone in the old Tiraspol bus station.(Clip from the Bald and Bankrupt video – see bottom of page.)
Wikipedia discusses human rights and says Pridnestrovie's citizens have 'an equally bad situation in both political rights and civil liberties.' I'm not so sure of that but I could be wrong, yet having seen some videos Pridnestrovie seems to be an up and coming country and is very aware of its status – indeed it meets with many heads of states and Governmental ambassadors. Even our own Ambassador to Moldavia, Steven Fisher, had a meeting with President Krasnoselsky just a week ago about the efforts to make the country an officially recognised one. Anyhow in one segment of the Bald and Bankrupt's video you can see some old entrenched patriarchal attitudes being dispensed, which somewhat unsettled me. But let's forget that however in the full context of the video itself. The Bald & Bankrupt guy says this time warp Soviet republic is changing at a fast pace, new buildings are going up and nightclubs are becoming all the rage.
It might come as a surprise to know the world famous wines/cognac, Kvint, despite its 'Made in Moldova' label, is actually a product of Pridnestrovie. However the country, as the PMR's President would tell you, is controlled by Moldavia and certainly its exports are too, which means, to be able to even export stuff, anything made in Pridnestrovie means having to pay a tax as well as state the product's origin is Moldavia. Pridnestrovie is of course part of the renowned Bessarabian wine region. The locations along the River Dniester has a fertile soil and hilly terrain that produces some of the best wines.
The world famous brandies/cognac/wines company Kvint is in fact a product of Pridnestrovie.
Kvint's headquarters and distillery on the corner of Lenin Street and Strada Karl Liebknecht in Tiraspol, Pridnestrovie. Source: Google Streets
'I Went to a Country that Doesn't Exist to Drink Its Famous Brandy' is a Vice write up that indeed tells us Kvint isn't Moldavian although they do not quite mention Pridnestrovie either…. The tourist board however tells us that 'KVINT… is one of the most recognized Pridnestrovian brands in the world.'
The fascinating Ottoman castle at Bender Kalesi (or Bendery Fortress) just outside the capital, is one of Pridnestrovie's best known attractions. Picture source: Google Streets
Pridnestrovie Tourism has a great website including virtual tours of the country.
Pridnestrovie is featured on the Bald and Bankrupt's You Tube video.
Welcome to Pridnestrovie – here's 5 reasons why tourists should visit the country. Link: Novosti Pridnestrovya
BBC News Feature: Celebrating a nation that doesn't exist.
Wikipedia on Pridnestrovie (aka Transnistria.)