Adam Adamant is often claimed as being a sort of Avengers type satirical thriller. It was extremely low budget though with £4,900 allocated for each episode. By comparison, each episode of the Avengers for its 1966 run cost around £56,000 which is extremely high, admittedly some of that would be because it had started to be filmed in colour. The exploits of Adam Llewellyn de Vere Adamant and Georgina Jones would be no match for those of John Steed and Emma Peel however. Those of us who watched it as kids loved it though and yes we too were fans of both the Avengers and Adam Adamant (as well as practically all the other brilliant TV series of the time.) Despite the BBC executives' dislike for the new series and axeing it after two seasons, Adam Adamant has gained significance as a cult TV series.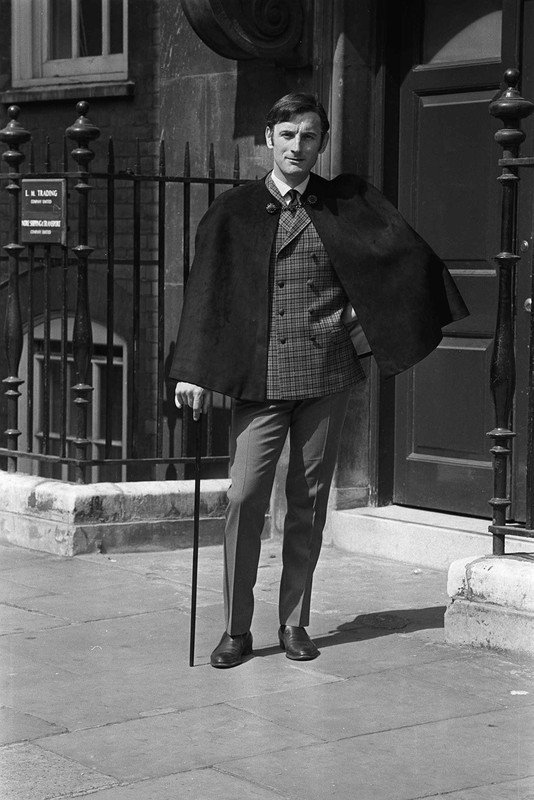 Adam Adamant aka Gerald Harper in a publicity pose. I suspect these shots were taken for either Gazette in 1968 or Hadleigh in 1969 but nevertheless has reference to Adamant. Source: Twitter
Adam Adamant Lives! tells the story of an Edwardian adventurer who wakes up in the swinging Sixties, having been frozen in a block of ice since 1902 by his nemesis, 'The Face', who would too be reincarnated for later in the series and give Adamant yet more grief. Doctor Who's creator Sydney Newman and producer Verity Lambert joined forces again to come up with a BBC series to rival The Avengers – somewhat ironic because both of these TV executives had in fact been the Avengers' creators too! However a series of executive decisions coupled with inconsistent production and scriptwriting values left the series with no future after the final episode of the second series had been completed. Its a shame because some of TV's best scriptwriters were drafted in to create the best storylines and plots possible, indeed one of the Avengers' writers, Brian Clemens, was brought in to devise a couple of Adam Adamant episodes! Others included Robin Banks Stewart who was famous for a tranche of very successful TV series including Bergerac and Shoestring – and of course he too wrote some of The Avengers and Doctor Who episodes!
Curiously some sources describe the series as a children's adventure programme. Strange that especially when it had some considerable violence and blood letting and was in fact broadcast well after the 8pm watershed. Adam Adamant Lives! would star Gerald Harper, Juliet Harmer and Jack May, with Harmer in the role of the ditzy sixties girl Georgina Jones, and May as a travelling showman, William E. Simms, who becomes Adamant's butler. The first of the series, 'A Vintage Year for Scoundrels' was broadcast on 23 June 1966 and the final episode, a 'Sinister Sort of Service' was broadcast on 25 March 1967. Thus Adam Adamant was seen on TV screens for much less than a year.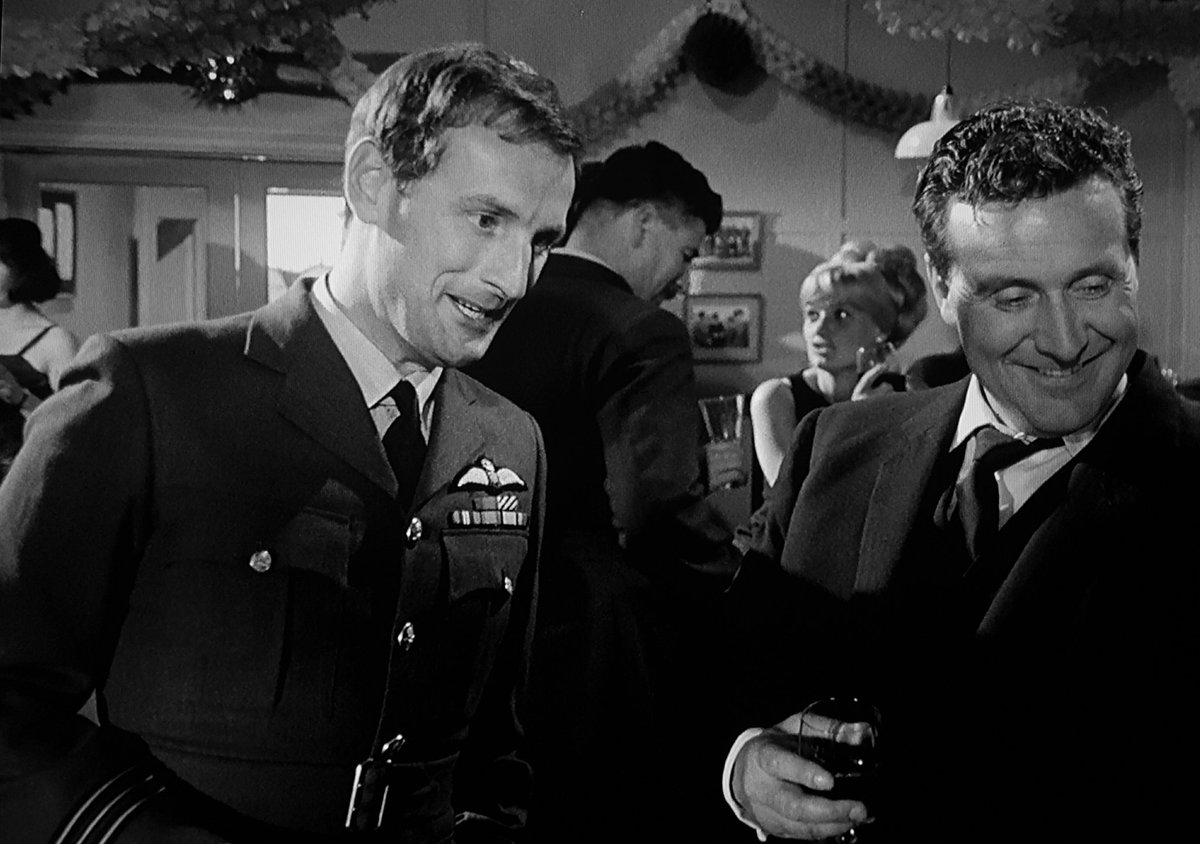 Harper as Geoffrey Risdale – The Hour that Never Was – in which The Avengers encounter strange events at an airbase. Aired 27 November 1965. Source: Twitter
The Face becomes an important part of the series
Its often said the BBC pulled the plug, but that wasn't because it was a flop. Executives thought it wasn't the kind of programme the public wanted. 'The BBC remained unrelentingly hostile to the series and cancelled it after the second season in spite of good ratings and a steadily improving reputation with viewers.' (Quote: Cult TV Lounge). In fact Verity Lambert admitted so much more could have been done to make it an ever better series. There was in fact lack of direction for the programme and its why later during the making of the first series (episodes were filmed a week or so in advance) it was decreed The Face should be brought back as a regular arch nemesis for Adamant to fight. This would be a considerable step up on The Avengers because that series didn't have a regular villain or nemesis to boot, although in due course Steed and Tara King gained the irascible Mother – head of the Ministry of Elite Intelligence – 'mostly a pompous windbag' (Wikipedia) and 'not the kindest person to work with.'
The need to bring in a regular character was no doubt due to the difficulty of finding good storylines for the series. A swashbuckling Victorian adventurer doing battle with the swinging sixties is a quite challenging task for a scriptwriter! Its said the series pulled in something like 10 million viewers each episode compared to twelve million for the Avengers so clearly the BBC were doing well. But in order to keep that early momentum going the BBC reached back to 1902 and called upon Adamant's greatest foe to join the swinging sixties too, thereby providing an impetus which new adventures could be wound.
The BBC hierarchy in those days was of course very hostile to science fiction or fantasy. They wanted to make gritty social realist dramas. Audiences however did not agree. They were switching off the BBC to watch shows like The Avengers on commercial TV. Sydney Newman was looking for a formula that audiences would go and that would also satisfy the BBC hierarchy, and that was part of the appeal behind the idea of Adam Adamant Lives! – he could sell the idea to the BBC on the basis that it would be a program that would explore the social mores of the 60s and contrast them with the traditional values espoused by the title character. The interesting thing is that Adam Adamant Lives! really does do just that. It just happens to do it in an entertaining way and with a surprisingly light touch. (Source: Cult TV Lounge).
Amazingly the second part of the series saw Adamant's character toned down quite a bit which was actually the converse of what should have happened especially as our hero would encounter The Face far more frequently. Indeed I remember The Face being a quite prominent character in Adam Adamant Lives! As it currently stands The Face is seen as a somewhat shadowy character seen either out of focus or within the confines of the darkly lit casket in which he was placed. There's just one brief moment where we get to see him remotely on a TV screen in A Sinister Sort of Service, the final episode of all. But there was more which has been lost. In that final episode, The Face has become a sort of hi-tec creature with bionic limbs – and I think that was meant to pave the way for a new look in a possible Series Three – except the plug was pulled altogether. In terms of archived material that doesn't reflect that change in The Face's status, seen during Black Echo, where he in fact leaves his casket and escapes before Adamant gets to him. Evidently Black Echo showed how The Face would finally shake off his rather obscure status and become a sinister presence during the remainder of the series.
Rare picture of The Face from one of the series' missing episodes. The villain was played by the relatively unknown Peter Ducrow.
Thus no-one these days gets to see The Face as the really menacing figure he was during the 1967 segment of the series where one would see him in his full attire (as the above picture shows), talking to other characters and personally threatening Adamant with his life. Its a shame the material that's been saved does not reflect this. What's been left however is of course worthy of Cult TV status and indeed Adam Adamant Lives! is up there with the many other programmes that have achieved cult status too.
The Face appeared in the following episodes: 1) A Vintage Year for Scoundrels (June 1966) 2) A Slight Case of Reincarnation (December 1966) 3) Black Echo (January 1967) 4) Face in a Mirror (February 1967) 5) The Tunnel of Death (February 1967) 6) The Resurrectionists (March 1967) 7) A Sinister Sort of Service (March 1967).
How Adam Adamant began
How did the series begin? By popular convention its assumed it began with the BBC approaching Sydney Newman in late 1965 for a new adventure series. Nevertheless an article in Action TV magazine suggests the idea for Adam Adamant actually began in 1961 by way of a view towards the production of a series based on Adamant's alter ego Sexton Blake. In fact it seems The Avengers, which began broadcasting in January 1961, may too have been the earlier impetus for the BBC seeking to develop a genre in some sort of similar vein. One of the writers for this new BBC series would be Philip Chambers. The BBC of course realised if they were to compete with ITV in any way (The Avengers was at the time produced by the ABC, one of the group of independent broadcasters that made up ITV) the BBC would need to have Sydney Newman at its helm and the BBC's Director of Television, Kenneth Adam, made an offer to Newman for a new post as the corporation's Head of Drama. Newman accepted although he was not able to take up the position until late 1962 due to his contract with ABC. Of course with Newman at the helm of BBC drama, it's how one of the corporation's TV series (and in fact the world's longest and most successful of all), Doctor Who, began. But what it too meant was Adamant himself would have to wait in the aisles a bit longer before being brought to fruition.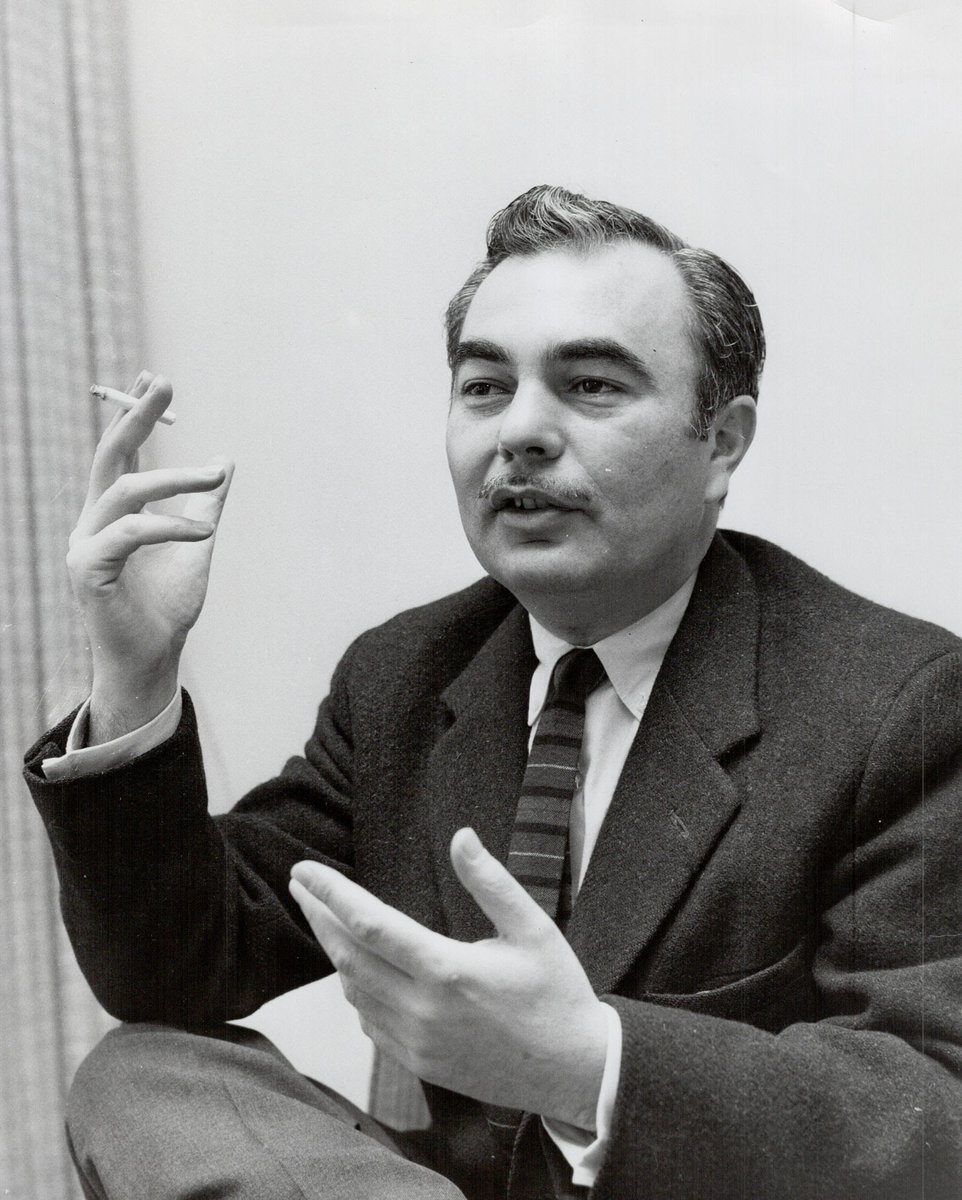 Adam Adamant was conceived by the creator of The Avengers and Doctor Who, Sidney Newman. Source: Twitter
The idea was dropped and four years would pass before the idea was once again pursued – this being January 1965, when it was discovered the BBC would very likely not be able to pursue program rights in terms of Sexton Blake. Thus Sydney Newman was dispatched on a mission of sorts to devise a spin off programme of sorts – initially with Sexton Blake – but ultimately with new names and new characters.
'A first outline was produced in March for Sexton Blake Lives Episode 1, with a mission conducted by Blake in 1895 to recover information about military gases stolen from the safe of the Austro-Prussian Ambassador going badly wrong. Betrayed by a woman, Blake was captured by the Nameless One and isolated in a cold chamber in a 'living death', only to be found in a Rip Van Winkle state when the Oxford Circus tube station was extended in 1965…' Action TV (Spring 2001.)
As the magazine clearly details, the BBC in fact continued with various storylines and by the summer of 1965 had commissioned two episodes written by Ray Roberts, however the adventurer's name was now quite possibly going to be Dick Daring (just one of several that were mooted) because of the problem of securing the rights to Sexton Blake. Nevertheless a third episode The Queen's Surgeon was written by Philip Chambers so the BBC now had three of these – Sexton Blake Dies, Sexton Blake Lives, and The Queen's Surgeon. Head of Series Andrew Osborne was not entirely happy with the format or the scripts that had been produced thus in July 1965 he passed all the material to a new arrival this being someone who had just left the Doctor Who production team – and that was Verity Lambert. Osborne asked her to look at what had been done so far and then start all over again from scratch.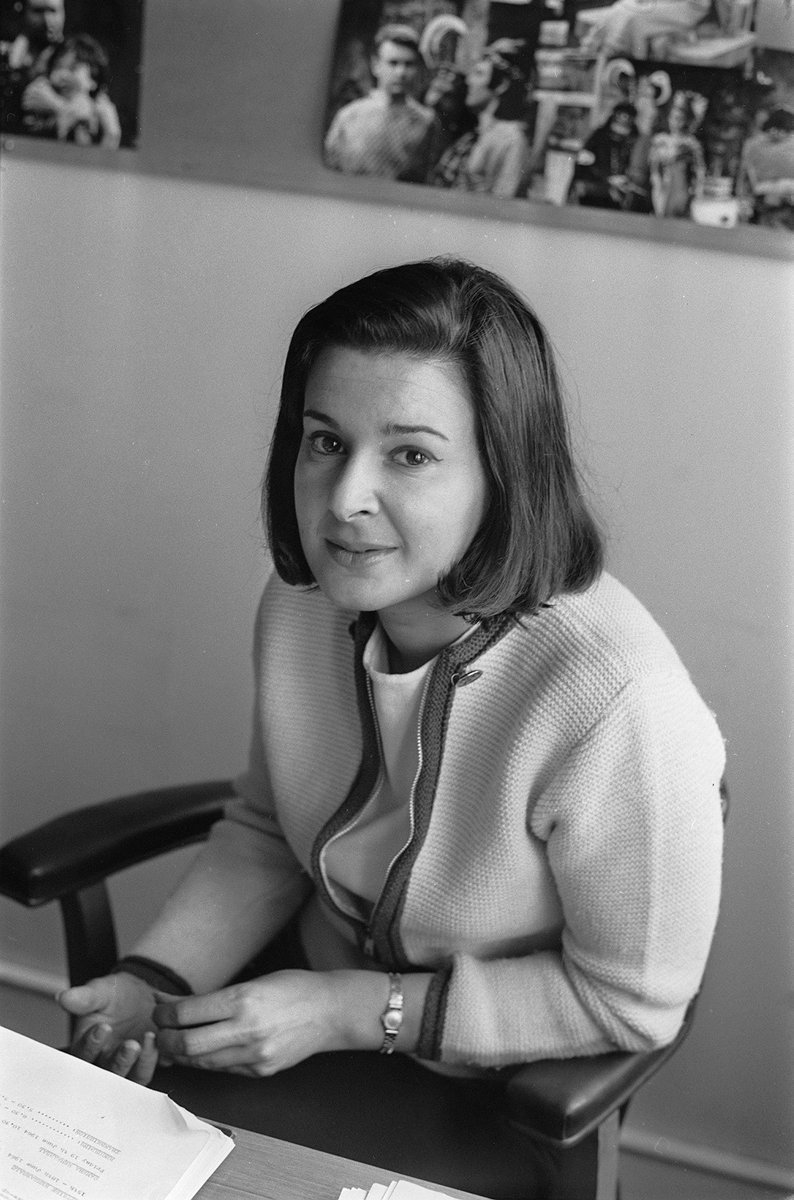 Doctor Who's Verity Lambert produced Adam Adamant at the request of either Andrew Osborne or Sidney Newman (or both!) Source: Twitter
'Lambert began work on the show in earnest when she issued a memo about a new untitled action-adventure series on 20th August 1965. The two main characters were a Victoria/Edwardian detective who was intelligent and patriotic, and a well educated 19 year old Cockney girl. The detective fell foul of a villain at the turn of the century and was frozen in ice.' Action TV (Spring 2001.)
Its said Newman came up with the idea of a swashbuckling Victoria detective but it seems no-one knows really how the process went as its clear both Newman and Osborne claim they are the one person who brought in Verity Lambert. It may well have been a series of executive decisions that eventually concluded in the appointment of Verity Lambert, with Newman and Osborne both being under the assumption each had personally signed Lambert on as the series' producer. Newman does says Adamant was in fact influenced by the Sexton Blake stories which the BBC had actually wanted to do but as it couldn't get the rights to that, a new series was instead created.
In a complex way that is how our swashbuckling Victorian detective came into being. The first episode was always going to show how he investigated his final case in 1902 before being frozen and re-emerging into the limelight in 1966 – although the site Adamant's ice coffin would be found would no longer be at Oxford Circus – because the construction work in question there had by then largely ended! In the series itself Adamant was found during demolition of a Victorian warehouse.
Verity Lambert on the series' end credits as its producer.
Its clear there are some differences how Adam Adamant originated. Very often the genre is attributed to Sydney Newman but as the Action TV article suggests, the programme's origins are a bit more complex. In much the same way Doctor Who was conceived by Newman after a request from Donald Baverstock, Controller of BBC Television, to create a new TV production to fit in between Grandstand and Juke Box Jury on Saturdays in the winter of 1963, its clear Adam Adamant would ultimately fill in a sixteen week gap between series 1 and 2 of The Man from U.N.C.L.E. Its an entirely new slant on the whole thing, but the news article below does suggest that did in fact happen and suggests the BBC at the time saw the new series as nothing more than a simple padding between its U.N.C.L.E. schedules:

All about Juliet! But also an indication Adam Adamant was meant as an infill for the days when the Man From U.N.C.L.E. would not be on air. Source: Twitter
Adam Adamant was a rarity in those days in that it had two leading female television executives. As well as Verity Lambert there was also Moira Armstrong who was one of the programme's directors. Armstrong directed a number of episodes whilst Lambert produced all of the series. Lambert admitted in an interview during 2006 that they had got several things about Adam Adamant wrong, including the ways in which he was clearly mismatched for the second half of the 20th Century. She says:
Part of Adam Adamant was he was a swashbucking hero who, you know, knew the difference between good and evil and dealt with evil. But the other part, which I don't think we ever really got right and which was a very important part, was the way of seeing modern life in a witty way through somebody's eyes who was unaccustomed to that way of living. And I suppose the nearest equivalent, although its a high thing to raise, was Mark Twain's The Yankee at the Court of King Arthur.
The series kicks off Ridley Scott's career
Adam Adamant was a launching pad for Ridley Scott, undoubtedly one of the world's most famous film directors with genres such as Alien, Blade Runner, Thelma & Louise, Hannibal and Gladiator under his belt. 'Verity Lambert made every effort to give new, untried directors the chance to work on the series. One of these was Ridley Scott, who hitherto had very limited experience of working in television; he was better known as a designer. Scott directed three episodes, only one of which survives in the BBC archives…' Quote: The Ridley Scott Encyclopaedia
Three of the sixties series' episodes were directed by Scott although only one episode, The League of Uncharitable Ladies, has survived – clearly this is the only known example too of Scott's early work for the BBC. Alas I don't think there are any photographs of Scott at work on the series. The other two episodes by Ridley Scott have been long lost – clearly wiped by the BBC. The episodes were part of the largely disappeared Series two and the first of these was Death begins at Seventy (broadcast February 18th 1967) and the second The Resurrectionists (11th March 1967). The latter is one The Face had a considerable presence in the programme.
Verity Lambert clearly saw Adam Adamant as being the launching pad for Ridley Scott's career. 'He certainly built up his reputation as a result of the series.' One of the programme's make up artists, Jo Young, says Ridley Scott was the first ever TV director she ever saw to rely on the use of storyboards.
Three Adam Adamant episodes were by world famous film director Ridley Scott.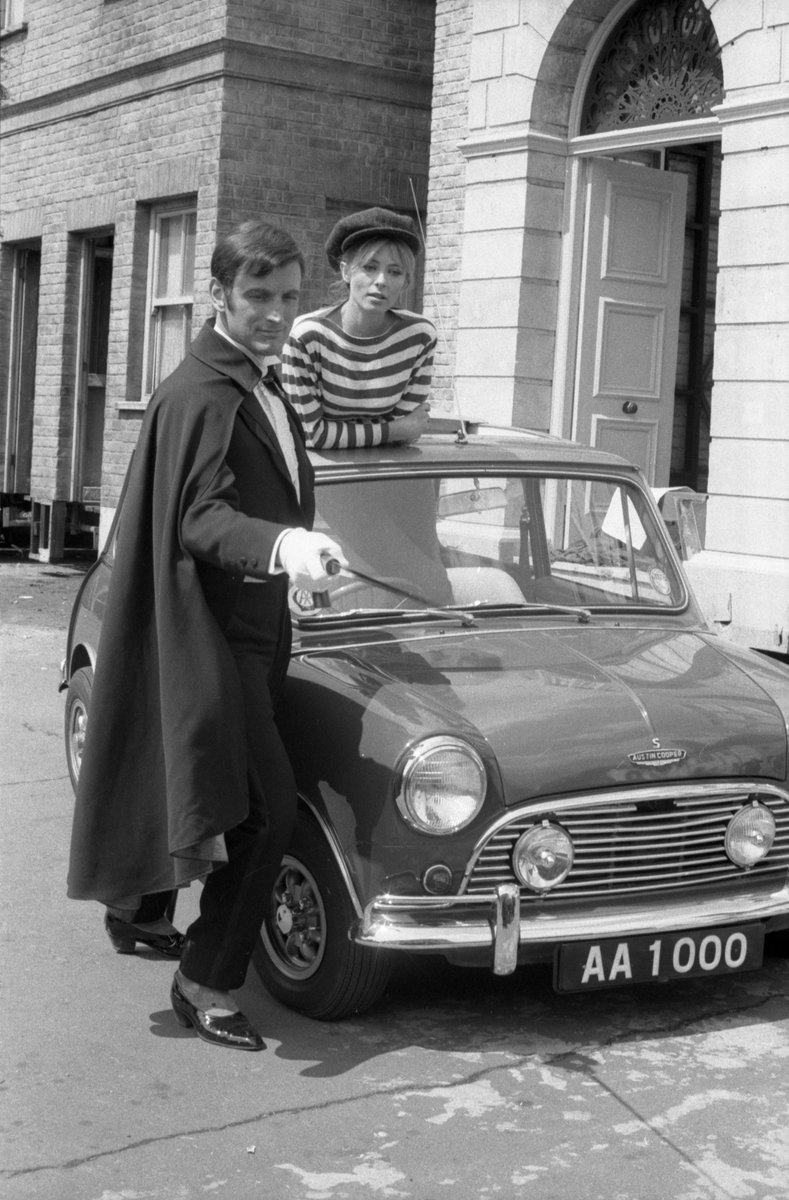 Publicity picture of Gerald Harper and Juliet Harmer from the BBC Archives. Source: Twitter
Patrick Troughton in his final freelance TV appearance – D for Destruction – a few weeks before he became the second Doctor Who. (From the Adam Adamant DVD collection.)
Some have commented on the fact Adam Adamant was the second Doctor's last role in anything other than Doctor Who itself. Patrick Troughton filmed Adam Adamant 'D for Destruction' on both 30th August and 1st September 1966. The episode was broadcast on 13 October 1966. Just three weeks later Troughton was seen worldwide on TV as the new Doctor Who, having regenerated and taken over from William Hartnell. In terms of the timing Troughton probably knew at the time of Adamant that he would be the new Doctor!
In terms of lost episodes as has been mentioned The Face featured in quite a few of these. There's barely any pictures of scenes from these lost episodes, however one, the Ticket to Terror, invokes images of the sort of scenes Adamant would later be dealing with, much to the delight of The Face.
The only known surviving scene from Ticket to Terror. This episode was filmed on the Waterloo and City Line. (From the Adam Adamant DVD collection.)
Another lost episode – The Basardi Affair. (From the Adam Adamant DVD collection.)
The soundtrack to The Basardi Affair was rediscovered a few years ago. Alas the actual film is lost, presumably wiped like a good number of other BBC productions of the time, however there's a project to recreate the episode in an animated form as described in this article.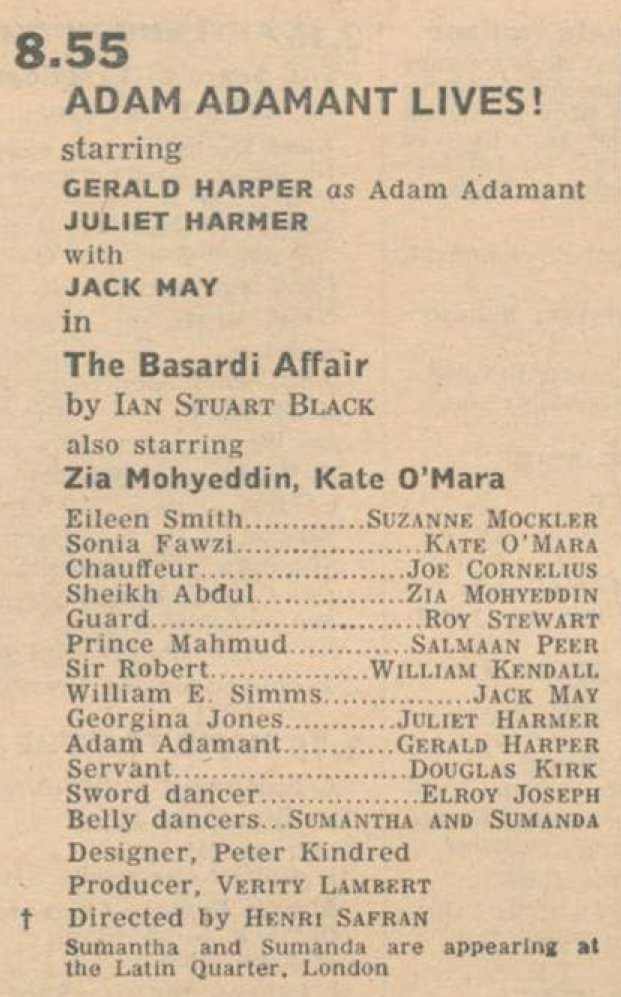 The Basardi Affair listed in Radio Times for 21st January 1967 – proof it was once a tangible adventure programme! Source: Twitter
Full list of Adam Adamant episodes and dates broadcast
0 Adam Adamant pilot. Never broadcast but part of it was reused in A Vintage Year for Scoundrels.
Series 1 (1966)
1 A Vintage Year for Scoundrels – June 23rd, 1966.
2 Death Has a Thousand Faces – June 30th, 1966.
3 More Deadly Than the Sword – July 7th, 1966.
4 The Sweet Smell of Disaster – July 14th, 1966.
5 Allah Is Not Always With You – July 21st, 1966.
6 The Terribly Happy Embalmers – Aug 4th, 1966.
7 To Set a Deadly Fashion – Aug 11th, 1966.
8 The Last Sacrifice – Aug 18th, 1966.
9 Sing a Song of Murder – Aug 25th, 1966.
10 The Doomsday Plan – Sept 1st, 1966.
11 Death by Appointment Only – Sept 8th, 1966.
12 Beauty Is an Ugly World – Sept 15th, 1966.
13 The League of Uncharitable Ladies – Sept 22nd, 1966.
14 Ticket to Terror – Sept 29th, 1966. Episode is totally lost.
15 The Village of Evil – Oct 6th, 1966.
16 D for Destruction – Oct 13th, 1966.
Series 2 (1966-1967)
17 A Slight Case of Reincarnation – Dec 31st, 1966. Episode totally lost but a 4 minute audio extract remains.
18 Black Echo – Jan 7th, 1967.
19 Conspiracy of Death – Jan 14th, 1967. Episode is totally lost.
20 The Basardi Affair – Jan 21st, 1967. Episode totally lost but audio track remains.
21 The Survivors – Jan 28th, 1967. Episode is totally lost.
22 Face in a Mirror – Feb 4th, 1967. Episode is totally lost.
23 Another Little Drink – Feb 11th, 1967. Episode is totally lost.
24 Death Begins at Seventy – Feb 18th, 1967. Episode is totally lost.
25 Tunnel of Death – Feb 25th, 1967. Episode is totally lost.
26 The Deadly Bullet – March 4th, 1967. Episode is totally lost.
27 The Resurrectionists – March 11th, 1967. Episode is totally lost.
28 Wish You Were Here – March 18th, 1967. Episode is totally lost.
29 A Sinister Sort of Service – March 25th, 1967.
To be continued.