The long awaited new pocket tube map first announced in December 2020 (and in fact introduced in two different versions during that month online) is now finally in print and available at a number of tube stations. I managed to pick up some samples at Paddington (Hammersmith Line) station on 16th January 2021. Much like the previous pocket tube map which was also introduced during a lockdown (the first of the two in 2020) and which never propagated fully around the system (some major core stations never even got these and had to struggle with dispensing their remaining copies of the previous iteration which was 'Morden' – two guys with glasses.) I expect this one too wont be fully seen across the system either.
I managed to get copies of the new tube maps at Paddington, having walked there via the canal!
The maps were officially announced by TfL on the 14th January 2021 which indeed was also the day the first of these new maps were released into the wild as this Tweet shows. The commentator is right that the map needs to be bigger because of the sheer amount of detail it has.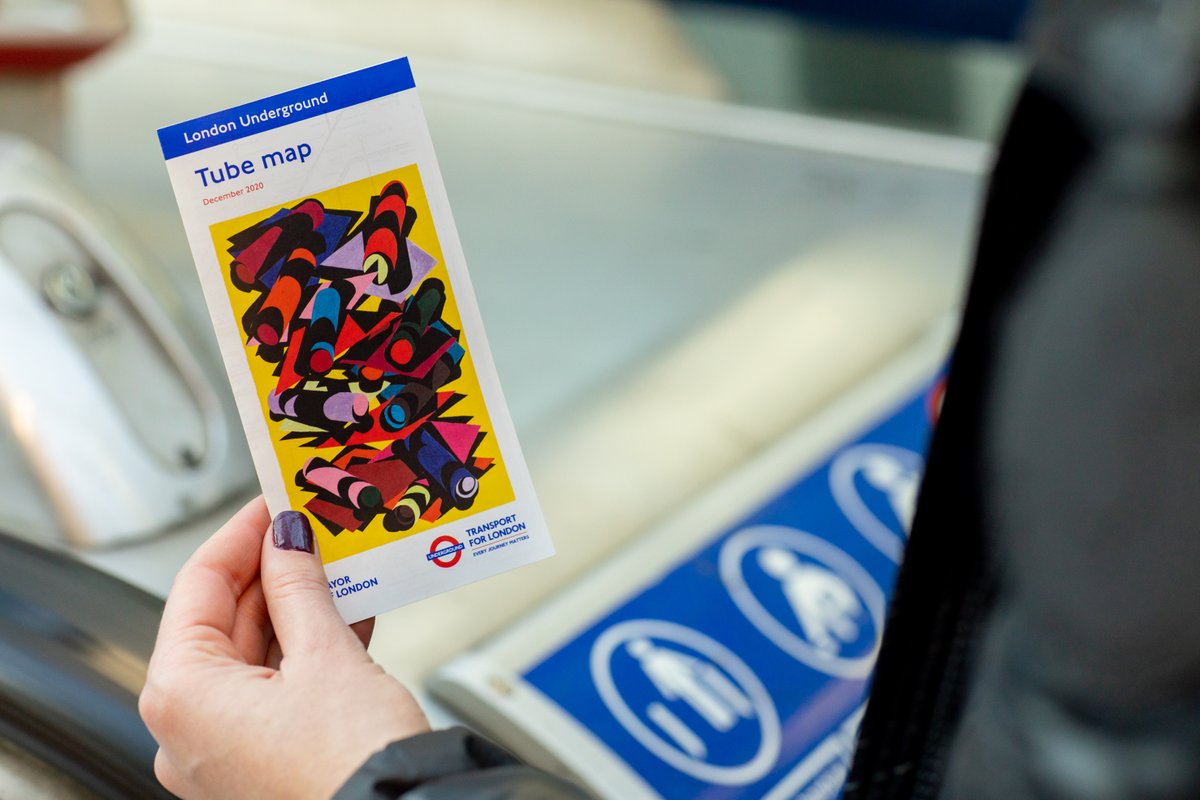 We are thrilled to announce the new commission for the 33rd edition of the pocket Tubemap , 'helter skelter' by Phyllida Barlow. Source: Twitter
This map is a major departure compared to any previous pocket tube maps. It has almost the full gamut of Thameslink lines through Greater London and that is on top of all the other additions such as Crossrail and the vastly increased London Overground system, and new symbols and an increased number of out of stations interchanges and so on. In fact it could be said to be the most densely packed detailed map so far. Its fine when seen on a tube station wall or even online where the details can be zoomed into, in pocket form its still quite legible but getting towards the point where much more than what is on there now will totally compromise the entire presentation.
Statement from TfL says Thameslink's addition is temporary. Source: TfL
I think it means the next map is going to be very challenging. But that depends on a particular detail. It has been said the Thameslink routes are there only temporarily and a decision will be later made whether to keep these, either in their entirelty or part. It can be seen from the map itself that the inclusion of these lines, much needed as it is, rather sorts of unbalances the look and feel of the entire map itself. The section of Crossrail from Hayes to Reading was problematic but that covered a very small section of the entire map thus it wasn't such a blight, not as the Thameslink addition is. The Thameslink routes cover a mighty big chunk of the entire map and the need to keep the different stations/interchanges relevant and positioned where they are in regards to the tube system has resulted in some very weird squiggles that are rather off putting. In fact its those squiggles in the latest versions of the tube map (online and in print) that caused me to wonder why TfL even bothered with this in the first place seeing they insist its temporary.
The first iteration of the December 2020 tube map showing Thameslink's far straighter lines of route. Despite some small problems I think this is a much nicer presentation of the map. Source: Time Out
Not only that the ways and means the Thameslink lines have been laid out has meant a rather poor compromise in terms of the Croydon Tramlink system. Whereas this was once quite clear on any of the system maps because it at least stood out quite well, its now squashed quite badly into a small space across the bottom of the map itself and a lot of the the tramway stops now have quite close spacing which is cause for concern. I mean, its probably just the mere fact maps can now be printed at small scales and yet still with a high degree of clarity in terms of legibility that they're even able to squeeze more into less space – and that even though detail is very close together. I wonder how much more stuff can be squeezed in before people really start complaining about clarity of the content.
The new iteration of the December 2020 tube map – this is not the pocket map version but the full sized one. (Image extracted from the TfL pdf on its website.)
Of course the fact this is a pocket map and the whole thing has to be printed into an area not much more bigger than an A4 sheet presents a lot of issues. I mean its a good attempt (if some of the more problematic parts of it are overlooked) but the question is whether a pocket tube map of this depth of detail and intensity is of any use for people who do not have the visual acuity needed to be able to read the map. I mean those who are partially blind will no doubt have problems with this sort of map.
There is a large print map of course but even that is not being updated in these difficult times and the current online version does not feature Thameslink. One must wonder what other sort of compromises may well have to be made if these maps are going to become even more detailed. The following pair of images show what the same section looks in normal large format (as seen on station entrances and on the platform walls) and how it looks in the considerably small, pocket format.
Specific part of the normal sized tube map(crop from the Time Out sample shown earlier) demonstrating how the south east part of London still retains considerably clarity. Compare with the next image below.
The earlier iterations of the map which was not printed but published online in mid December 2020 had Thameslink showing as a rather more straight route through the central core and that was in fact far more acceptable – as shown in the image above. Its known on the first iteration there were problems with some interchanges and groups of stations and whilst these have been eased somewhat in terms of visual clarity, it still hasn't made the map anymore endearing than it should be especially when presented as the pocket version.
The revised version was published by TfL on its site 4th January 2021 with the 'kinky' version of Thameslink included – and whilst that is somewhat fine in normal (eg large) station wall format, in the pocket version it isn't fine. In fact the delay to Crossrail/Elizabeth Line has been a blessing of sorts because if it had been open as planned, its route down to Canary Wharf, Woolwich and Abbey Wood would have made the design of this latest pocket tube map even more of a nightmare – and I wonder whether they would even have entertained the thought of including the Thameslink routes because the Elizabeth Line would have potentially taken custom away from TfL's routes. In fact its because Crossrail isn't open that TfL has seen fit to include Thameslink and that is why its temporary. When Crossrail/Elizabeth Line does open there'll likely be no space for Thameslink on the pocket map!
The next few images I scanned from the samples of pocket tube maps I found at Paddington. I scanned these at very high resolution as I wanted to show how these compared with the previous images.
The same exact area as depicted in the pocket map version. Note how much more squashed, convoluted, the different routes have become. This is a super large size (high resolution scan) thus it looks absolutely easy to read! Of course it is! Imagine the same entire page reduced several times its size to one that is barely a quarter of what can be seen here. Its going to be so much harder to read! Its like seeing the entire tube map on a billboard – and then walking right up close and reading the same thing on a A5 sheet of paper stuck to one side of the billboard!
One wonders whether it was a good idea to include Thameslink on the pocket map version. As the two images above show, there is a world of difference in clarity between seeing the detail on an A2 map on a wall and seeing the detail within what is somewhat smaller than an A5 sheet of paper (the whole map spread out is approximately two thirds of an A4 sheet when one includes the index and line colour panel on the right of the map.)
Its not just that, with previous iterations of the tube map there were 460 stations listed in total. With Thameslink there's now 509 stations listed. (These figures are from Geoff Marshall's video – link below.) 460 is a mighty large number to squeeze onto the stations index, and that's practically fifty more stations added. Of course there are problems in registering the various elements of the newer and more detailed pocket tube map as I shall show next:
Part of the station names index where the extra long station names make the tiny symbols even more difficult to read. It looks great here (super resolution of course) but again at the actual size presented in paper form its very difficult to see the symbols properly. In fact I'm sure few can discern them even with glasses – I tried of course and it concerns me that we're getting to where screen readers will soon be needed to read these maps! Of course I'm sure smartphones can act like screenreaders and pick up the detail, but then one might as well have the map on the smartphone rather than as a paper version.
In fact one wonders why we're still using paper versions of a pocket tube map in 2021? Aren't we supposed to cut down on paper for a start? Well there's a problem in using maps on a smartphone and that is one cannot reasonably see the whole map and then focus on part of it. Which is where these paper maps become extremely handy. In fact in 1988 I attended a lecture which warned us digital representations would never replace paper documents, and in 2021 we can still see the problem of trying to show content on a digital document in the same way as it would be shown on a paper version. Its a different kettle of fish when digital content is shown on a large screen and I'm sure at some stage TfL will go over to large digital screens for maps and other information – in much the same way they are doing now for their advertising. In fact these large digital screens could change to show the content people want to see, including the ability to zoom in or out of content. That is great and a commendable step forward. But in terms of the small, its still a problem and I think its for that reason we will continue to see pocket tube maps on paper for sometime besides using these on smartscreens.
The same stations as shown earlier is depicted on this image too. This was taken with the magnifying glass I have – and of course one can see the symbols better than they can with the naked eye. This of course begs the question – just how much more detail could be crammed into these pocket maps?
As demonstrated the index of stations on the back is very clear for those with good or optimal sight but for some the symbols next to the station names will be quite difficult to see. The wheelchair symbol is fine if somewhat small, however the symbol for toilets and bicycle parking are really beyond the acceptable limit of legibility – the figures on the former being so close its nigh on impossible to discern these as separate. Below are both sides of the new tube map in pocket form – and presented in 1:1 lifesize format. Its difficult to get the required resolution at this scale and would need the image to be a TIFF or a PNG which means it would be exceedingly large. Compared to the above images the actual size of the detail and print is very small indeed and the following images are simply meant as a guide to the scale of the actual sheets.
Front area of Dec 2020 pocket map – exact size as printed on paper (though it depends on browser/screen resolution!)
Rear area of Dec 2020 pocket map – exact size as printed on paper (though this depends on browser/screen resolution!)
In terms of future development its being said the tube map will be redrawn in terms of its zones in order to generate more income for TfL. The Tory Minister for London has called this possible move both a 'tariff barrier' and a 'checkpoint Chigwell.' Its all the more amazing when its the Tories straitjacketing TfL in terms of what it can do to raise more money because – yes – you've guessed it – the Tories want TfL to manage its finances entirely on its own without Government grants of any sort! Its something practically unheard of anywhere else in the world as all the other major metropolitan area transport/transit authorities rely on grants/funding to a large degree!
The Waterloo & City hasn't run since March 2020 and under current levels doesn't look like it will be back in action for a very long time. What's more is under the current circumstances the alternative route (Northern/Jubilee via London Bridge) has more capacity in terms of the current need to socially distance so the Waterloo & City isn't going to be of any use for a very long time. Thus what TfL have done on this new map is to have a warning panel as the next image shows – this is a considerable departure from the previous tube map (May 2020) which gave us the impression the Night Tube was still continuing and no mention was made of the coronavirus pandemic!
Besides detailing the fact some stations will have amended opening hours, the panel warns there will also be no Night Tube/Overground or the Waterloo & City Line. (This can be seen on the main map area in its bottom right hand corner.)
There are other aspects of the new tube maps well as the inclusion of Thameslink that have been discussed in detail elsewhere by other bloggers and vloggers. In brief the map has been updated with the latest step free stations to be added to the system including Cockfosters and Mill Hill East, both of which can be seen on Geoff Marshall's recent video.
The question of station interchanges is also covered quite well by others so once again in brief, its because for the first time on this new map, TfL has introduced some new OSI's (Out of Station Interchanges) as well as a different concept of Internal Station Interchanges. The latter look quite a mess in fact – some of those look terribly long such as Finsbury Park. One wonders what the point of that is exactly – when the Thameslink services in question are in fact on the upper level of the station and linked directly by stairs and also by new lifts that were recently provided (although the accessibility is actually at the moment limited rather more to the southbound services at the moment because of the odd main line platform configurations here.) Others such as Wembley Park and Mitcham Junction and elsewhere are misleading because these are in fact full or partial cross platform interchanges and are not even separate stations to any extent.
Geoff Marshall has a video about the Thameslink additions to the latest pocket map and this can be seen on You Tube