Recently Tunnel Breeze have been colourising old photographs of Paddington station in its steam days of the 1930s and 1940s. I discovered these when I was doing some other research on Paddington station on a different theme. Photo colourisation is something that is getting very popular these days. Even I do it sometimes! Its nice to see how things may have looked at one time – even though the effect isn't always brilliant. The problem is no-one really knows what the exact colours were in those days and the colour toning is probably wrong a lot of the time.
Its not to say there's anything wrong with black and white photographs. In the days when I took loads of photographs of railways/buses, I used one or the other and I took a lot of photographs of Routemasters in b&w. No doubt both genres have characteristics and benefits of their own.
The quest for colourised photographs comes about however because of curiosity. We live in a world of colour and obviously we want to know what the colours had looked at a certain period in time, thus its nice to have some idea of how things had possibly looked then.
Tunnel Breeze did have some other pages on railways in colour – though these seem to have been deleted from his blog pages the Internet Archive has some including this one on Liverpool Lime Street. and a couple on the Cromford & High Peak including this one, also one on Adlestrop station. There's too a particularly interesting feature on vintage aviation.
Schoolboy waits for his train. Paddington 1933. Source: Twitter
The next picture is my favourite because the colours are very nicely done and they do seem quite faithful to the attire of the time. They're not bright or anything and I would say its a muddy kind of look, which I think is right for these old pictures. Sony at one time in fact went for the muddy look with its Cybershot DSC-F828 camera. This was an attempt to bring in a fourth colour (a sort of brown) in addition to the other three (RGB) colours, and that did actually bring in an extra range of tonality. There's no arguing that digital cameras have come so far these days that this extra tonality isnt even needed, but I sometimes wonder if Sony had been on the right track then!
Arriving at Paddington station 1938. Source: Twitter
Schoolboy admiring locomotive at Paddington station, 1938. Source: Twitter
Getting the train back to boarding school. Paddington Station 1938. Source: Twitter
Leaving the station. Schoolboys and their parents bid farewell at Paddington 1938. Source: Twitter
Those tearful goodbyes. Paddington 1942. Source: Twitter
A couple of colourised pictures of Paddington station from other sources to complement those done by Tunnel Breeze.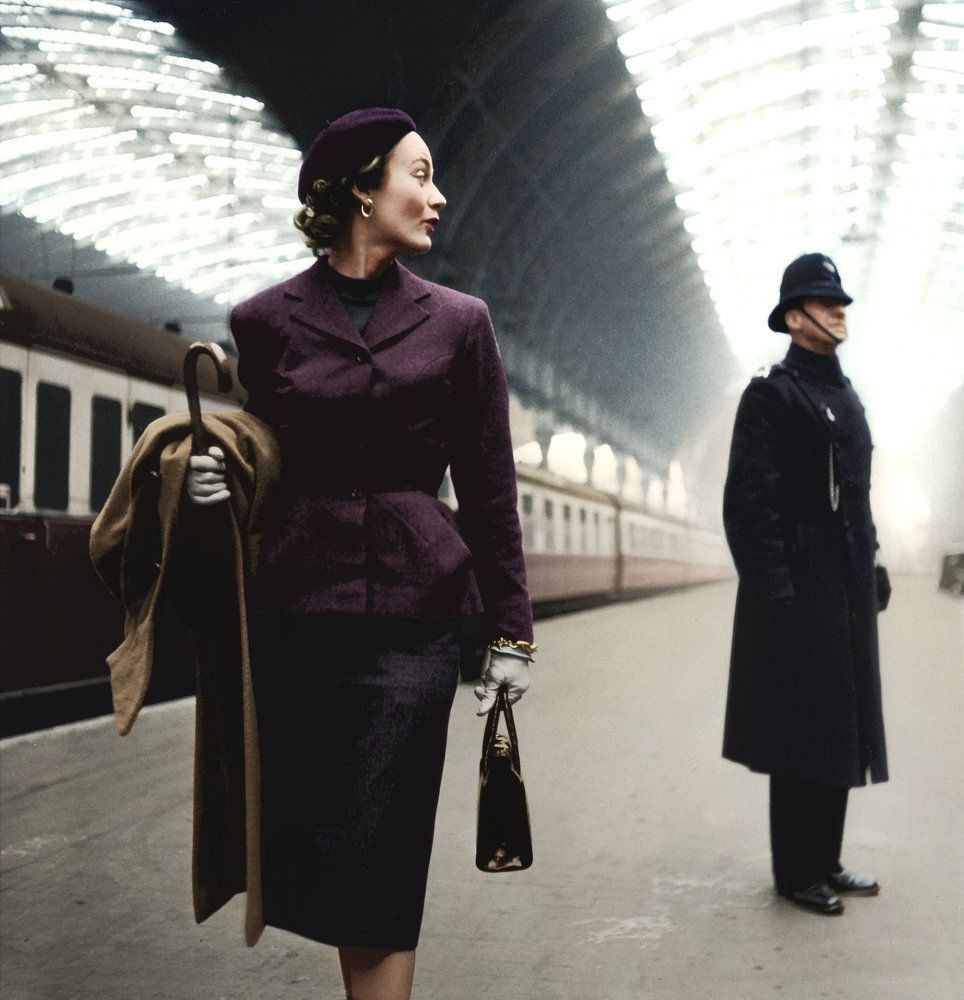 Model Lisa Fonssagrives at Paddington Station. Source: Twitter
This is Paddington station at Xmas in 1935. Its one I had colourised specially for a post on London's Bygone Railway Christmases. Its not a brilliant piece of work but I simply wanted something that would give a bit of colour to the post which consisted entirely of black and white photographs.