Love it or loathe it, this is about the Millennium Dome – or perhaps better known these days as The 02!
There was an official guide to the experience but its apparently rather difficult to get hold of especially digitally. In fact there are no digitised versions of it – and not even a hard copy in the British Library. Nevertheless the Internet Archive has made an online version of it available. The creators assert this has been done because there isn't a digital version available and the work was done in their own time and expense.
One of the first pages in the Millennium Experience Guide. Internet Archive
Its a hard job. I know I have tried digitising obscure books in my collection – details of which wouldn't even be found on the internet anyway. Some of these I in fact use for my own reference because the copies are not rendered properly (that's a lot of work too just to make sure all the pages are presented correctly and legibly.)
The Mind – part of the Millennium Dome experience. Source: Internet Archive
The one hundred and twenty page plus Millennium Dome guide covers all aspects of the Dome as it was in 2000 when it held a number of substantial exhibitions to mark the new millennia. Its done in the style of many other international exhibit guide books such as The Festival of Britain and Expo 67. Oodles of pages of information along with adverts from the very best companies – some of which no longer exist.
The suspended dome! Source: Internet Archive
For me at least the most interesting part of the book is the section detailing the construction of the dome – all six pages of it. Not a lot but at least there's one image which I think is very futuristic (shown above) which depicts the topmost part of the dome suspended in mid air.
The Millennium Experience: The Guide is available at the Internet Archive.
This digitised version comes at a time when the Millennium Dome is losing some of its significance. By that I mean twenty years ago it was a very prominent landmark that could be seen from afar. These are getting fewer and fewer as developments spring up all around the east side of Canary Wharf, on the Greenwich peninsula itself, and up and down the Thames itself. I know it can still be seen to full effect from the Emirates Airline but even some of that has been compromised by new developments on the west side of the cable car run.
Below are some other images of Millennium Dome offerings in the same sort of garish yellow theme! These are samples of what can be found on Ebay for example and they range from toys to books and even staff uniforms!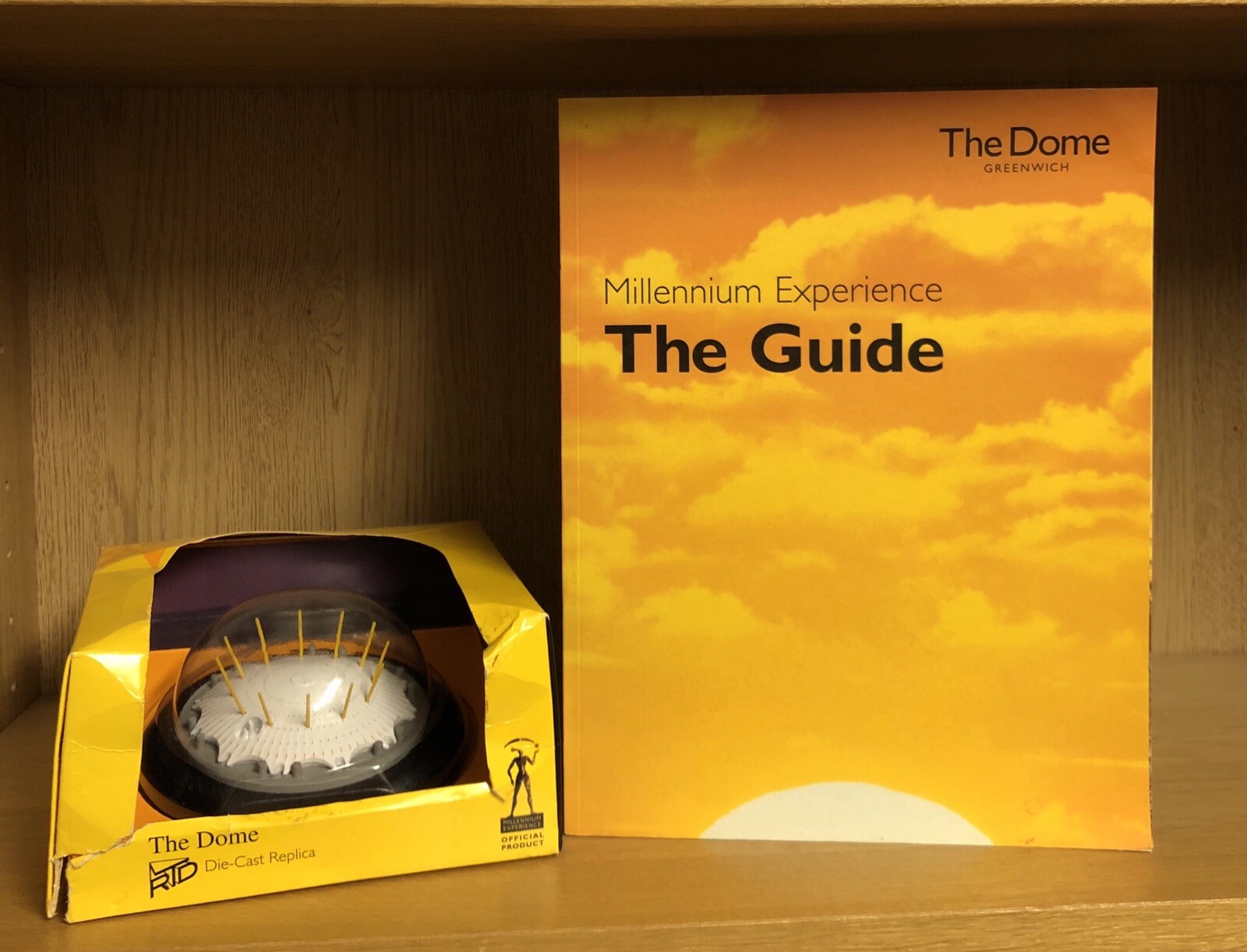 The Guide and a model of the Dome itself. Source: ebay
The Millenium Dome guide and the leaflet with the catchphrase used in 2000 – One Amazing Day. Source: ebay
Other paraphernalia can be seen at The Millennium Dome: A Collection
The Guardian: Was the Millennium Dome really so bad? The inside story of a (not so) total disaster