Some of you may well have seen my post on Banksy's pop up Croydon store – or perhaps more likely read of it in the news and social media. As reported it was open for just two weeks and it shut down early Monday morning 14th October – having never even been opened! My London has this report and video on the store's closure and take down.
Just two days later on the 16th October his awaited online presence Gross Domestic Product launched with most of the stuff that could be seen in the store on sale.
In his own very amusing way, Banksy describes his GDP store as 'the homewares brand from Banksy!' Its a really nice touch and the kind of sarcasm the artist is famous for!
Part of Banksy's Gross Domestic Product page showing a selection of his famous work.
The various prospective purchasers will clearly be vetted to make sure each applicant really is a genuine arts fan and not some dealer looking to make a quick buck. The BBC has given this explanation of that process in an article published today. However Banksy's website explains in its own words what this entails:
The shop is not first come, first served. Due to the limited number of products currently available we are opening a registration system.You have until October 28 to browse the shop and register your interest to buy a product. Please pick one item only, then enter your details and answer the question [that comes up]. Entrants will be selected at random and offered first refusal to make a purchase within seven working days with a secure way to pay.
It is reported by some news media the judge who will look at the various entries is going to be the comedian Alan Bloom – who says people's reasons must be 'amusing, informative or enlightening as possible.'
Banksy himself says 'We can't ever weed out all the people who just want to flip for profit, but we can weed out the unfunny ones.'
There is another twist to this latest Banksy venture – and that is his Bbay store. There is a link on each of the Gross Domestic product pages to this latest site. So far what it will actually offer is just conjectural. Who knows, it could be rejects, returns, damaged goods – any sort of stuff that's been 'used'.
One thing can be guessed from all this. The Gross Domestic Products website will close on 28th October and the Bbay store will open very soon after. I really dont know why there needs to be another but it must be to do with the legal process Banksy has been advised to undertake.
The Arts Newspaper has an article entitled 'To be or not to Bbay.' Even this doesn't throw any light on what the Bbay online store's offerings will be. Judging from the portal page that is now online, it seems its probably additional copies of his famous artworks that could be for sale. When we read those very words 'approved used Banksy dealership' its probably just his wry humour again intended to have us guessing as to what it all really means!
Bbay – what is it going to sell? Just wait and see! Is that guy in the picture really Banksy himself? Nah! He's just teasing us!
The bbay.shop domain was registered in July 2019, thus its clear Banksy had aspirations of setting up an online store under that name at least three months ago. It can be said its this amount of time that has taken the artist the effort to find some vacant South London stores, look at them and decide which would be the best choice (not forgetting that Stormzy is from Croydon too) and then ask designers to look at the website portals and exact a design and look that would reflect his artwork in the way he would want it, as well as design the pop up store and interview the various applicants who would wish to become one of the store's sixteen or so staff.
Clearly there has been a lot of work behind all this latest venture of Banksy's. Its probably nearly as much as the work that was needed to set up, build and manage Dismaland in Weston Super Mare! I'm not an expert on the legal aspects of that or this present venture however it seems Dismaland was a registered trademark – but not the artwork that was done by Banksy. Thus Dismaland wasn't really any sort defining factor in establishing the artist's trademarks. There's this article which discusses the legality in that name – its not about trademarks though.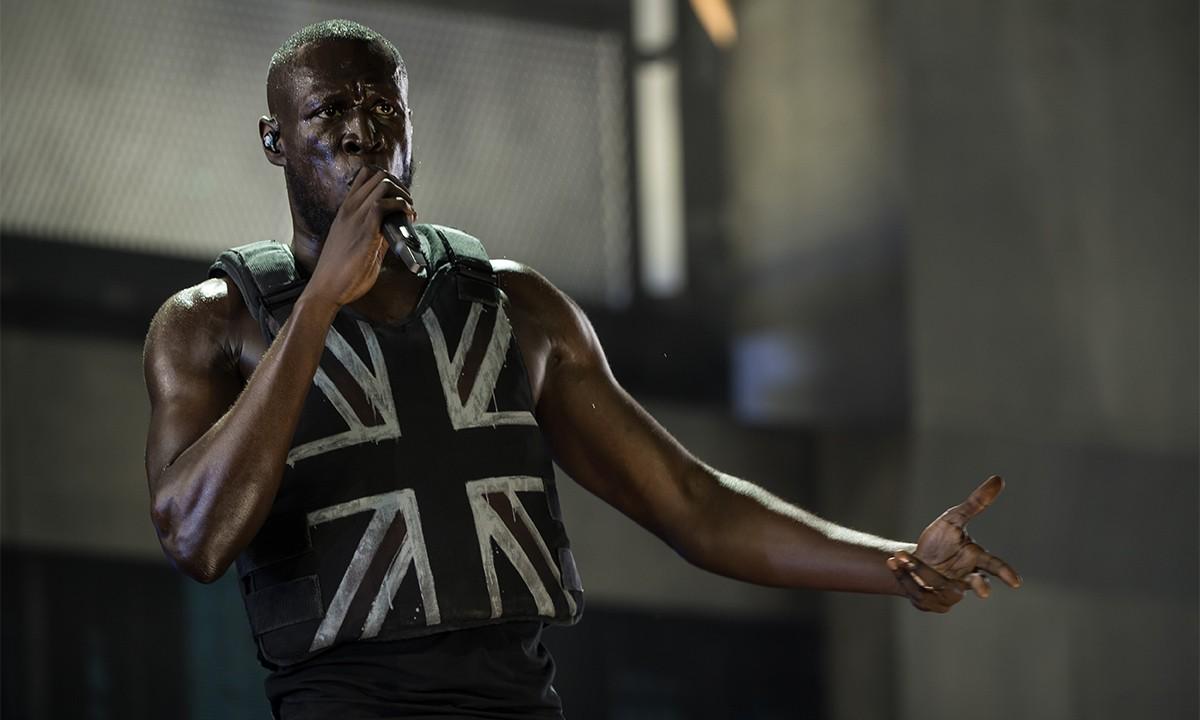 Stormzy at Glastonbury – the first solo Black artist in the festival's history. Source: Twitter
In terms of the work done to establish Banksy's latest ventures, there is one important milestone. Glastonbury which took place at the end of June 2019. It was on the 28th Stormzy had his acclaimed performance wearing the bullet proof vest with its Union Jack – thus establishing a historic moment by becoming the first ever solo Black musician to have a gig at the famous festival.
The next day Banksy revealed it was he who had designed the now famous vest. The Bbay domain was acquired on the 12th July and that for Gross Domestic was bought (or rather transferred) on the 17th July. Its interesting how all this followed that iconic moment, and perhaps it was Glastonbury that ultimately prompted Banksy to begin the processes needed to assert his trademarks.
There has been some dispute whether there is really any legal action or not – however there really is an issue – and its one where another company is trying to remove a trademark that Banksy has asserted to be his. I dont understand the reasoning behind this – being why would someone would want to remove the rights of someone so iconic as Banksy.
However the legal challenge arose on the 12th of March 2019 and from what I have read it seems the very complexity in the matter is Banksy would need to reveal his real identity. Instead of doing that his solicitors have advised him to open a store where he could sell his works. By that it would mean his art had a visible presence – other than being just guerrilla, fly by night, whatever the right word is – and that move would strongly assert his trademarks. The lawyers in this case have disputed Banksy's attempts and said:
'We are contesting the validity of one of his EU trademarks on the basis that he has freely permitted it to be reproduced such that it no longer functions as a trademark (if it ever did), on the basis that he never intended to use it as a trademark and that he is trying to register for collateral purposes (ie, to avoid evidential issues with copyright and to avoid having to file a 'statement of use' in the US).' Source: World Trademark Review
Another article on this matter can be seen here at The Independent. In terms of Glastonbury it is said Banksy is trying to 'steal the thunder from Stormzy's amazing performance…' Knowing Banksy's politics and his substantial efforts towards migrants, minorities, the disposed, the homeless etc, I dont think that is even what he is doing.
The attempt at the cancellation of the trademarks belonging to Banksy – as shown on the European Union Intellectual Property Office website – and the very reason for his substantial efforts in setting up a shop and online store in order to counter that legal challenge.
Nevertheless as I mentioned in my previous post its given the huge numbers of followers of Banksy an extra level of interest because there's been the store in Croydon, and not one but two websites! Who knows what will come next?
This very interesting post at The Conversation describes the artist's first legal action this year. The article suggested (at the time it was written) Banksy would have to continue to assert his legal rights over his work – and clearly that is what he is doing.
Banksy's Thrower picture – a commentary on the decades old Israel – Palestine conflict.
A bonus for anyone visiting the Gross Domestic product website is a free high res image of Banksy's Thrower. Hurry before it closes! Link to page here.