It all began with an opening ceremony at Marble Arch on the Sunday night which many hundreds attended. That was just the small start to a much bigger event. The Met Police were fully prepared too. At 6.30am their forces were already patrolling the bridges, strategic roads around government buildings and contractors were putting in place barricades along these roads too. Extinction Rebellion had once again come to let London and its seat of democracy know that action against climate change needed to be taken very urgently.
The morning had begun in spectacular earnest. Quite a number of XR demonstrators were already up and photographing the incredible red skies seen just before sunrise.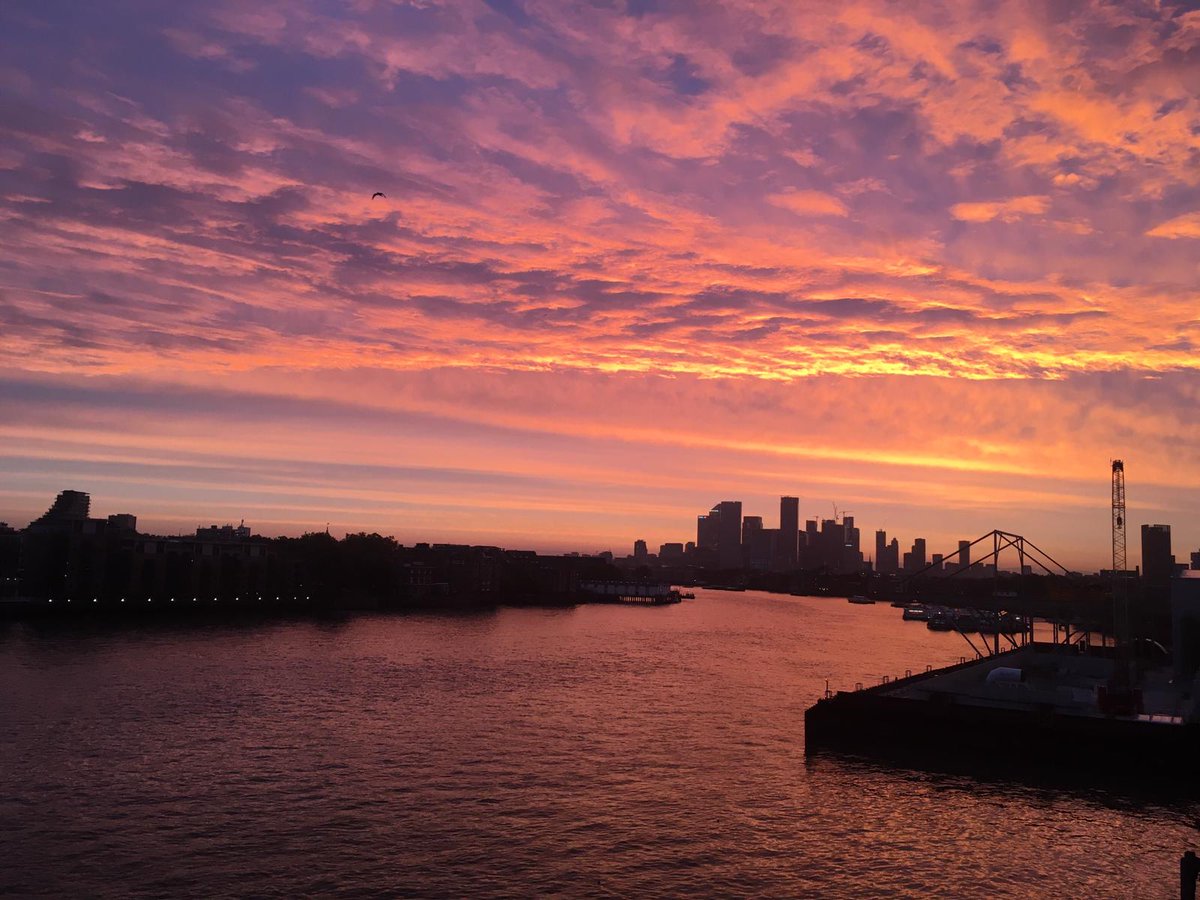 Looking from Tower Bridge towards Canary Wharf. Source: Twitter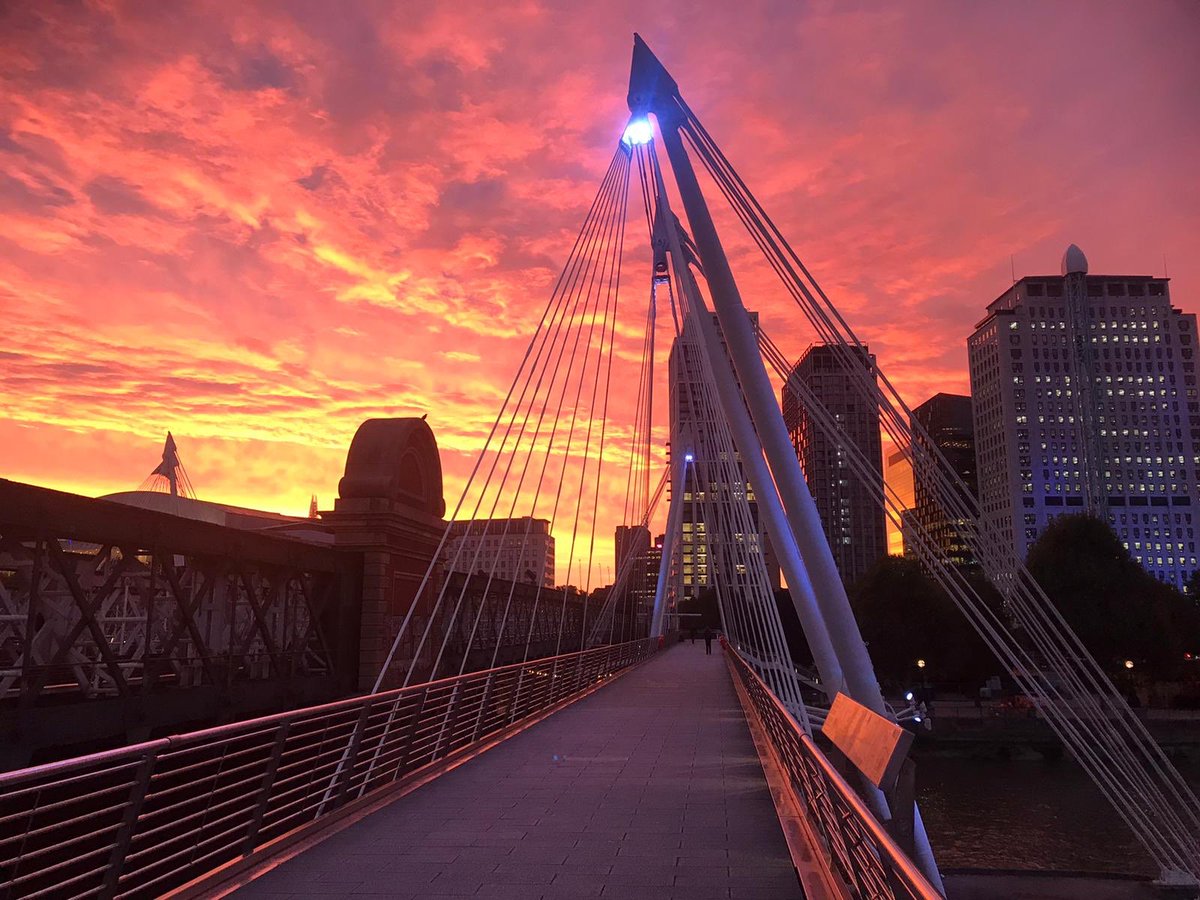 On the Jubilee Bridge. Source: Twitter
The warm up had begun in earnest somewhat earlier. Friday night a demonstration took place at the Tate Modern with the Red brigade in attendance and a light show upon the Tate's chimney.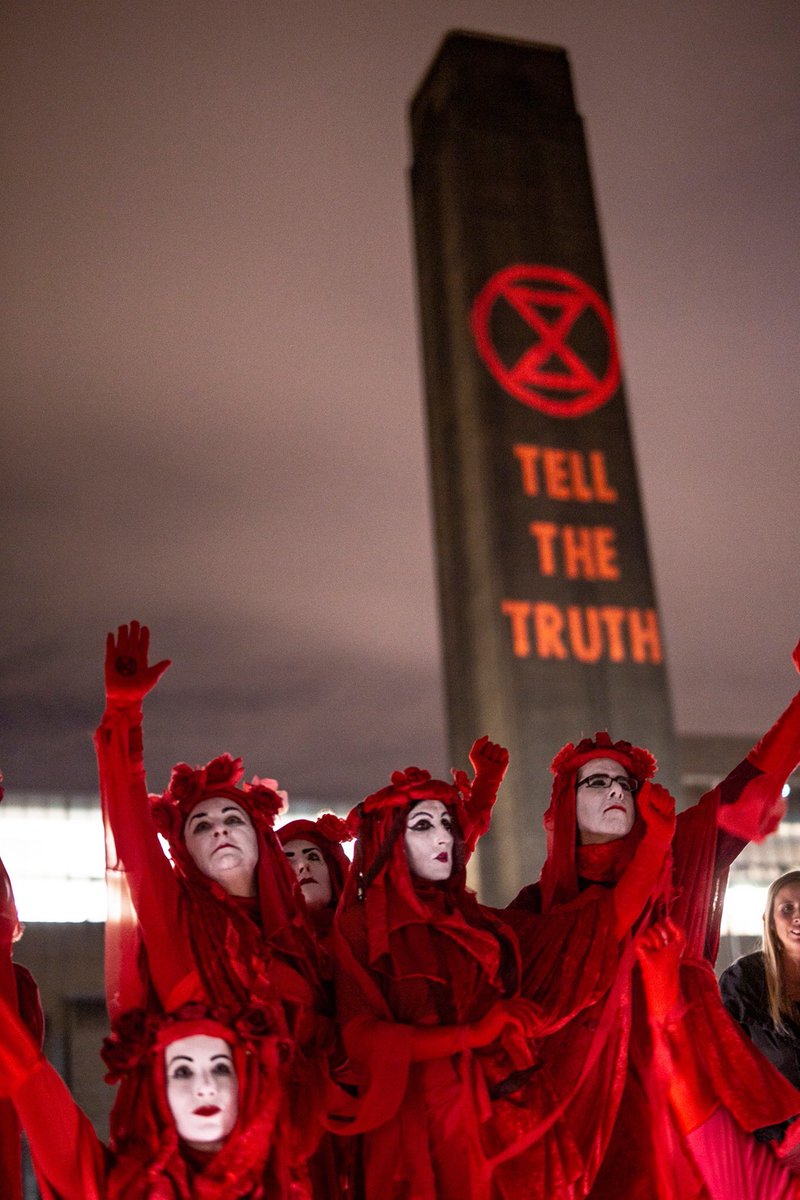 Friday night at the Tate. Source: Twitter
On Sunday night there was a huge light show at the Trellick Tower in North Kensington, conveying the message 'Act Now.' Some said it was an 'improvement' upon the 1960s designed Brutalist building!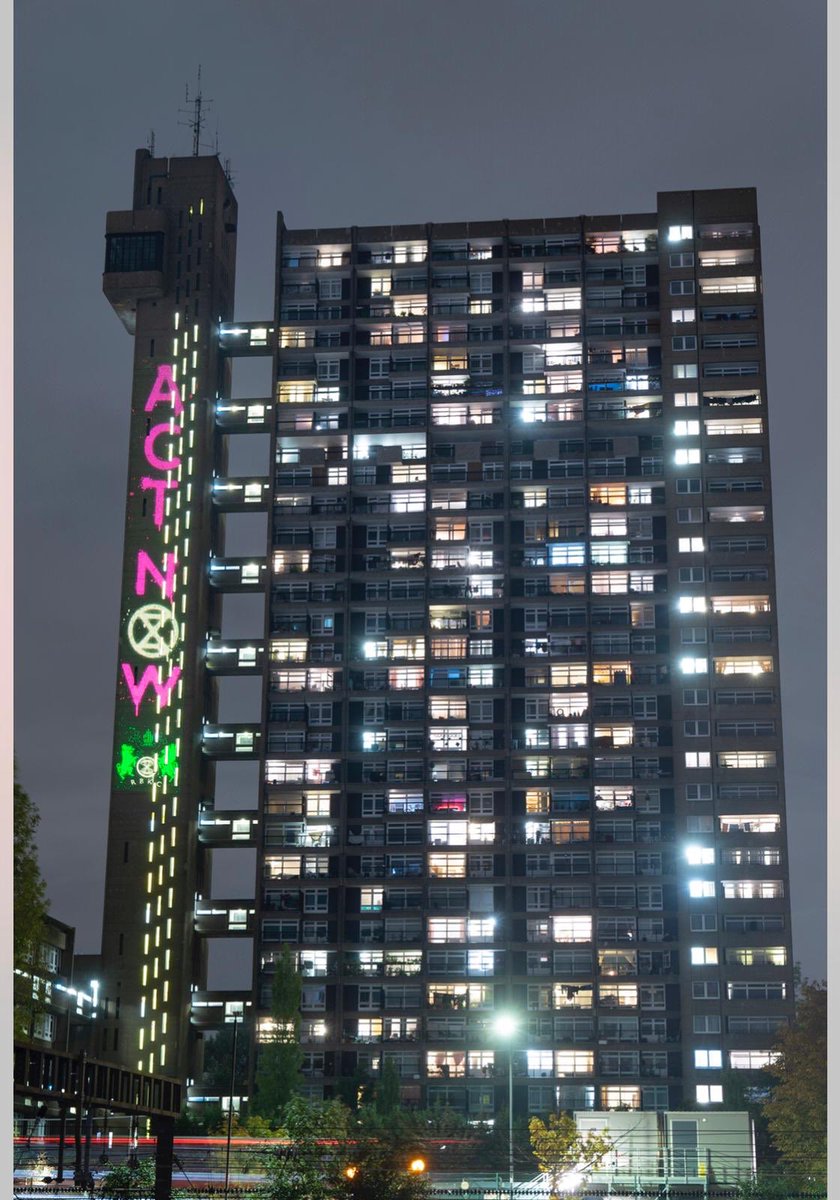 The XR Trellick Tower light show. Source: Twitter
This time there were many more thousands of people. And more strategic locations being blockaded. Westminster and Lambeth bridges, either side of the Houses of Parliament, were the main focal points (just as Waterloo Bridge was earlier this year.)
London was getting prepared quite early too. From about 5am TfL began ceasing the operation a number of bus routes that needed to cross the bridges or head right into Central London, or diverting them where possible. This caused a quite a number of complaints from commuters – TfL's explanation however was 'once the buses start their journey they could potentially get stuck in the demonstrations so in order to mitigate this, buses were diverted just before services start running for the morning peak.'
Perhaps TfL's move was wise, who knows? It may have been done on advice from the Met. For some Extinction Rebellions had already begun their two week protest well in advance of the main body of protests due to begin around 9am or 10am. The Ministry of Defence in Whitehall was one of the first to see demonstrators blockade the Victoria Embankment roadway outside the building itself. This had begun initially with a mock cruise missile being paraded, followed by the blockade.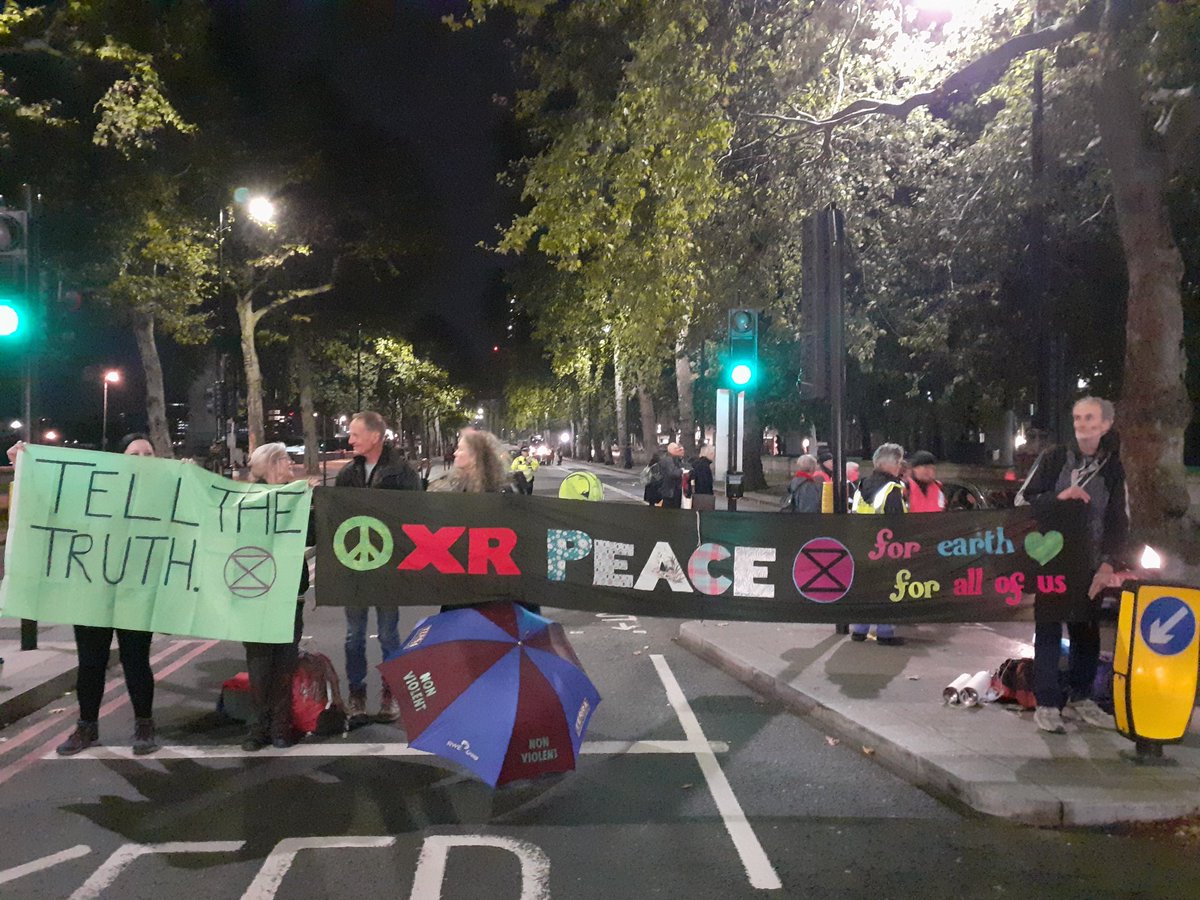 XR's MoD blockade at the Victoria Embankment, 6.30am. Source: Twitter
The MoD blockade was certainly the first big action by XR activists. Two had locked themselves to this car and there was no way of getting them free except by using cutting equipment.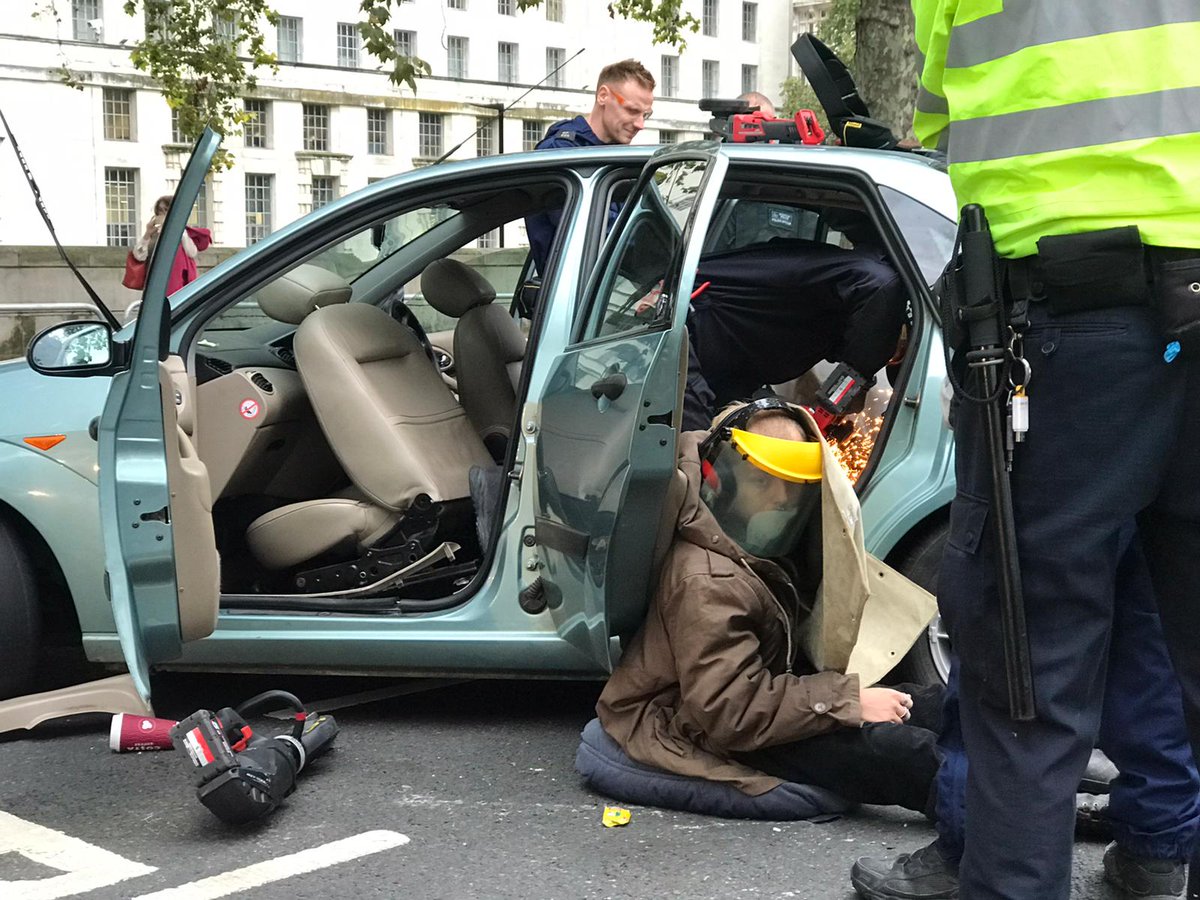 By 8am the XR demonstration was getting more advanced with protestors locking, chaining, themselves to a car and police in attendance. Source: Twitter
Another view of the Victoria Embankment lock-n with many police present. It was said by an LBC reporter there had been a dozen arrests here by this time… however by 9am it was said 23 activists had been arrested. Pic source: Twitter (Note: This pic was by a QC who has since deleted his tweet – however the picture here was archived.)
Later pictures showed the Met had well and truly blockaded Westminster bridge. No traffic was getting across it and certainly they were there with the intent of not letting anyone gain control of the bridge.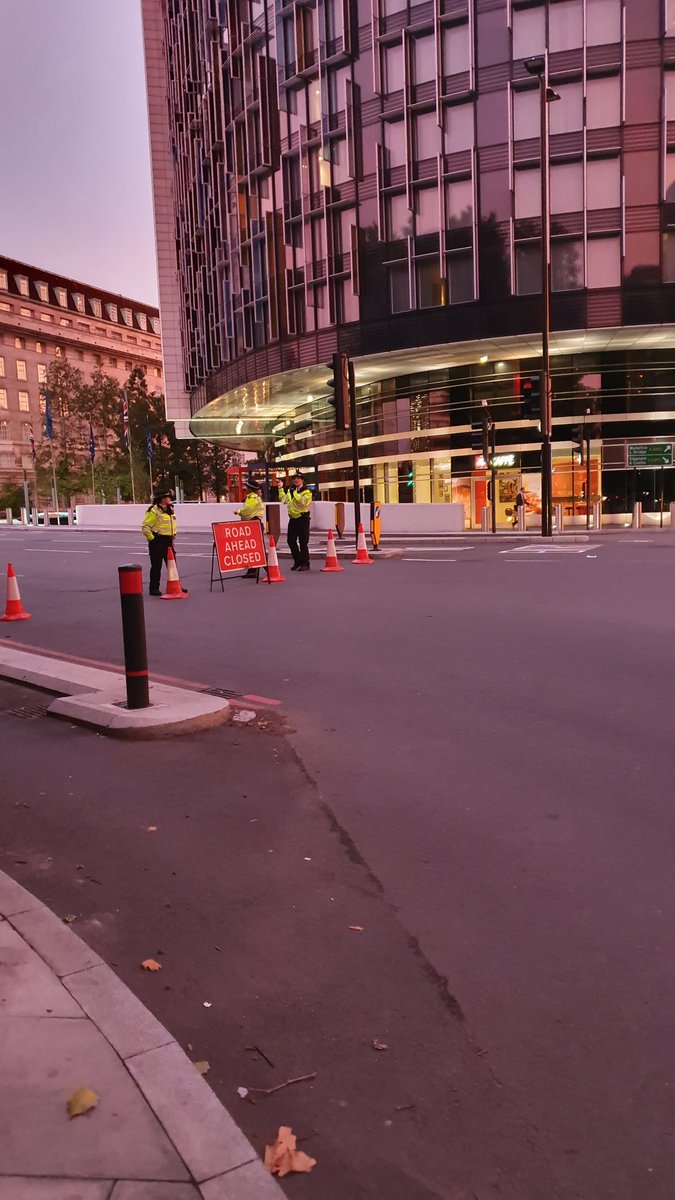 Met Police at the southern end of Westminster bridge. Source: Twitter
9.00am. A sole protester in place at the Cenotaph – ahead of the main body of activists. However it was being said there were lots of people about the centre of London ready to gather into huge masses of activists at 10am at the appointed locations Extinction Rebellion said they would be holding. Source: Twitter (Note this Twitter account has been suspended thus an archived image is used.)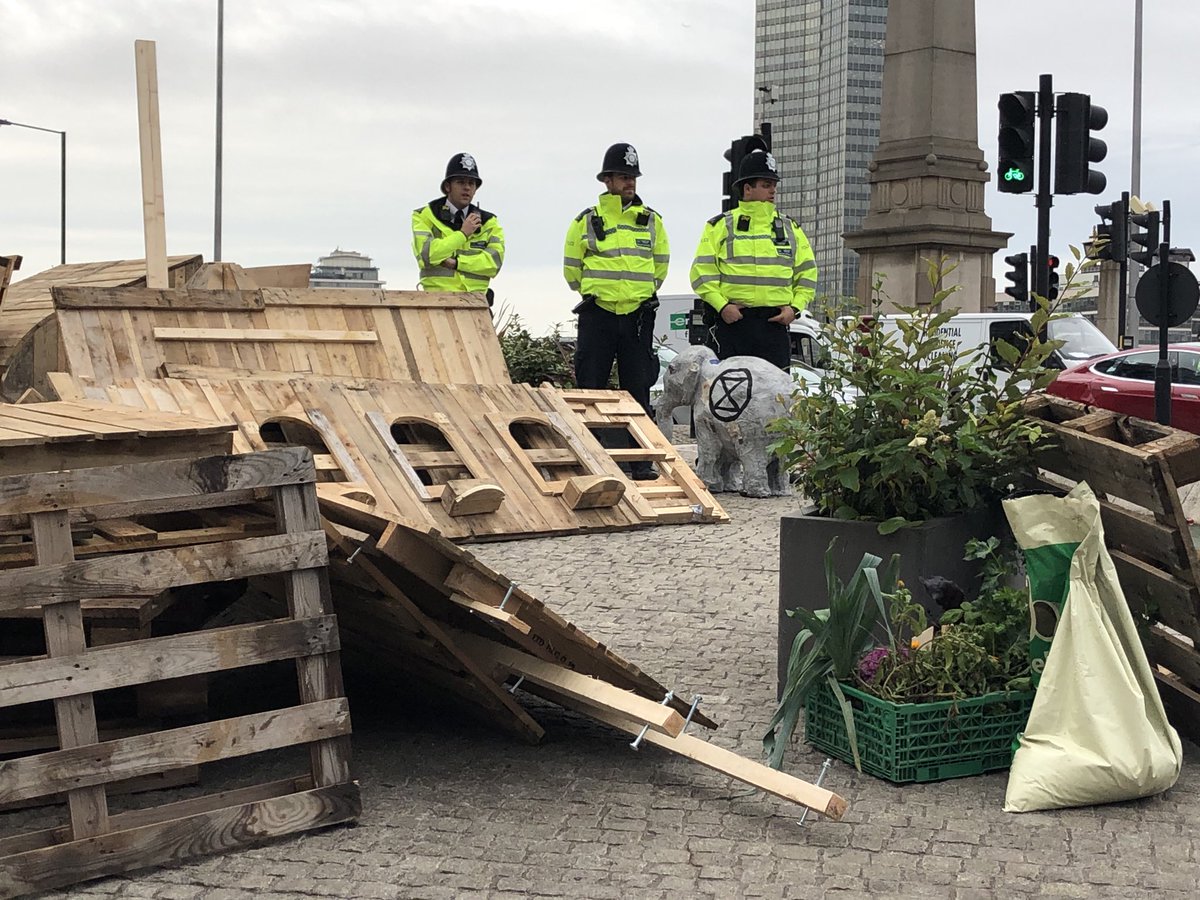 XR had gathered on Lambeth bridge, and at one point it had looked like the police would be allowing a limited, controlled, protest to take place. However a short while later more police arrived and took all of XR's stuff away. Source: Twitter
They did not give up at Lambeth bridge. No sooner than the police had taken this stuff away hordes of activists arrived, some with bands, banners, to establish a blockade of the bridge. Soon enough the Red Brigade had too arrived!
Screencap from live video stream of the Red Brigade on Lambeth bridge, 9.38am.
Police surrounded by Red Brigade 9.42am.
Contorted head being placed in the middle of the road at Lambeth bridge.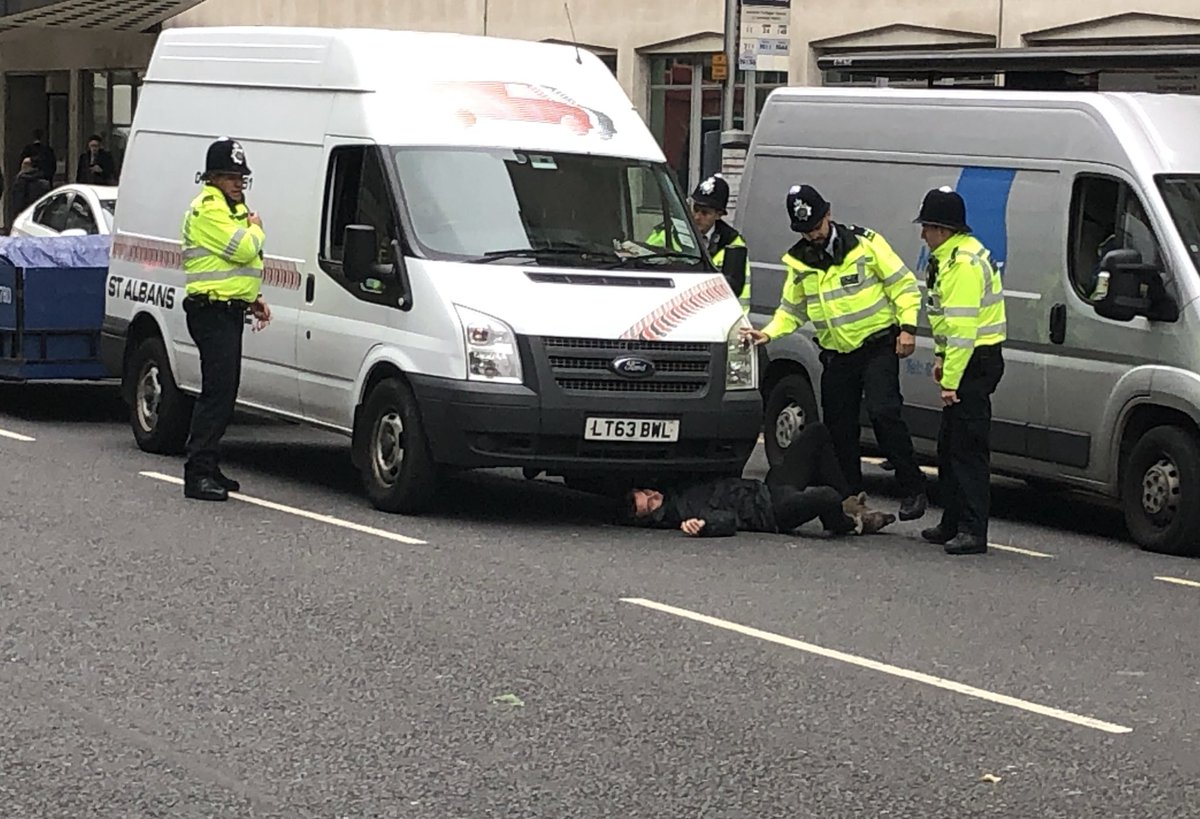 09.40: Protester under van in Victoria Street. Source: Twitter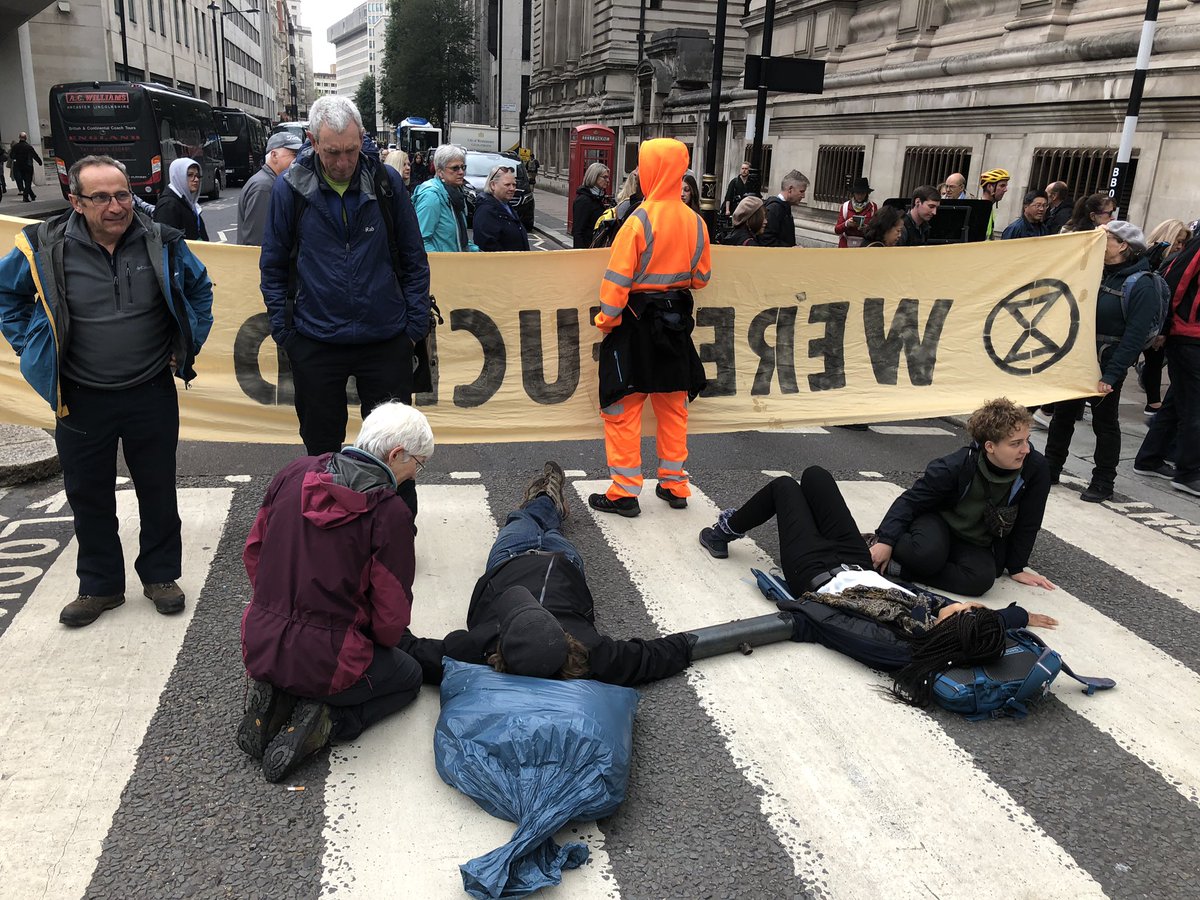 09.45am: Protestors glued to the crossing in Tothill Street. Source: Twitter
One of the few videos so far from this early morning's events, with people dancing and police just arriving in their vans.
Met Police searching practically everyone who came out of Westminster tube station… looking for XR demonstrators with concealed tools, chains, glue, banners, flags, whatever… Source: Twitter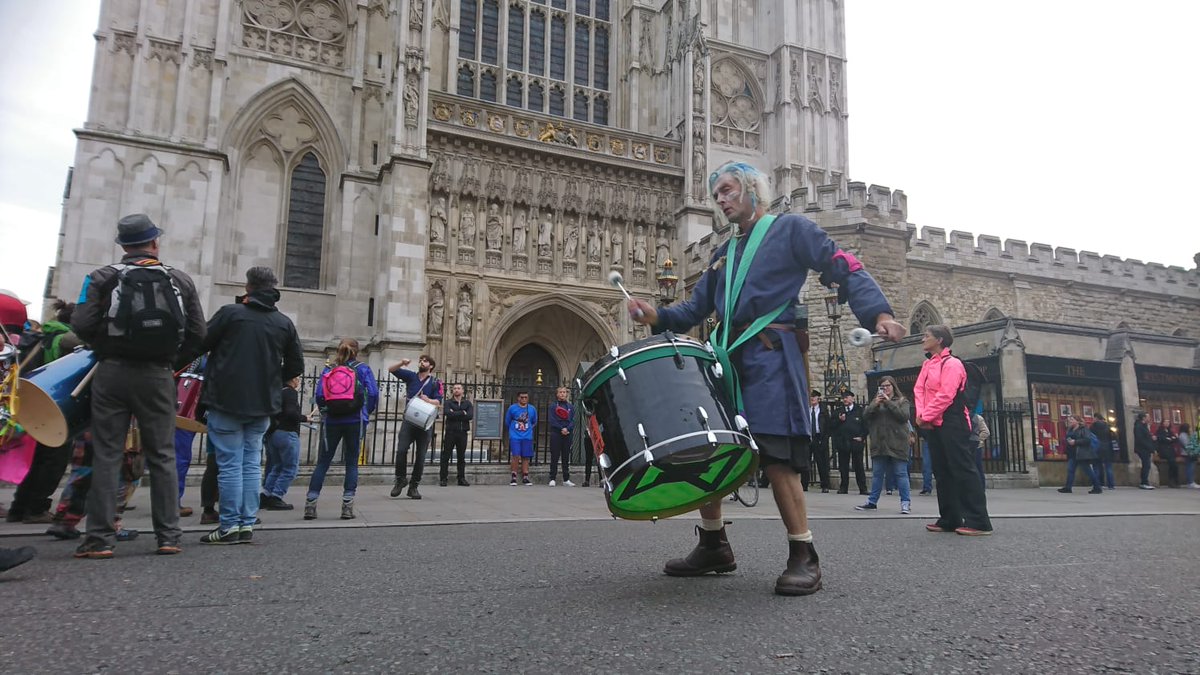 9.20am: XR bands outside Westminster Abbey. Source: Twitter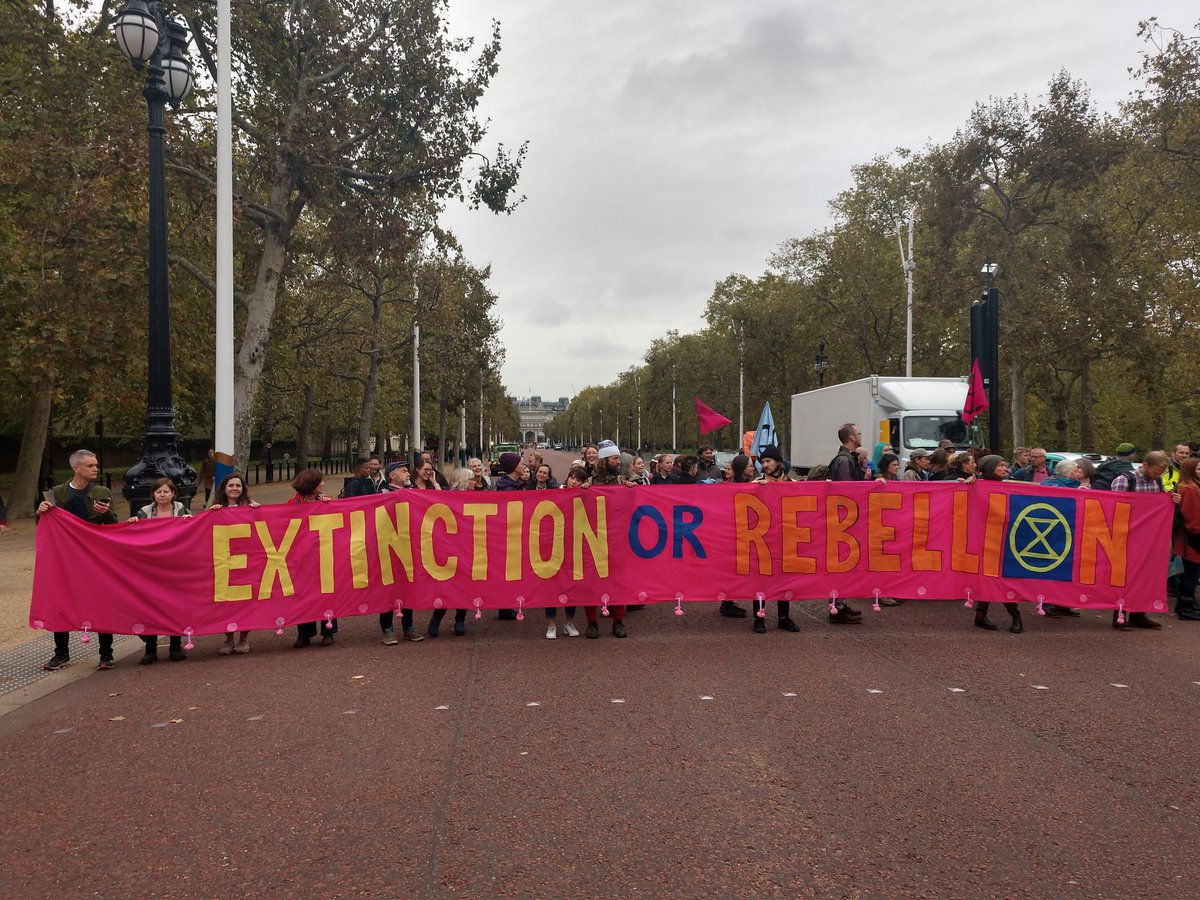 9.25am: Blockade in The Mall begins. Source: Twitter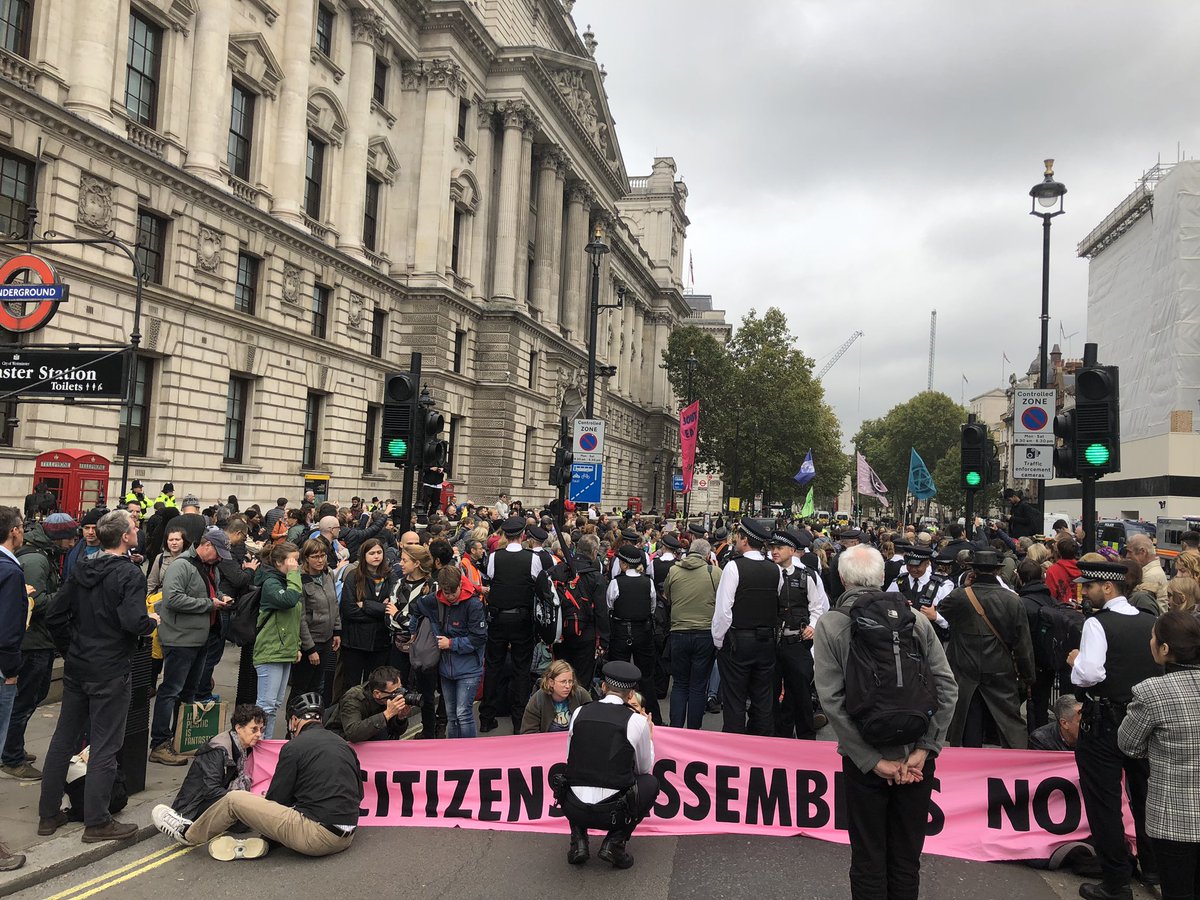 Growing protests in Whitehall. Source: Twitter
As I did last time, I'll try and cover some more of the Extinction Rebellion activities and events as we go through the next week or two of this latest activism. Later today I'll be out on the streets with my camera and reporting on what's happening.