A brilliant artwork that takes up the entire west side of Cubitt Square at King's Cross. Its a collaboration between artist Christine Sum Kim, Frank Barnes School and Argent the site's developer. It must be one of the biggest statements that's been made as a work of art yet despite its somewhat 'fun' connotation it actually has a very important message in terms of equality and discrimination. The work has been at Cubitt Square since July 2019. In September the London Design Festival hid the message in order to promote a huge art exhibition pavilion.
The artist, Christine Sum Kim has already had a number of similar successful artworks across America and whilst those are often statements not related to deafness or sign language, they too have had an impact. This is her first major work in the UK and it can be found on the north side of Coal Drops Yard.
The full works. Click on the image to see larger.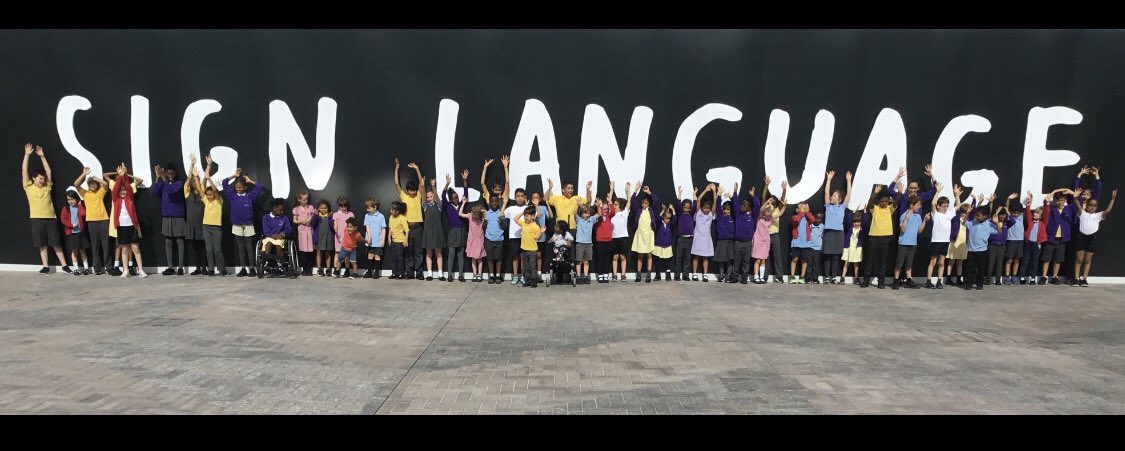 The children of Frank Barnes School at the billboard. Source: Twitter
The huge billboard was created in conjunction with the children of Frank Barnes school – and the point behind the message is the children all want to be seen as part of society – not rejected by it simply because they are deaf and use sign language.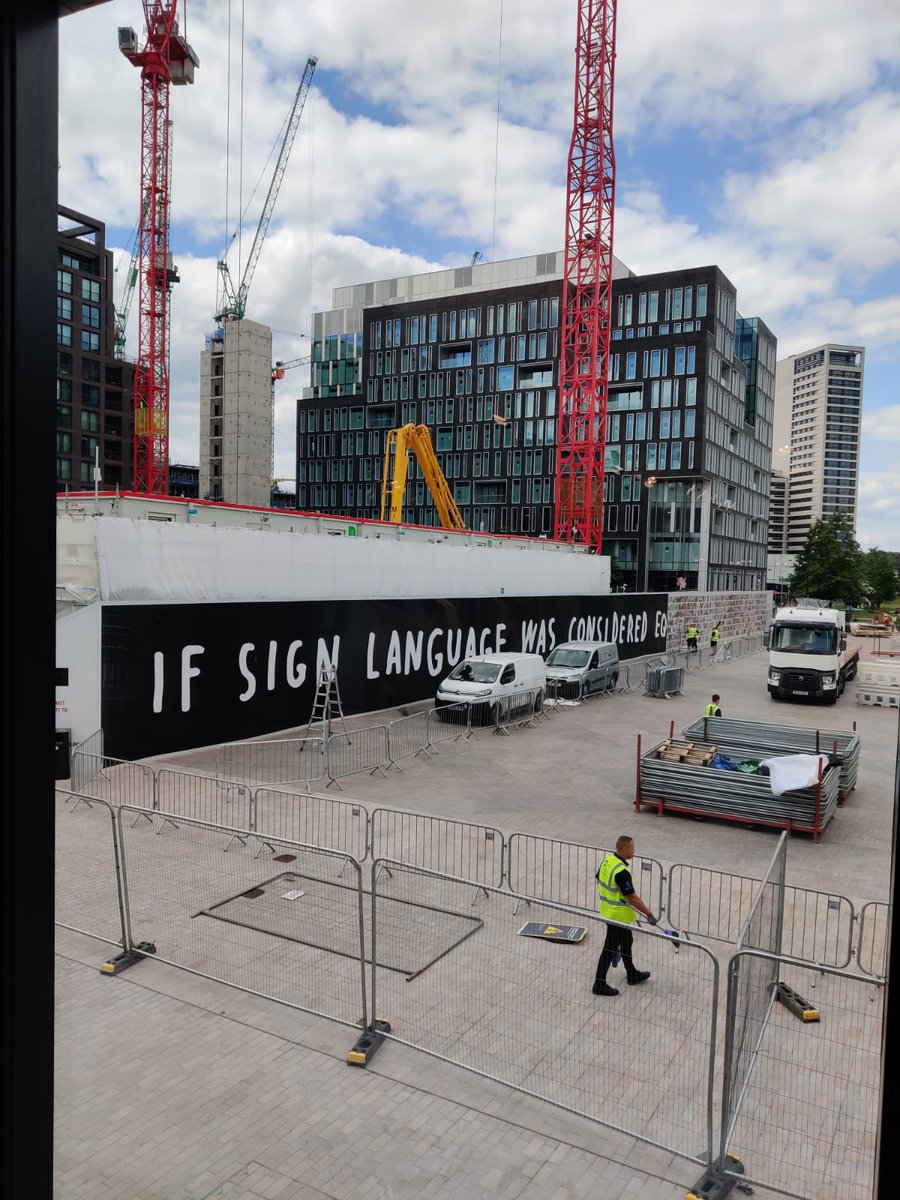 Christine's billboard going up at Cubitt Square. Source: Twitter
The reason for this is naturally the issue that this is a speech based society with strong aspirations to make itself even more of a speech society. I wont bother explaining how that works but its sadly one of the greatest ironies and in turn one of the greatest discriminations the world has ever conceived when it comes to those who require a different form of communication – and there is in fact a curated mindset which is almost impossible to change.
Different perspective of the slogan, set against the King's Cross development. Click image to view larger.
In terms of that discrimination word, this is one artwork you'll never find being reported by other blogs or even the news media. Why? There's a simple reason… I have already explained it in a nutshell – its because we are not equal in any way or any form and there is very strong discrimination. The fact there is even this is perhaps because I made sure Argent and the school could have opportunities to work together because the school is right on the doorstep of Coal Drops Yard.
Another particular reason for this post is the fact London Design Festival's chosen to hide this important message for perhaps two weeks to promote a rather more salubrious matter – which clearly isn't promoting any sort of equality in terms of such matters as that they're blocking…. Imagine the uproar if it was a white organisation block Black people's artwork. The same is essentially being done here yet no-one says anything.
In short both Argent and the London Design Festival have shown that sign language (and deaf rights) is not equal in any sort of terms….
Very sad!
Some of the other works by Christine Sum Kim: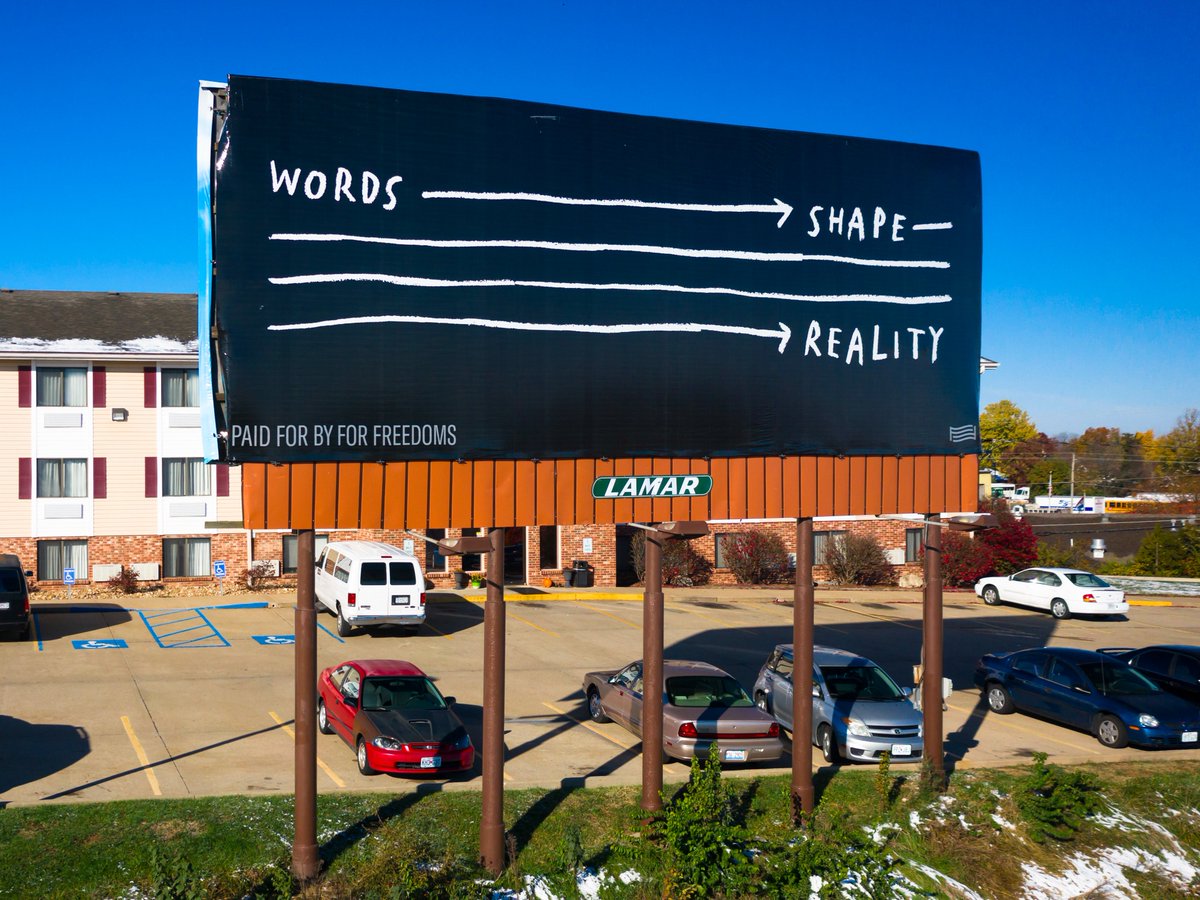 One of Christine's billboards in Jefferson City, Missouri . Source: Twitter
Translation is a key motif in Kim's work, with a variety of media used to provide critical commentary on translations between American Sign Language and English. Quote: Twitter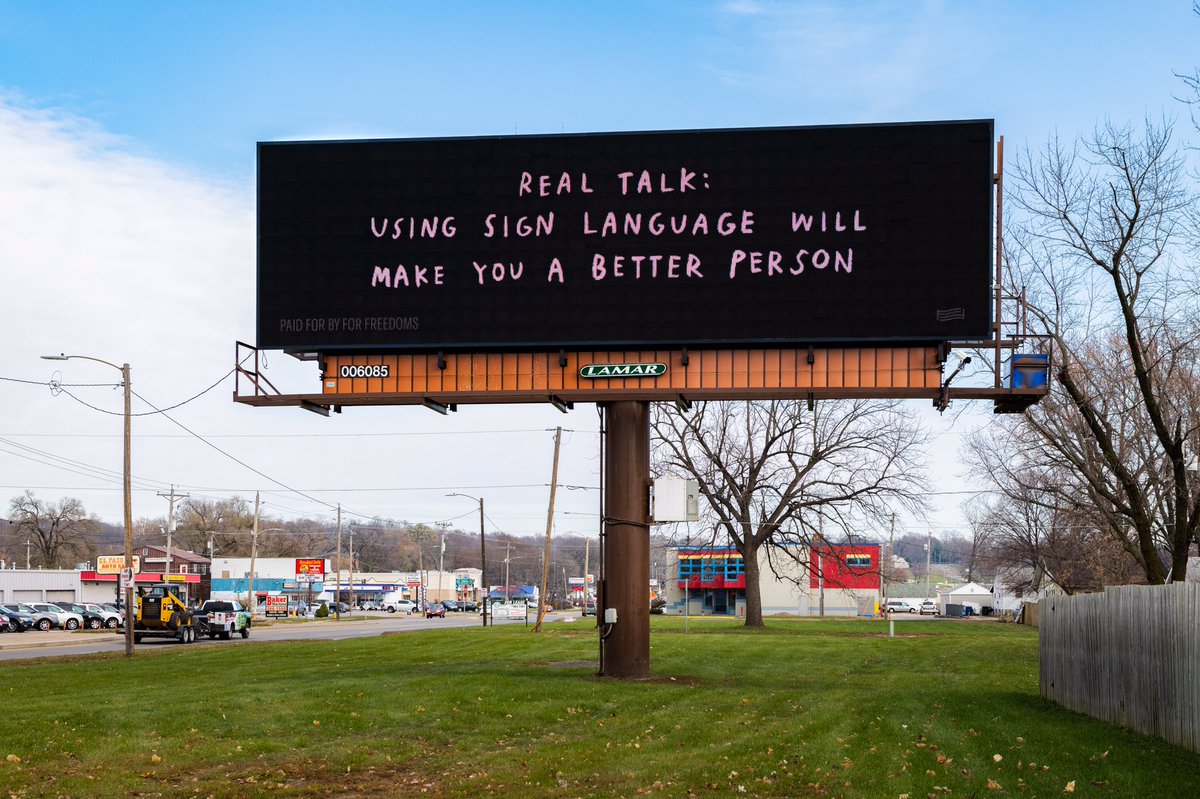 Another, related to sign language too, is this in Des Moines, Iowa. Source: Twitter
Artist Christine Sum Kim's website.