Some years ago the then sibling charity Canal and River Trust had thought to themselves 'the duckweed war is being won'. It was very wishful thinking! A series of articles extolling their success against the infernal green stuff soon proved somewhat immature. At the very time one of the more confident articles was published, the canals were probably between a rock and a hard place. They were still filthy however the warmer summers were at least making the duckweed a little more tough. And then the canals started become more cleaner than they have ever been – ironically cleanliness is something the duckweed also loves!
Cleanliness is very big paradox indeed especially when it comes to what is essentially stagnant water (unless we're discussing quite fast moving rivers rivers or rare types of man made waterways like the Llangollen, and in other respects the New River or Tavistock canals – which have constant flows of water.)
I wrote on Canal & River Trust's losing war with duckweed in 2015.
One of the downsides of having a much cleaner canal in London is the dubious benefits of having even more duckweed! In the older days duckweed could only get a hold briefly during the hotter months of the summer such as July and August.
With even more cleaner canals duckweed will have a greater hold and the fact it can now last from as early as April right through to October means any sort of war against the stuff isn't being won.
Duckweed makes the canal look nice (it hides the rubbish floating on top or just under the surface too!) However people and animals do mistake it for a type of lawn and have fallen in which isn't very nice. Canoeists and paddle boarders find it a struggle to navigate because its like trying to go through a thick carpet.
The canal at Camden on 4th August 2019
The other really nice thing about duckweed (or rather a downside to it) is that one can be steering a boat and not see a huge sheet of plastic or tarpaulin ahead, and so by not moving the boat around it, the menace will wrap itself round the boat's propeller. Plus one cant see underwater obstructions, thus for example it can be more difficult to find a mooring spot deep enough for a boat.
Its not just that. If someone fell into a canal that was thick with duckweed, imagine what it would be like for the person's rescuers. First no-one would be able to catch sight of where the person would be in the water. Secondly anyone diving down there would be greeted with an almost totally unlit world and it would be very hard to locate someone who had fell in, especially if they had caught their clothes on some underwater obstruction and were unable to float upwards.
Duckweed in some moderation is not necessarily a problem. Ducks and swans (bless them) will eat it and too will other waterfowl. Fish eat it too. Duckweed in fact removes pollution from the canals. Its only when there is an imbalance it becomes a problem. What this means is at some point the imbalance means the duckweed has grown so much it is removing oxygen and sunlight from the water and this becomes the point at which other animals and fish in the water start to have problems.
Swan feeding off duckweed on the Lee Navigation
There is great concern that duckweed kills off the fish. Well the answer depends. Fish like duckweed but they can't eat whole carpets of it – thus the balance between the two is quite fine. Yes duckweed does kill off fish because it depletes the oxygen in the canal.
Some fish will however be astute and move to where there is more oxygen like near a lock or a weir or they may even congregate at locations underneath bridges or where there's dense tree cover – meaning less duckweed and thus a bit more oxygen.
This is why there's a quest to keep the canal clear of duckweed as much as possible. There must be the space for oxygen to replenish and in turn it means the sunlight must reach the water and help to oxygenate it.
Managing duckweed and keeping it controlled and in moderation is the way forward, however if the essence of global warming is to be believed, then the canals could be in for even more problems.
The duckweed at Little Venice 1st August 2019
On the other hand the duckweed also keeps the canal cool and its something the fish like especially if its very hot. Again that depends on how well the water is oxygenated. The bottom of the canal can be very cool on a really hot summer's day even if there's no duckweed about, but then it'll get quite overcrowded, and the duckweed cover can provide some relief. Again it depends on the set-up and what the benefits and disbenefits are.
Some may think, why not use chemicals to control the duckweed. Chemicals cant be used because of the effects on fish and wildlife. This means removing (and controlling duckweed) is a very intensive and time-consuming job. It has to be scooped off the canal surface, then deposited into boats which take it to a distribution point, and then the duckweed is transported away for disposal.
Its a mixed bag all around and depends on cleanliness, oxygen levels, fish numbers, whether there's a heatwave, how many boats are aerating the canal, whether the canal has many locks and weirs bubbling away and so on.
Fantastic view of the duckweed at Little Venice a few days ago. Source: Facebook
In the high summer a canal can struggle to maintain water levels which means locks and weirs are not doing their job of aerating the water. In these situations duckweed can create critical conditions and its then that the Environment Agency has to pump oxygen into the canal to help the fish survive.
This seems to becoming the norm these summers and let's face it, getting the duckweed down to an acceptable level wont always solve the problem.
The canal in Regent's Park showing the duckweed – not usually so bad here as in other places.
In the past there have been debates between Canal & River Trust and various organisations/individuals as to the reasons for fish dying in their hundreds. CRT solely attribute it to hot weather but others insist pollution also has a role to play as this tweet thread from 2013 shows.
The aforementioned 2013 thread – as it was captured in 2013!
In considering the above, there is the advantage duckweed has which is it scrubs up some of the pollution from a canal. In that respect one can see duckweed does have a role in maintaining healthy levels in a canal as long as it is managed effectively. Obviously if duckweed resembles a thick carpet then its doing absolutely no good in any way or any respect.
The big challenge is how to keep duckweed at a level where its harmful effects are negated and its benefits are used well. Its a very difficult balancing act though – and more often than not it will do more harm than good.
The big problem with London's canals is the route from Bull's Bridge to Camden Town off the main Grand Union canal is its a huge body of very slow moving water over thirteen miles long. By the time the water reaches Little Venice its pretty poor quality – much of the goodness in the water has been taken out en route (evaporation, de-oxygenation, and so on.) Plus a lot of rubbish and pollutants (such as nitrates, phosphates) and all sorts of liquids collects en route which doesn't help.
Environment Agency inspector testing the canal water quality at Little Venice. 1st August 2019
The Lee Navigation and Limehouse too have duckweed but the reasons are often different to what is happening up at Little Venice and that is in part because any treated water from sewage works based in the Lea Valley is quite nutritious and the duckweed loves that. There's also all sorts of surface run -offs into the Lee Navigation /River Lea which adds to the lethal cocktail often found.
Old Ford locks on the Lee Navigation, which gets quite a bit of duckweed and rubbish from the long level leading to Tottenham.
Deephams Sewage Works near Ponders End has in the past been responsible for sewerage entering the navigation. The sewerage is of course treated but ti can still present problems.
A recent upgrade has just been completed at Deephams but its not so far known if this is having any great effect on reducing the amount of duckweed in the Lee Navigation.
As I write it seems the navigation is still having its fair share of problems and it may be that the upgrade has come too late because of global warming.
Limehouse basin gets pretty thick with the stuff which in many ways is because its a meeting of different waters with different qualities. It gets the grotty water from the Regent's Canal (which has got it in turn from the Grand Union) and also the grotty water that's coming off the Lee Navigation. A super exotic mix of cocktails!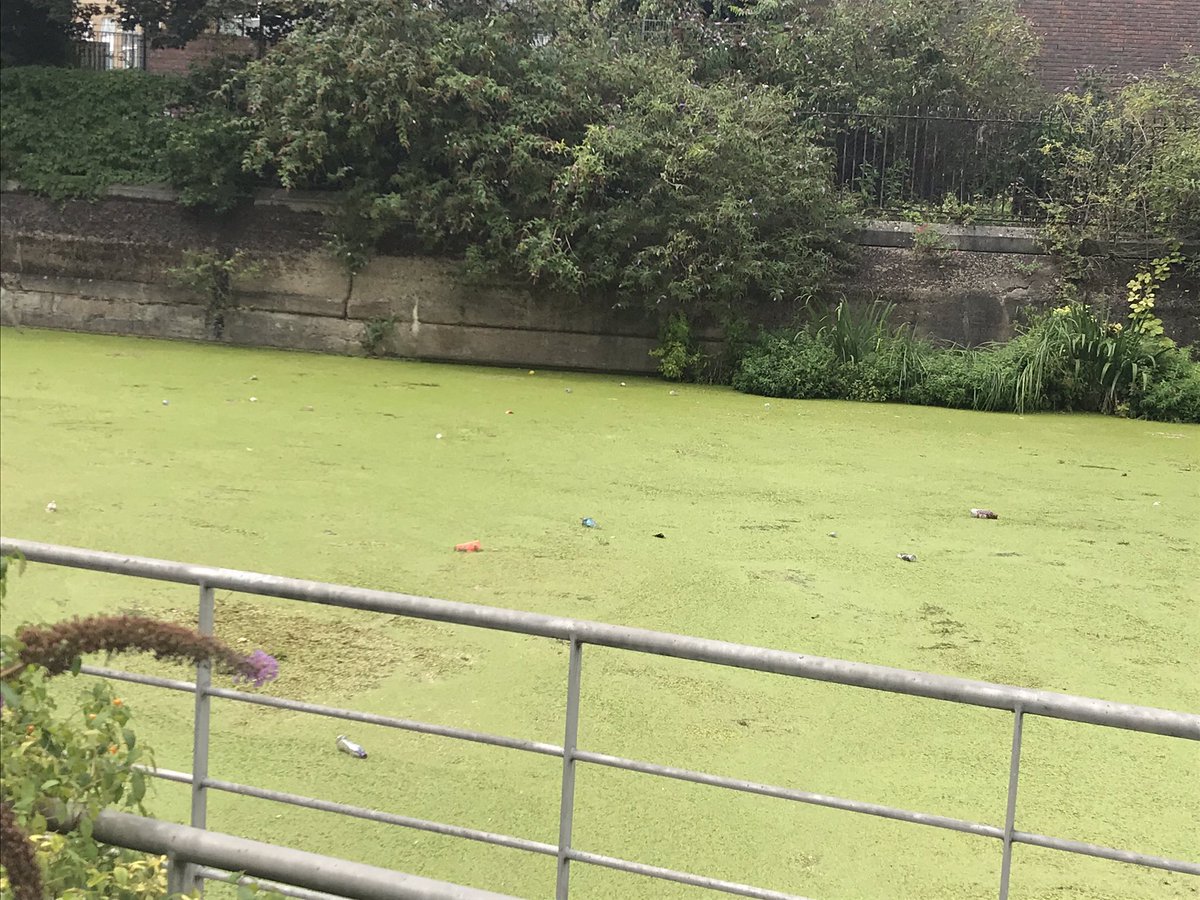 The Limehouse Cut last week. No doubt this stuff will all go to Limehouse basin! Source: Twitter
Each waterway will have a different reason as to why certain weeds/plants are thriving. Giving one example, in the past the canals around the bottom of the Birmingham Canals and the top of the Staffs & Worcs and Shropshire Union used to be considerably clean but also thick with a luxuriant weed in the canal itself (not duckweed floating on the surface.) This was because the Barnhurst sewage works pumped very clean and treated water into the canal system – but there was other nutrients going into the water other types of weed just loved!
These days CRT are having to employ ever more resources into simply keeping the duckweed down to an acceptable level. Extra water vessels and private contractors are being used in the battle against the duckweed.
It seems CRT simply does not have enough staff to manage this 'war' – the levels of duckweed compared to the charity's early days is exorbitant – and that is why extra resources have to be brought in.
It is not the first time private contractors have been used on the Regent's Canal. British Waterways too contracted some of its surface clearance tasks to other organisations such as Thames 21.
However CRT are having to employ these private contractors in greater numbers. Currently the Rothen Group who have come onto London's waterways scene recently, are the main players in the latest battle to at least try and gain a manageable hold on the duckweed.
As the tweet below tells us, they're not being very successful at shifting these huge amounts of duckweed. Its not want of muscle power that is the problem. Imagine having to pick up countless rolls of discarded carpet everyday – and when one looks away for a moment, there's even more! That's what duckweed is like. It seems to come from nowhere!
No matter how much is thrown at the stuff it simply wont shift. It grows too fast and the more there is the faster it grows! Anyone thinking of having a war against duckweed will be surprised at how taxing it becomes. Its as if the duckweed knows its being eradicated and resolves to grow even faster!
One might say, damn it, let's leave the duckweed alone! It will disappear eventually, and it does do that as the summer draws on. But leaving duckweed alone for the best part of six months leads to numerous problems – and it must be sorted otherwise it'll become some super-duper dense carpet laying on top of the canal several inches thick with potentially dangerous consequences.
Just to show how thick duckweed can become, in the mid 20th Century, when canals had all but become abandoned and only the hardy boater would dare venture down some of the least used waterways – some of these canals were hardly ever in use – they were in fact very clean (not the industrial stretches as the Coventry five and a half or most of the Birmingham Canal Navigations) but those especially right out in the countryside – which under the right conditions saw duckweed grow to the most amazing proportions as the next picture shows.
This picture was taken on the Stratford Canal seventy years ago and it shows just how thick this duckweed can get.
In some countries duckweed is so profligate its very useful as a superfood. Its full of nutrients and happens to be quite tasty despite what people in this country say about it. See the Telegraph for example re the stuff being useful as a superfood.
Note: This post is my 800th!