UPDATE 17 JULY 2019:
I updated this post in view of a link to it, however that link is no longer extant…
As pointed out in the text below (the original part of the post) I had assertions from three sources, including the Greenwich Peninsula and Jetty Peninsula that I could do pictures at The Tide, I was determined I didn't want to go there again. However the next day I decided to make another visit and see just how the security would treat me…
I arrived at North Greenwich and the very first thing I saw from a long way off was those two same plonkers of security guys standing under a tree, no doubt looking for misfits or others who didn't fit their pre-conceived notions of what visitors to The Tide should look like…
There they are! Standing under the tree opposite the steps leading to the Tide…
The same exact guys as the previous day (9th July)
There were loads of other security guys, no doubt on the look out for me!
More security, on The Tide itself.
Apparently they are very fast at reporting people who don't fit their pre-conceived notions of visitors to the area…
I didn't have to wait long for the security to turn up… I walked round the side of TfL's Pier Walk offices and proceeded to take a few shots of looking towards the O2 with The Tide running across the scene.
The security guys are already onto me… they can be seen coming round the corner just behind this couple coming towards me.
LOL! There they are 🙂 with their usual credo 'no photographs to be taken.'
I waved a piece of paper at them showing three sources had said I could take photographs in the area… they looked quite flumoxed…
They didn't know where to look…
By now they were looking a bit disappointed it was I who was having the better day.
As I left the area I zoomed in on them several times with my camera and it was clear they were looking a bit sheepish…
And no, Greenwich Peninsula is not getting any further reviews of The Tide from me!
Thanks to someone who riled me over the use of photographs, I found this other one (shown below and embedded from a tweet) after an intensive search. Its clear from these signs there are no rules re photography.
There's one at the start of the steps and another halfway along (that being the picture I was forced not to use…)
I didn't see this one which is at the start of the main stairs to The Tide. If you read my earlier post below, I had encountered a security guy at this point who enquired what I was doing, and after trying to explain I was trying to do photographs and a blog on the newly opened walkway, he smiled, said somethings I didn't understand and then pointed up towards the walkway and said something to the effect like 'enjoy your visit.'
So I missed this sign because it was at this point the first security intervened with me (and they did nothing didn't even say 'no photographs' etc.)
As for the other sign, the one in dispute, I didn't see that either. This sign is clearly at the other end, and I havent even been any further than just the main stairs and lifts. That is as far as I got before being prevented by security from doing any more photographs.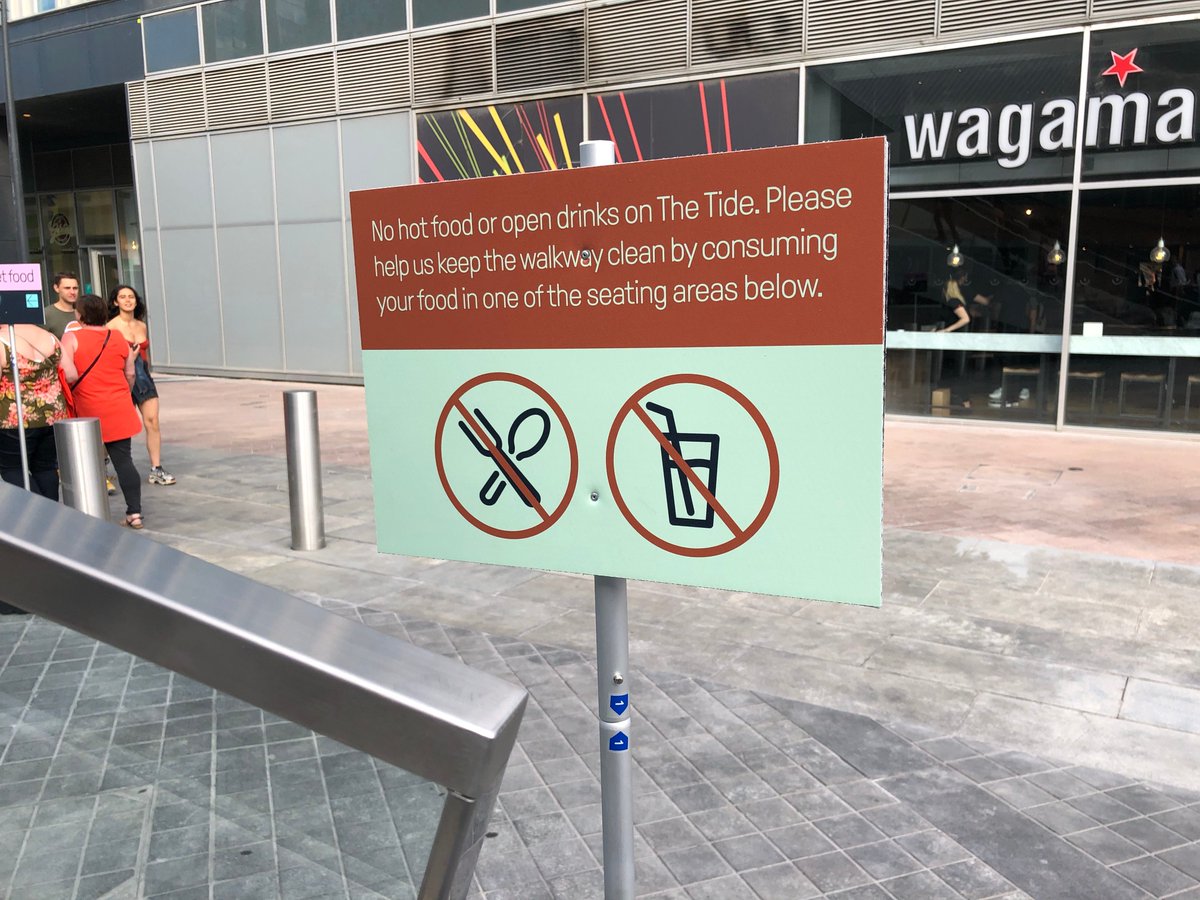 Where does it say 'no photographs?' Source: Twitter
THE ORIGINAL PART OF THE POST WRITTEN 9TH/10TH JULY
This afternoon I was discriminated against by security at The Tide in North Greenwich for no reason. I tried and tried to explain I was doing report and photos for my blog but they had no sense and couldn't even communicate with me at all.
Having read the Tide was now opened I decided to make a visit and see what it looked like and that would be a follow up to an earlier post I had done on it. Now I wish I hadn't.
When I arrived there was absolutely no problems. A security guy did come up to me and mumbled something that so I tried to explain I was here doing a blog and he smiled and said more or less I could go up there and enjoy my visit. Thus straight off the security staff (this being a different guy) had more or less welcomed me and had seen me using my cameras too, simply indicating the stairs up to The Tide and indicating that I should enjoy my visit.
Funnily enough after about five minutes, and about twenty photographs taken, I had a pair of security arriving when I was looking at the new accessible sections of The Tide, insisting I couldn't take any photos.
They kept on muttering about security cameras and the rest of it. I have absolutely not idea what this was about. So? There are security cameras everywhere so why was this place different. Was I acting strangely and this being the reason? I don't know. However it wasn't nice.
Below is a picture of the security who made my most recent visit to The Tide on 8th July 2019 a most miserable one. And following are the many tweets I sent as a result of this abject experience.
I do not ever want to go to this place again. I do not want to see the O2 again, do not want to get off at North Greenwich tube station even, its that simple. I do not even want to give them any sort of publicity,. That which I did previously I have taken down.
This is a rather fragmented post its being thrown together without any proper organisation. I did write up a draft report (with loads of spelling and grammer errors) on my mobile on the tube en route home but have not had a chance to sort that or the pictures I took yet….
The one picture you see so far is a screencap I took from the video of this afternoon. Going to try and put some more up…
They obviously thought I was up to no good or something. The usual shit. A lot of these people have absolutely no idea of the continual damage this is doing to me. In trying to do my blog I get a lot of this shit where-ever I go. And it is not nice.
The irony is I was just finding out how well The Tide would be accessible and was very impressed by that. JUST AFTER THAT VERY MOMENT the security came and put the boot in….
Taking a picture of the level access from the lifts to the upper section… and then turned round to take another picture to show how it all worked.. and the security were on their way.
Security arriving – for what? None of them had any disability sense or communication sense… Was it 'there's a crip up to no good by the accessible lifts – sort him out!'
I went over to the Now Gallery (because I generally assume this to be the place where the people in charge of the Greenwich Peninsula are based) and tried to ask about the photography p[policy. After some difficulty they understood what I was on about and that it was okay to do photographs and they were surprised security were stopping me.
Thus the woman at the reception came with me to see the security to speak to them about this matter.
Peninsula security speaking with the woman from Now Gallery. She and other staff at the gallery has asserted there should be no problems taking photographs and were not aware of any rules.
Apparently security were not backing off and said no photographs.
The bizarre thing is there were notices around saying pictures welcome! How can a place say in essence that people are welcome to take pictures (I don't know if the wording is the clever bit here or not) but then security trample on those taking photographs…
Pictures very welcome…
And nowhere does it say 'no photographs.'
Yes that is right. I dont want to go there again. They taught me the lesson that I wasn't wanted there and I shouldn't even exist, so that's it. Finished. Sod their stupid Tide walkway thingy!
I collected these papers and leaflets with great enthusiasm from the Now Gallery. Now its two fingers from me to those who printed this stuff.