An extra commemorative post for the 25th anniversary of the Chunnel! I thought I'd go along to St. Pancras and see what was happening. Had sort of expected there might be something about the 25th anniversary of the tunnel but there wasn't – unless something had been missed earlier. I should think when the 14th November comes round, Eurostar will have their go at celebrating 25 years of services. Today was really the day for Eurotunnel/Le Shuttle's 25th anniversary celebrations!
It wasn't a smooth day for Eurostar itself although the Le Shuttle would have not been affected. Most of the services throughout the day (not to Brussels however) were severely delayed due to a fatality, which occurred on the classic lines at St Denis (this is the station just a couple of miles out of Paris Nord) earlier in the morning. I was aware of this and other ongoing delays (including broken down x-ray machines at Gare du Nord) via Twitter.
I still wanted to go to St Pancras anyway! Upon arrival it was clear the Eurostar services were still struggling. The 15.31, as I observed, left nine minutes late, not bad considering the huge delays that had ensued earlier.
Justin's train, the 16.01, left on time, which was no doubt a sign the service was getting back to normal, at least from London if not Paris. Staff did tell me the services from Paris were still subject to delays – and tweets certainly confirmed this.
We start with a tweet from Justin on Eurostar himself. It shows the arrival of a classic 373 in the well known colours that have been a feature of the international service since its inception in 1994:
This train had just arrived when I got to the station and the pictures I took of it shows passengers disembarking. I wasn't expecting to see this unit on this day so it was nice. I was aware it was still around as someone tweeted a picture of it at Ashford yesterday:
Classic Eurostar at Ashford 5th May 2019. Source: Twitter
There is one other unit out of service at Temple Mills: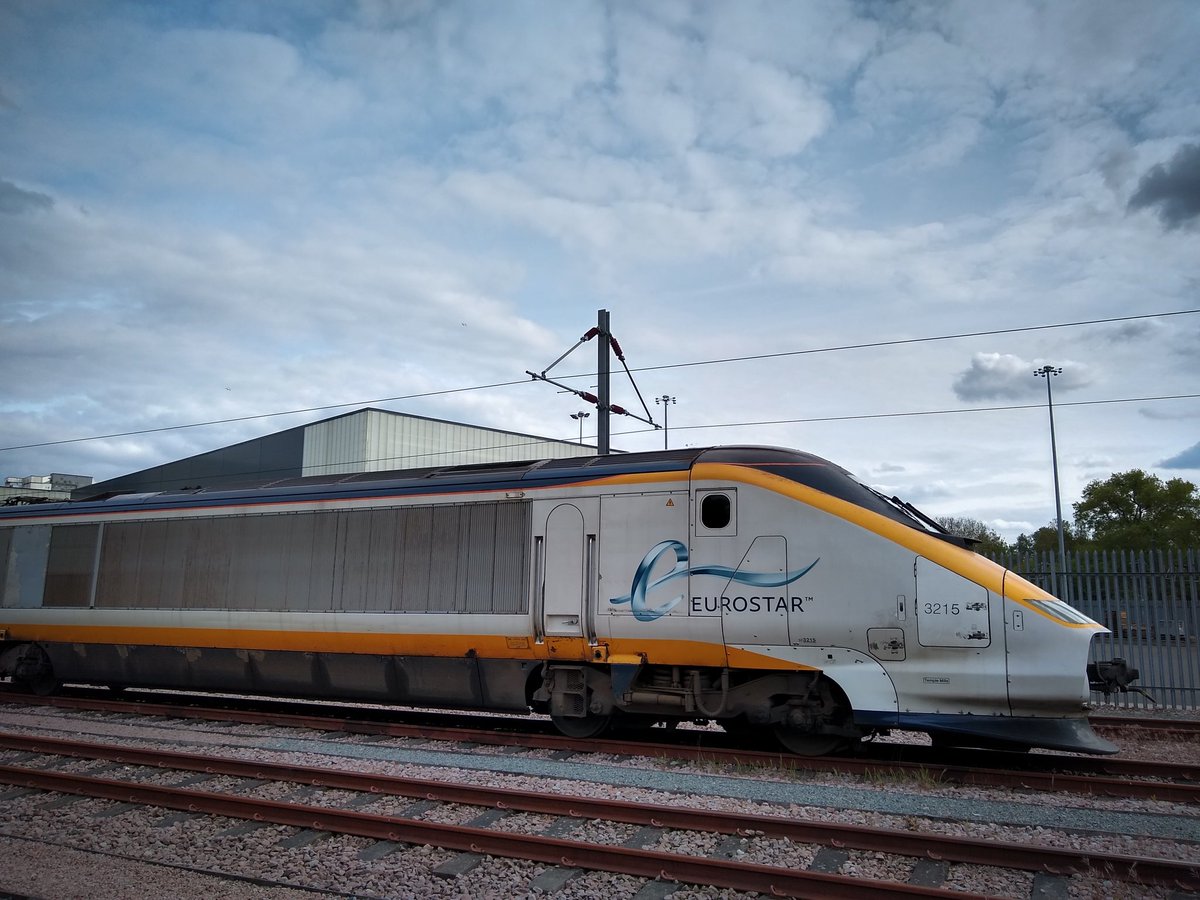 Eurostar at the north end sidings in Temple Mills depot. Source: Twitter
Anyhow here's my picture of the passengers disembarking from the Eurostar at St Pancras.
3218 has arrived and 3015 (E300) is just arriving in platform 10 on the right.
Here's a closer zoom showing the E300 drawing up to the buffers on platform 10.
This is jumping ahead however when I realised Justin from Eurostar had tweeted a video of the earlier arrival, when I got home I scoured my pictures for some of him at that very moment (I had already captured some of him a little later on as we shall see.)
Voila! I found this pic showing Justin right in the middle, his back is towards my camera. Just after this moment he then moved towards the other Eurostar (no.3015) so from that moment on I was aware he was on duty that afternoon, and here's one more picture…
Justin doing what he is great at – taking pictures of Eurostars!
Although I don't follow him on social media (sorry its my bad!) I always look at his, and the other Eurostar managers/drivers' timelines, as its a great way to keep up with what is happening so I am somewhat familiar with who they are. Justin stands out well however because of his lovely beard! 🙂
I went round to the other side of the station to see what duty his train had and that turned out to be no.9038 which is the 16.01 to Paris…
09038 for Paris – seen from the Javelin side of the station.
Justin's Eurostar waits in its platform, at this point passengers had not begun embarking. The train staff were clearly preparing their train, the usual duties etc.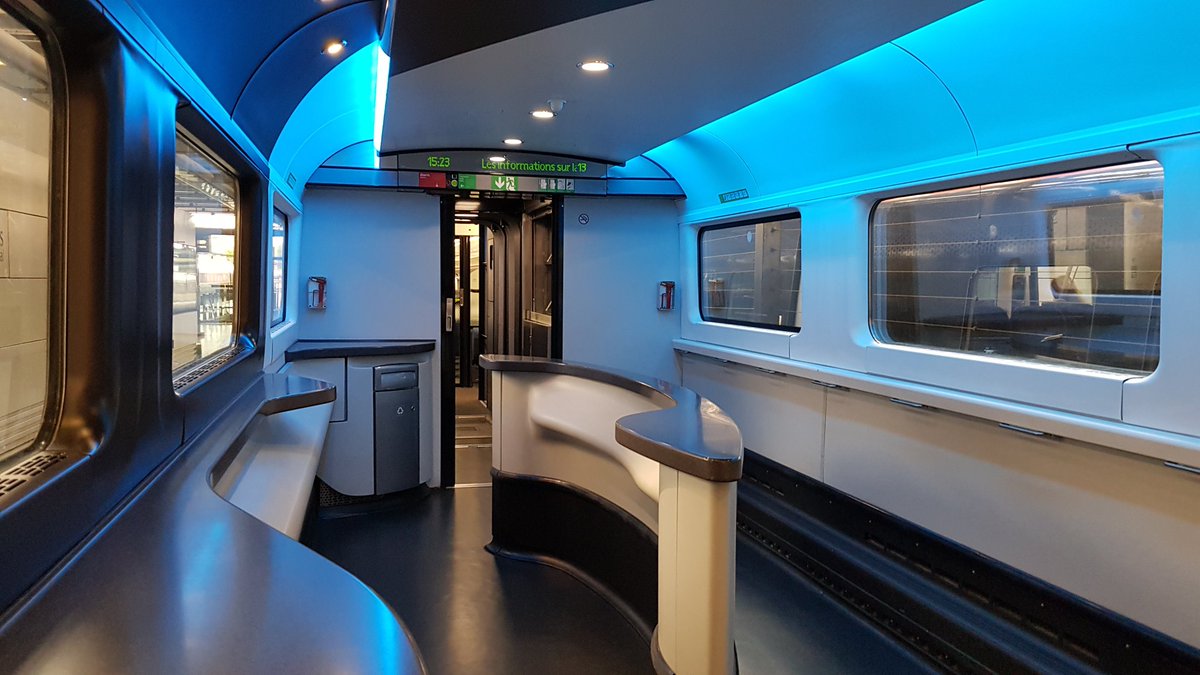 Justin checking out the bar area on the train – and making connections with a certain royal baby! Source: Twitter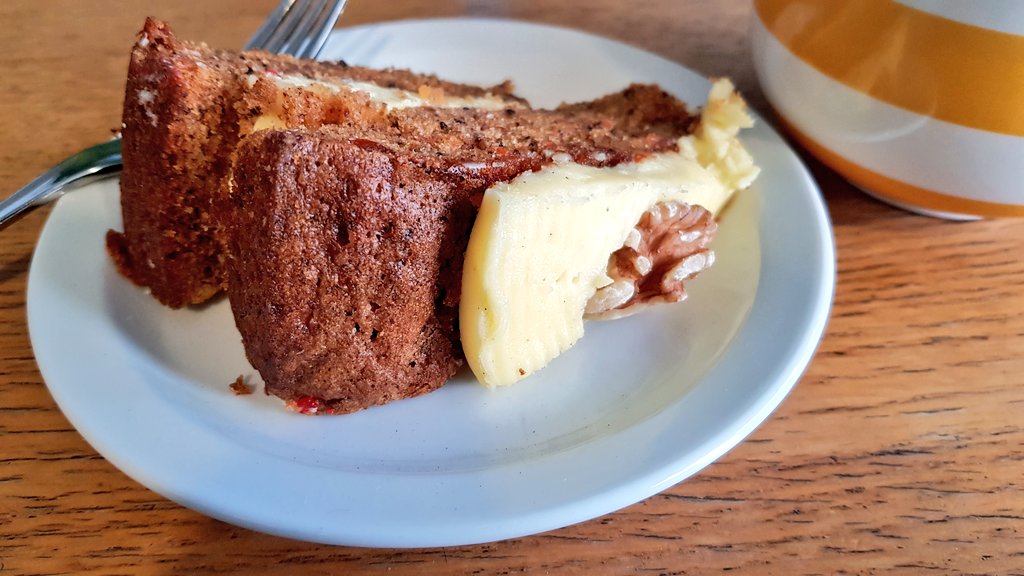 By this time Justin has been walking 7.5 miles prepping Eurostars! He posted this picture of food which I think was most definitely deserved! Source: Twitter
It might sound a lot this walking, however a Eurostar train is a quarter of a mile long, thus an out and back trip the full length is half a mile. Add the other trains and all the perambulations and it obviously is a long walk. I suppose the need to attend to different parts of the trains, see to passengers needs, queries, and so on, it all adds up! I'm sure the Eurostar bunch are a very healthy crowd!
Anyway back to the trains themselves!
Here's our classic Eurostar with an E320 in the middle and Justin's train on the far platform (number 10.) This was a quiet sort of moment where nothing was really happening (save for staff going about their duties.)
Let's take a look at the classic Eurostar (3218) in the picture below. The original (1994) colour scheme is very evident, the only change being the logo which used to be three yellow wavy lines.
Our classic E300 at St Pancras.
BTW its not the first time I have seen a classic Eurostar at St. Pancras, I've seen loads. Its just this time now they are becoming quite a rarity and that is what made it all the more exciting!
The unit itself is British based, being stabled at Temple Mills depot in Stratford.
As I understand it Eurostar's completed its programme of conversions from 373's into E300's (see this tweet and this tweet) thus any 373's in the old livery are essentially surplus to the company's requirements (no more conversions are required) so are probably only being kept in use as long as they are in full working order.
By this time our classic Eurostar was beginning to take on board its passengers, this being about 15.28pm. Clearly its meant to be the 15.31 to Paris but is running late.
A few moments later at 15.39 a E320 draws in, its from Paris (train no.9031.)
The timetables say this train should have left Paris at 13.13 so it obviously left at 14.13 (or thereabouts.) Its due arrival time in London is 14.39 thus it was exactly an hour late.
No sooner than the E320 has arrived, our 373 departs 15.40pm. It'll probably be in Paris at about 19.00.
At 15.47 Justin's train began its passenger embarkation.
Justin's train, the 16.01, according to the timetable runs only Fridays and Sundays, however this must have been an extra Bank holiday working as the departure screens in the station clearly showed it.
Train 9038 the 16.01 for Paris is definitely running despite being advertised as Fridays and Sundays only.
On the dot at 16.01 the RA (right away) indicator is given, the signal is green and Justin is on his way to Paris, with no doubt a mile or so more of walking on the train itself en route 🙂
Despite the substantial delays that are occurring on Eurostar, Justin's train is clearly the first to depart on time on what has been a troublesome day for Eurostar's services.
The Channel Tunnel 25 years on – my post commemorating 25 years of the Chunnel.