TfL has a lovely new London-wide map except its not what you think – its a car/roads oriented network map. You can be sure these corridors of diesel or petrol power (some ironically alongside what could be called corridors of petal power) are where people with more money than sense throttle their engines and change their gears (unless its auto) – all in good attempt to make sure London's pedestrians and manual pedallers cough and splutter, gathering unspeakable carbons and other dangerous particulates in their lungs.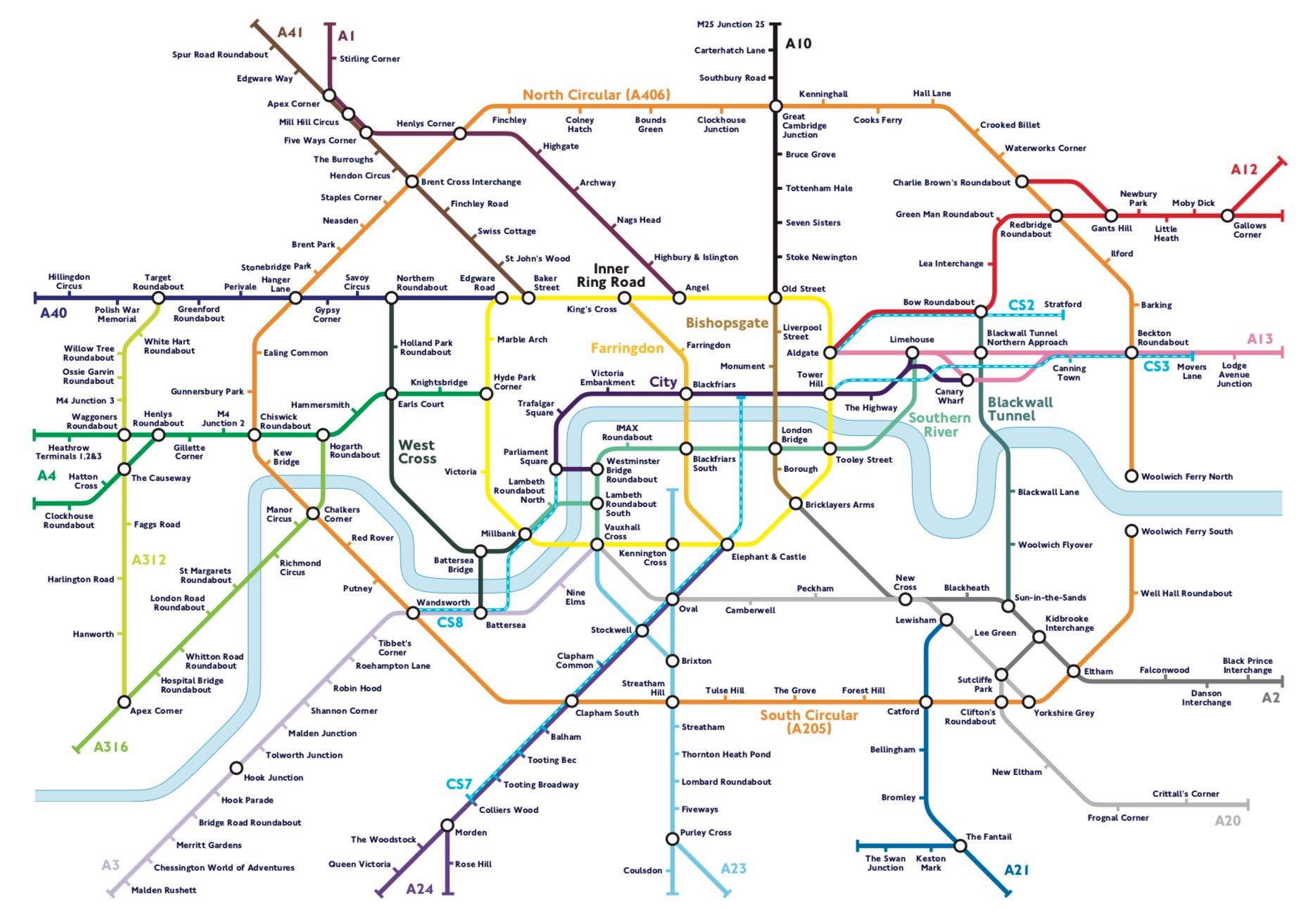 The full extent of TfL's master roads map. Source: Twitter
At least you know where you need to hold your rebellions against this filthy planet destroying, land-grab machine, known as the car (remember many corporate ideals – intent on greed – wanted your railways – not only steam ones, but those healthier electric ones even, like tramways and trolleybuses, closed down – so that buses and cars could become king and huge profits poured into their coffers – whilst everyone else poured into their coffins that bit quicker. Corporates did not even particularly want electric cars, which were practically first on the roads, to become the dominant means of transport.)
Do note the map carefully marks Heathrow – where huge environmental abuse is done in the name of transportation. Quite why City Airport escapes identification I do not know. Perhaps its cos many green oases can be found all around and the fact TfL's major roads network barely goes anywhere near?
Clearly TfL, despite its hesitations, choses to fly the flag for this most abominable and evil form of transport. No amount of cycle superhighway or pedestrian walkways will mitigate the fact we have this highly supercharged roads network map, detailing routes of mass invasion into many large communities where these internal combustion advocates can spread tonnes and tonnes of carbon particulates – as if everyone desperately needed more pollution.
I first found out about this map via the apparently non-autistic aware Diamond Geezer blog. It came to me as as a surprise because of TfL's so-called green credentials. But then like a lot of surprises (like DG too) TfL's discrimination machinery is very well oiled too despite its great pains trying to demonstrate out it is for equality in absolutely every respect. I should know because I happen to be the victim.