Patrick Hughes' reverspective is an iconic genre of art that has been around a very long time, over fifty years in fact. His first 'reverspective' was made in 1964! Perhaps the most enduring example of Hughes' work that would come to peoples' minds is Paradoxymoron in the British Library. Last year his 'A Newer Perspective' was exhibited at Flowers Gallery. This year, his 'New Perspectives' is exhibited at the nearby Alon Zakaim gallery in Dover Street.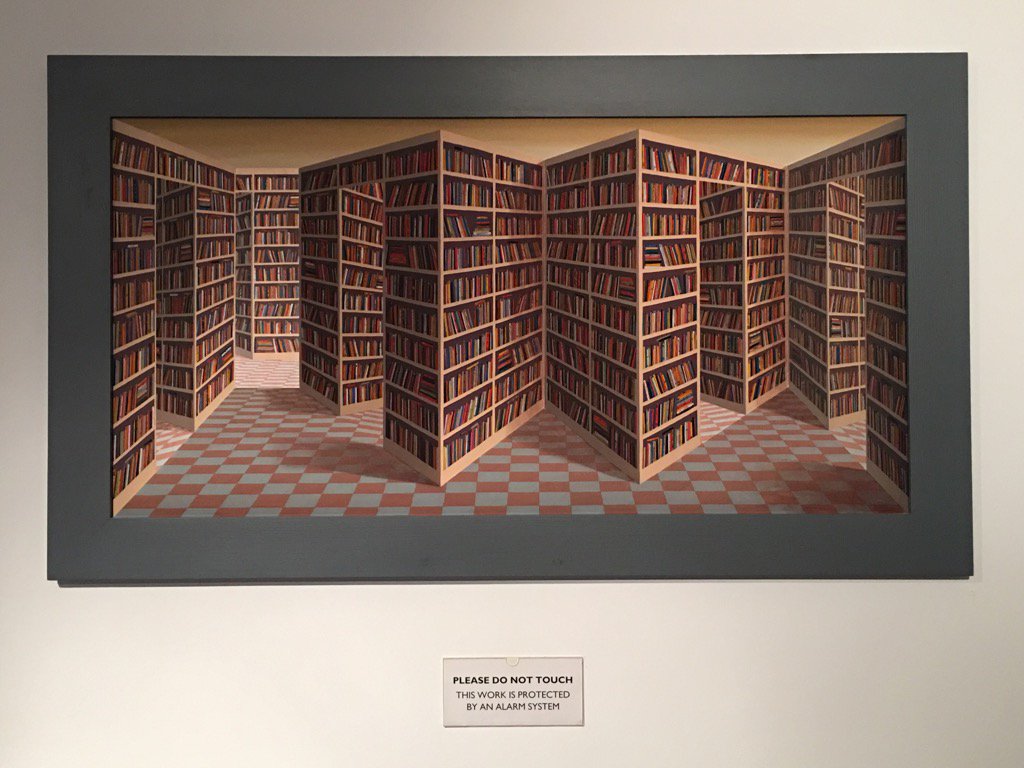 Paradoxymoron at the British Library. Source: Twitter
A young Patrick Hughes with his 'Sticking Out Room' (1964.) Source: Global Art Traders
The latest exhibition of Patrick Hughes' famous style of art is at Dover Street, just off Piccadilly and round the corner from Green Park station. I have seen examples of his work before elsewhere – and am familiar with his Paradoxymoron in the British Library, as well as Hughes' studios in Great Eastern Street, Shoreditch. This latest exhibition I had not known about and discovered it somewhat by chance.
The Alon Zakaim gallery itself is one of many in the area, and its probably the newest too. Its set in a modern building which explains why the gallery space is quite ideal compared to others in older buildings. In this context Patrick Hughes' work becomes quite apparent. Its a great exhibition and I would recommend it if one is in the area.
Th exhibition is set on two floors and runs until 29 March 2019. The ground floor consists of Hughes more original and noted works whilst those upstairs are smaller examples of his reverspective work and also mixed media artwork such as portraits – and piles of 'books.' (Its actually a work called Tall Books 2018.)
Three of Hughes' classic reverspectives scenes.
Two more of Hughes' classic reverspectives scenes.
This example is in the window display of the gallery overlooking Dover Street. Its called Robbing Banks and is one of Hughes' latest works (2019.)
A Cardboard Box 2017. Normal perspective.
Notice how the whole perspective changes enormously with just a slight movement in one's position!
A Cardboard Box 2017. Different perspective.
Stairs to the Stars 2016. Normal view.
When one observes the works from underneath they look quite different. The stairs look even bigger and the paintings even smaller!
Stairs to the Stars 2016. Underneath view.
The 'Venice' ones are quite good there are several variations on the theme, in fact there are eight different works on this particular subject.
Venice Extravaganza 2018.
Laguana 2018.
Atlantis 2017.
Appropriately 2018. A sort of pop art version of Hughes' work – with a reference to Damien Hirst!
There is one emerging trend that can be seen in Hughes' work and that is the addition of extra windows (or whatever he calls these) which give even more interest to the works. Most will know his work consists of three, four five, truncated pyramidal shapes with paintings on them and when one moves about the paintings seem to change perspective.
With these additional little windows there's even more perspective shift because so much more is going on, and these little windows seem to go the opposite direction to the main movement that is experienced.
Vasareally 2016. Normal perspective.
Vasareally 2016 viewed from underneath. This shows the smaller 'windows' Hughes has employed in his later work to give more effect.
A part of Trapezium 2018.
There is one based on Escher (its one of Hughes earlier works.) This and one or two others of the Venice pictures that I took did'nt work well so I haven't included these.