Alvin Langdon Coburn was an American photographer who chose to settle in England, where much of his innovative work was done. A leading name during the early 20th Century, he was among the celebrity at the time and knew most famous people. He developed many radical approaches to photography. Its often said he gave up the art in the 1920s, having thrown all his photographs away. This is not so. He remained very much a passionate photographer however it was in a more personal sense. This article is proof of that.
Coburn Self Portrait 1905 – from thispublicaddress
Wikipedia: "Alvin Langdon Coburn (June 11, 1882 – November 23, 1966) was an early 20th century photographer who became a key figure in the development of American pictorialism. He became the first major photographer to emphasize the visual potential of elevated viewpoints."

He worked mostly with natural light. Artificial light was only used where it was offered, such as in photographs showing city scenes at night. His work involved the use of Cristoid film, a quite unknown brand but one that was clearly invaluable to those photographers who were aware of its excellent properties. His other means of photography included abstraction, vortography and enhanced developing/printing techniques.
Alvin Langdon Coburn feature in Amateur Photographer 2 June 2012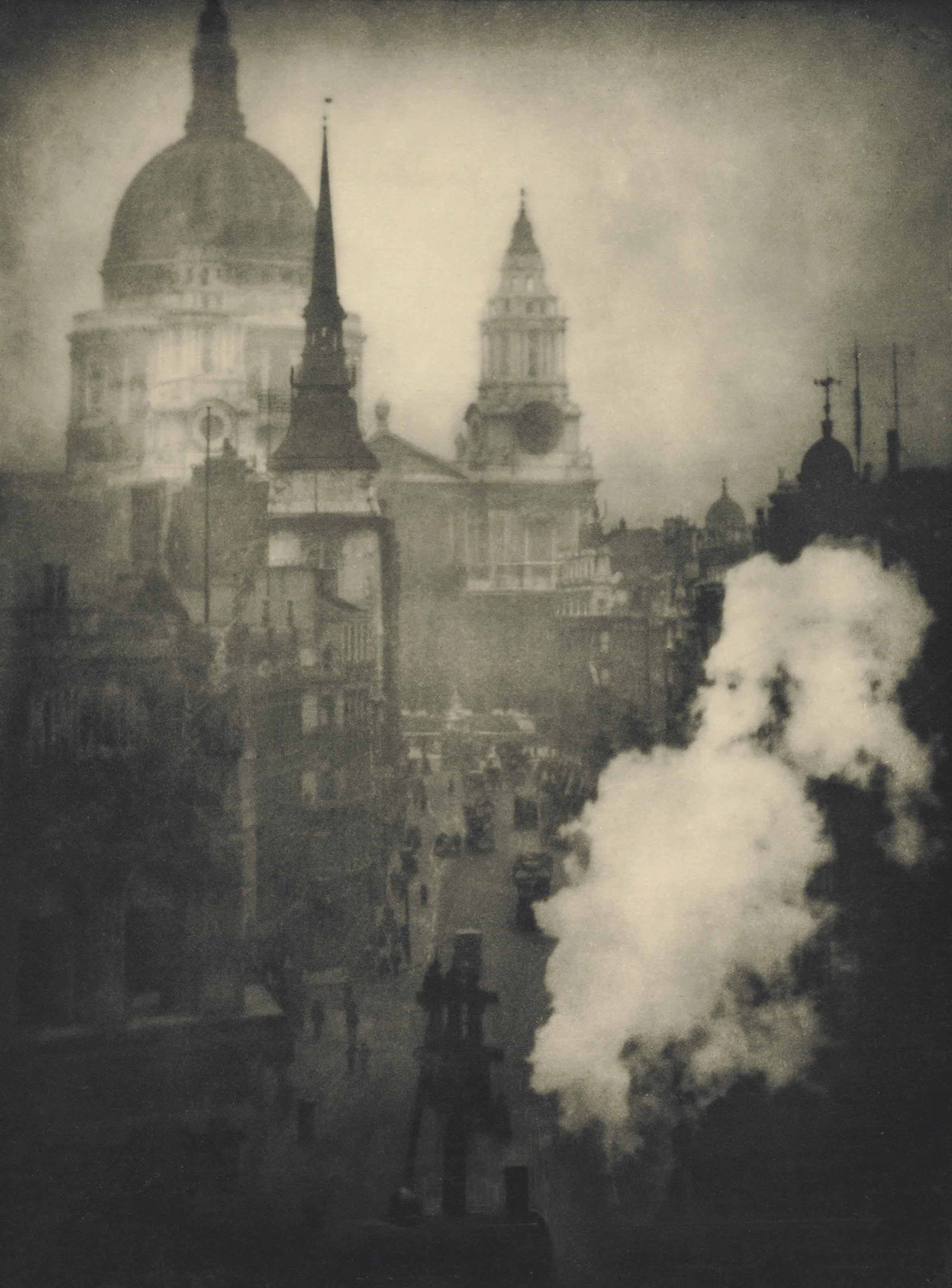 Ludgate Circus & St Pauls 1905. Source: Chrisitie's
Coburn's atmospheric composition of the Regent's Canal at Camden 1905. Source: Facebook
Canal at Paddington (nowadays called Little Venice) 1906. Source: Flyschool
Comparable modern view of the same location. The bridge carries Harrow Road.
Here's another evocative picture of the same location this time with a Grand Union barge.
In 1909 Coburn moved into a house by the river at Hammersmith and converted part of it into a studio. There are pictures of him working in the house. Barely anyone knows where the house was, but investigation shows it became the property of George Devine, a famous actor and artistic director. It was also once the home of Peter Gill, Director of the nearby Riverside Studios. Few know it was Coburn's home to begin with.

Coburn's own words on moving to Hammersmith and setting up shop there. From Alvin Langdon Coburn, an Autobiography.
Letter from Coburn showing his Hammersmith address 1909.
The letter above was likely composed on this bureau shown in a photograph of Coburn's front living room at Hammersmith.
The plaque on Coburn's former home presently denotes it as being once used by George Devine.
Here's a view from his London riverside home towards Hammersmith bridge – taken in 1909.
And here's a view of his riverside home taken from Hammersmith bridge! One might think from this view its not the same house as the one shown below in the next picture. However it is.
The property in question has an additional floor and substantial changes to the balcony and comparing it to photographs taken a hundred years ago shows a big difference – but it is still the same house Coburn resided at Hammersmith.
Coburn's former London home – with the George Devine plaque at right.
The name of the house in those days was Thameside. That name was also used for Coburn's own private picture book publishing house – responsible for publications such as 'London.'
London was meant to be the first of a series of nine books intended to cover London, New York, Edinburgh, Paris, Venice, Liverpool, Birmingham, Boston and Pittsburgh. Only those on London, New York, and Edinburgh were published.
Coburn was fortunate enough at such a young age to become a member of the noted photography group known as the Linked Ring. Wikipedia tells us that this was "an association of artistic photographers which was considered at that time to be the highest authority for photographic aesthetics." The Ring included George Davidson (managing director of Kodak), Frederick H. Evans, Alfred Stieglitz, Gertrude Kasebier, Alfred Horsley Hinton and others.
Coburn became acquainted with many noted people of the time, including George Bernard Shaw who described the young Coburn (then aged 24) as "the greatest photographer in the world."
Love this one! Coburn's photography was usually street or portraiture, street usually being street views, not direct shots of people, this one is quite rare. Its a Pittsburgh roof with vents. Source: Agenda (Note: Agenda have now deleted their pages on Coburn thus this is an archived image that's in used here.)
Agenda's Coburn page as screencapped on Google's cache 12 August 2019. No doubt this will be deleted in due course…
Coburn also his photographs featured in a number of other books, and in one I found an unknown photograph of his – entitled Umbrellas – taken possibly in 1916.
Coburn's unknown photograph 'Umbrellas' – from Photograms of the Year 1916.
The North Wales Connection:
It is not known how early on Coburn had visited Snowdonia but it is clear that by 1916 Coburn had been to George Davidson's Harlech home, where he was introduced to religious mysticism. George Davidson had retired in 1907 and made Harlech his home. Davidson's mansion, Wern Fawr, built in 1906 was just a short distance from the famous castle and is now Coleg Harlech.

Davidson's photograph of the sands at Harlech in Platinum Print #3 (March 1914.) The Americans did not know how to spell Snowdonia, it was written as Sodonia!
Both Coburn and Davidson featured in a prominent American photo-journal 'Plantinum Print' which showed a picture of Harlech in North Wales, taken by Davidson. Had Davidson in fact been the one who enticed Coburn into moving away from London? In Coburn's book, 'Harlech' (1920) he describes the town as being 'in its way quite unique in its attractions' and added, 'where else do you find such a variety of interests?'
Coburn's involvement in freemasonry had increased considerably by 1919. In that year he was initiated at Mawddach Lodge (presumably that at Abermaw.) At this time photography was still his major work, but just a short time after Coburn and his wife Edith moved to North Wales – where Cobrun's professional photography was largely negated to begin with.
The Coburns moved to Harlech in 1920 where they had a house specially built. Here his own book on photographs around Harlech was published by D.H. Parry. Another house was built for his visitors. Coburn's new home, Cae Besi, translates as Elizabeth's Field and it offered excellent views of Harlech beach, Tremadoc Bay and Snowdonia.
Frontspiece of Coburn's Book of Harlech (1920)
The Coburns became locally known as Mr and Mrs Tiddywinks. By 1923 Coburn became increasingly serious in freemasonry.
It is said by the 1930's over 15,000 negatives of his hard work had been destroyed. Whether that many were actually destroyed I do not know, however his excuse was that there was a clear choice between being a photographer and religious mysticism and the latter was his calling.
One plausible reason for the decline in photography (apart from the reason being the death of his mother as some claim) may be to do with the film that was available. "For printing his positives, Coburn mainly used the following photographic processes: platinum prints, gum-platinum prints, gelatin silver developing-out papers and photogravures."
He stood by Cristoid film and the gum-platinum printing process but to his regret platinum paper's availability declined after the end of the first world war. Until then he had been a master of creativity but perhaps he sensed this was being lost.
Coburn – self portrait Harlech 19 May 1922 – image from Wikipedia.
When it is said he destroyed almost 15,000 negatives, I would think he kept the actual photographs themselves as there many thousands alone in the George Eastman collection! It may have been the negatives were no longer of any use because the processes Coburn was used to had been lost, however the Eastman collection also has many thousands of negatives – thus how many were really destroyed we do not know.
Coburn did not give up photography altogether. Photography was either for personal use or his new found niche in life. But he still entertained quite a few portraits with famous people he knew from his older days. One notable example was George Bernard Shaw who came to visit Coburn in Wales and the famous writer can be seen in a number of photographs taken in and around Snowdonia.
The numerous photographs in the collections held by Eastman are proof enough of this. Most of the photographs were taken in Wales, Coburn's new homeland and show his life right up to almost the very end in the sixties. What follows later in the page is a selection of these with links to the originals.

Coburn was made an honorary member of the Welsh Gorsedd in 1927, and took on the name Mab-y-Tiroedd which means Son of the Triads (Wikipedia says Maby-y-Trioedd.) Having forsaken photography as a career, he become fully immersed in the Gorsedd, and ultimately became its secretary.
Coburn's headed paper – used for masonic work.
After the 1930's Coburn's photographs were now made using the more usual black and white/bromage papers. Several sources claim he ceased photography altogether. This is not true, he remained a prolific photographer.
Coburn was made a lay reader in 1935 under license from the Diocese of Bangor, and he worked in many of the local churches around the Harlech and Conwy areas.

In his own words Coburn relates his masonic work in North Wales: "I became Inspector General, Thirty-Third Degree, for North Wales, of the Ancient and Accepted Rite on 9th May 1946; Provincial Grand Master of the Mark Degree for North Wales on 4th January 1952; and a Grand Officer in the Craft (P.A.G.D.C.) on 27th April 1960. I have delivered about twenty lectures on Freemasonry and related subjects, which will be found in the Transactions of the Manchester Association for Masonic research, The Merseyside Association, and other publications…"
Brother A. Langdon Coburn as he became known, was ultimately President of the Manchester Association for Masonic Research and Senior Deacon for North Wales.

Cae Besi today. Image from walescymru.com
The Coburn's home, Cae Besi, built during the early 1920's, is in Ffordd Newydd, Harlech. In English this is New Road and it climbs up towards the Coburn's home from the sandy flats lower down by Harlech Castle. Its almost opposite Coleg Harlech – part of which which was originally George Davidson's home to begin with.
Cae Besi is a grade II listed building offering self catering accommodation. There is said to be a plaque on the walls of his former home however I could not find any evidence of this on Google Streets.
Another view of Cae Besi looking north. Snowdon's visible in the centre of picture. Moel Hebog slightly to the left. Source: Google Streets
The Coburns also worked for the Red Cross during World War II. They often participated in local fundraising events, dressing in traditional or other dress for the occasions. Coburn himself is seen in medieval dress outside Harlech Castle in a number of images.

Again in Coburn's words: "I… acted as Honorary Secretary of the Joint War organisation of the Red cross and the Order of St.John for the duration of the hostilities. My wife was Commandant of the Harlech Detachment of the Red Cross and ran a small hospital for evacuated children with skin troubles in one of our own houses. As a result of her over-strenuous activities she became afflicted with serious heart trouble. Harlech was too hilly for her, so in 1945 we moved to Colwyn Bay, which is flatter."
Awen – The Coburn's former home in Rhos-on-sea
Coburn's later photography:
Photographs from the 1920s and 30's show Coburn regularly ascended Snowdon and the Glyders with friends, one of whom was George Bernard Shaw. Snowdon featured in several of Coburn's pictures, including the ascent and at Bwlch Glas admiring the view. The distant summit with its shanty buildings can be seen in many views clearly taken prior to 1935, whilst this view is the classic one of the Snowdon range taken from Nant Gwynant.
Even the railway up the famous Welsh mountain is featured. My favourite is the shot taken of what appears to be locomotive No. 2 Enid by the summit station's starting signals. This was probably taken around 1922.
Other Welsh mountains are too featured and these include Tryfan, this other picture shows his car on the A5 with Tryfan in the background.
Photographs in the George Eastman archives do show that Coburn took quite a number of compositions at local fairs and gatherings in Wales, these were probably taken as part of his travels for the Welsh Gorsedd.
Commissions of noted Welshmen were taken around North Wales and there are many shots of Snowdonia, Llandudno, Colwyn Bay and the Conwy valley in the 1950s and early 1960s.
In 1945, due to his wife's ill health, he and Edith moved to Ebberstone Road East, Rhos on Sea. The house was called Awen ('Inspiration') and sited on the corner of Ebberstone and Kenelm Roads, Rhos, LL28. It was quite a splendid house sited just a short walk from the sea. Later photographs show his compositions of various locations around Conwy, but Coburn still made trips to Snowdonia both to work in it's churches and photography commission work.
As well as North Wales, Shrewsbury, Whittington Castle and locations nearby in the Ceiriog valley, including around Llanarmon D.C. In 1964 the sea froze over at Colwyn Bay and Coburn took pictures of this.

Frozen sea Colwyn Bay – P136 of Alvin Langdon Coburn Photographer – An Autobiography. 1966
Coburn tells us of his later life at Awen: Its"really much too big now for only two people, my housekeeper Mrs Sarah Riddle and myself, but I have over five thousand books, mostly on mystical subjects and Freemasonry. They line the walls from floor to ceiling in many of the rooms, and could not be accommodated in a flat."
As a formerly famous photographer his later life saw him making some television appearances in the 1950s to talk about his work.
In 1962 Professor Donald Gordon of the University of Reading decided to stage an exhibition of the photographer's former work. Gordon was surprised to find Coburn still alive so he phoned him at his Rhos home to make arrangements to visit him and discuss the forthcoming exhibition.
Coburn agreed to support the new exhibition and Gordon was given substantial autobiographical contribution for the exhibition. At the same time this contribution offered valuable information and insight into Coburn's work, much of which was collated into a new book on Coburn by Helmut & Alison Gernsheim.

Helmut & Alison Gernsheim's book on Coburn.
Following the exhibition curated by Professor Gordon in 1962 Coburn's work became at the fore once again and a number of exhibitions were held in Wales, several curated by Coburn himself.
Coburn's final exhibition of his work took place at Colwyn Bay library in 1966. The exhibition opened on 23rd November of that year. Just thirteeen days after the opening Coburn passed away.
His wife Edith had died in October 1957. Coburn himself died at Awen on 6 December 1966.
Clwyd Council book on Coburn 1994
In 1994 'Cwest am Harddwch/A Quest for Beauty' was specially published by Clwyd Council. This along with an exhibition of the same name, celebrated Coburn's work in North Wales.
Coburn's work at the Eastman Archives:
Quite a number of hours were spent inspecting the Coburn collections under the George Eastman archives. Many are untitled and there is no index therefore the thumbnails of over 19,000 images had to be looked at! This had been done once however the collection then changed their domain name and all the url's were no longer valid, and the many pages were in a different order – so the entire collection had to be searched once again!
Much of the entire photography collection of Coburn's life relate to Wales. There are many compositions taken elsewhere including London and abroad. There's some of Windsor which I assume were taken when he lived in London, and I identified some as being taken of the Boston Stump, on the Birmingham canals and at Coventry Cathedral as well as vanished Glaswegian scenes, plus a few of Scotland and its castles – even though these are not marked as such.
A very youthful Coburn, 1898.
Of London itself Coburn took loads of photographs in his younger days and here's one showing Aldwych under construction in 1906. After he moved to North Wales he did return to London a few times in regards to his new work, but certainly not in any sense for the purposes of photography.
In addition to the classic London photographs that can be found (the Thames, Trafalgar Square, Fleet Street, and so on) I find this photograph of the Adelphi great because it shows the famous terraced houses in their prime – with other photographs showing details of the doors, architecture and so on.
The Adelphi, probably in the 1910's.
Here's one, faded, but clearly showing Fitzroy Square. Another which is brilliant shows Covent Garden and St Paul's church. I never knew the church was adorned with huge adverts at one time, this is probably 1905 or thereabouts.
There are many pictures of other photographers and celebrities which indicates he did keep contact with many of these even after it is claimed he had withdrawn from photography. In fact some of these famous friends visited North Wales to see Coburn and be photographed by him!
One photographer in particular is Emil Otto Hoppé of whom Coburn takes some rare photographs. These are taken in a relatively little known sense which is Hoppé's home in the British countryside. Emil and his family lived at Little Hedgecourt, Felbridge near East Grinstead and these photographs are rare in they show the Hoppé family at home.
Emil Otto Hoppé with his dog at Little Hedgecourt.
Hoppé in fact visited North Wales and a number of his famous compositions feature the area. I am sure he spent time with the Coburns too and it may be that they joined the Hoppés as they drove through Snowdonia in search of ideal photographic locations.
Coburn was also privileged to see the construction of Liverpool Cathedral close up. There's a considerable record of its construction. Not only that this composition of a man standing on the roof of the new cathedral (with the Liver buildings in the distance) is quite outstanding.
All the compositions here are featured as thumbnails because the fuller sized pictures cannot be reproduced due to copyright. Clicking on the thumbnails will however open the relevant images held at the George Eastman collection.
As well as portraits Coburn attended the Paris Peace Conference in 1919 and photographed the main leaders of the day including French Marshal Ferdinand Foch, French Premier Georges Clemenceau, British Prime Minister Lloyd George, and Italian Premier Vittorio Orlando.
Clicking on the images below links to larger ones in the Eastman collection.
Ferdinand Foch, Georges Clemenceau, Lloyd George, and Vittorio Orlando – Paris Peace Conference 1919.
Lloyd George at Criccieth in 1918. Lloyd George was one of the Prime Ministers of 20th Century Britain, in fact the only Welshman so far to hold such office. This picture may have been taken when he had just become Prime Minister. Lloyd George came from Llanystumdwy near Criccieth where a museum and his former home can be visited.
Invariably much of Coburn's life in the UK was spent in North Wales, and the following pictures represent a cross selection of these.
George Bernard Shaw near Bwlch Glas – probably 1920's. This is the point about half a mile below Snowdon's summit where the Llanberis, Miners/Pyg and Snowdon Ranger paths meet for the final ascent to the peak itself. The photograph was probably taken about where the mountain railway begins its final 1 in 5 ascent to the summit.
Coburn took quite a few compositions of the Margaret Morris Dancers on Harlech Beach. This was a famous 1920's dance troupe. The full set is here:

Fred Daniels' pic of Margaret Morris Dancers on Harlech beach
It appears it was Fred Daniels who was commissioned to photograph the Margaret Morris Dancers – and Coburn came along too. Perhaps Daniels and Coburn knew each other. More of Harlech and other Welsh locations showing Fred Daniels' pictures.

Joseph J Firebaugh at Llyn Peris. This is the lake above Llanberis, the photograph is clearly taken near the road that leads to Nant Peris and the Llanberis Pass.
There are other pictures of Firebaugh around Snowdonia, including one taken on what may be the upper section of the Llanberis Path, plus some most definitely taken on the shores of Llyn Llydaw.
Joseph Jesse Firebaugh was an American professor at various US universities throughout the 50's and 60's.
There are several pictures that include the Snowdon Mountain Railway in its early days. Certainly at this time the line would have still been called the Snowdon Mountain Tramroad and Hotels Company. Later ones depict the 1950s carriages then in use on the line.
A view taken from Snowdon summit – possibly 1919 complete with full semaphore signals. The locomotive is probably No.2 Enid. Its an interesting view because it shows semaphore signals on the railway. These were last used about 1924. This photo was used in Coburn's publication – the Book of Harlech (1920.)
Unidentified man on the Snowdon railway at Llanberis, prior to setting off for the summit. Mid 1950s.
This man is also featured in other photographs taken in the area, perhaps somewhere around Cwm y Glo.
Ffestiniog railway at Tan-y-Grisiau

Awen at Rhos on Sea – Coburn's last residency.

Unidentified country fair prob 1950's with Little Orme in the background.

Prof. W.E. Wees and family at West Parade, Llandudno, late 1950's.

Alvin Coburn in masonic robes

Alvin Coburn in Red Cross uniform

Edith Coburn in Red Cross uniform

Coburn with BBC film crew – 1950s.
Coburn at the University of Reading in 1962, where a major exhibition of his work was being held.
The last ten years of Coburn's life saw him somewhat in vogue with interviews, television appearances, documentaries, exhibitions and books featuring his famous photographic work.