London's tall buildings are often a talking point and the Shard has held that place for quite a bit of time. Now its the turn of number 22 Bishopsgate near Liverpool Street station. Its a huge, huge building, and so we need to talk about this, the second tallest building in both London and the EU.
The new Bishopsgate building is far more prominent than the Shard. Many places in central London and around London are locations where number 22 can invariably be seen. It's visual impact has never really been properly considered and even less so, fully analysed. much like the case of Manhattan Loft Gardens at Stratford, which, as it rose in height, was found to have considerably spoilt the centuries of protected views towards St. Paul's cathedral. In this post I use a mix of embedded media, tweets, my own photographs and written observations to illustrate the background behind number 22.


22 Bishopsgate as seen from the Embankment by Temple tube station
I am not against tall buildings in any way, being quite an admirer of these actually, but I do find 22 Bishopsgate, or as they prefer to call it, Twentytwo, to be rather prominent and compromising London's skyline, giving it a sort of unbalanced look. I'm certainly not the only person to have concerns.
It can of course be argued the London skyline was compromised centuries ago with its many tall church spires, if one looks at old paintings, such at this one by Canaletto, (click on the image to see a larger one), it can be seen how the city's spires really dominate the skyline besides Wren's St. Paul's cathedral of 1675, built by hand and without a single bit of machinery, manages to soar 365 feet into the air. I have covered these subjects time and time again in my City Spires and Towers series which examines the impact of the new buildings upon London's skyline and how the City's churches are being affected.


Tower Bridge, an early example of a steel structure with exterior stone cladding, just manages to contain Twentytwo within its frame.
One can easily say these are simply different phases or eras in construction, St. Paul's was of course a stupendous work from four centuries ago, then the Forth Bridge and the Eiffel Tower which exploited the then new technology of steel and frames, trusses, and these brought about the means by which enabled New York's buildings to get higher and higher, not forgetting London's own Tower Bridge contribution to this game as an early example of a steel framed cladded building. It can be said Tower Bridge showed the way ahead for many new and tall structures across the pond, including the Chrysler and Empire State Buildings.
Further different techniques brought about the original World Trade Centre including lighter materials and how the floors themselves were constructed – made both stronger and even lighter. Many others followed such as the Sears Tower, the Petronas Towers and of course within the past decade the excellent Burj Khalifa. In London we've had Tower 42, One Canada Square and the Shard as the main contenders. Twentytwo is simply part of this ongoing series and no doubt at some future point it too, like all the present tallest structures, shall no doubt be totally surpassed by further new materials and methods of construction.
AXA have announced they're going ahead with 22 Bishopsgate (left) but it lacks the panache of the Pinnacle tower intended for the same site. pic.twitter.com/Fb0BQ9qSIY

— Royal Fine Art (@RoyalFineArt) October 30, 2016

When the plans for the Pinnacle were dropped and those for 22 Bishopsgate emerged, quite a few were aghast that such a building could essentially be allowed. This is in part what I too have concerns about, it doesn't really fit in with the architectural styles of the City's other tall buildings. But there we are, its being built. No doubt it will be one to look up at in awe and enjoy stupendous views of London from.
@SadiqKhan @MayorofLondon
Please step in and stop 22 Bishopsgate. It's gone from stunning to a complete nightmare. It's now just a fat box! pic.twitter.com/UWQy8g67a0

— Liam Houghton (@LiamHoughton) March 4, 2017

I have noticed how Twentytwo has grown and it can be seen from almost anywhere that is clear of tall buildings or trees in Central London. Its massive and most of the photographs in this post show how it currently looks at the time of writing, October/November 2018. When the building is finished it is really going to take up some real sky estate and its an impact we yet have to fully realise. Nearly all of London's tall skyscrapers to date have in a way reduced their impact by tapering or reducing in size towards the topmost part. The Walkie Talkie in Fenchurch Street bucked this trend by being much larger at the top than at the bottom. I haven't got any problems with that because this building's height was not so critical as to overload the London skyline, however this in my view is what Twentytwo is doing. The amount of skyline space that will be grabbed by its bulk is undeniably huge.
Gives an idea of the scale of 22 bishopsgate. Something tells me a few palms were lined to get this chunk of sh*t through planning 😂 pic.twitter.com/7WRDPF51d2

— London Skyline (@a1wayslookingup) December 31, 2016

In terms of being a skyscraper, as well as its gigantic size, Twentytwo is going to be quite different. It is being designed with a more human element, therefore it will be both about work and play. There will be 12,000 workers. Along with Google's and other companies new headquarters, Twentytwo is part of a trend that is seeking to define what it means to work and what a work place should be about. It will essentially be a leisure and play area too for those who will want to visit. There will be shops, malls and an observation platform with the fastest lifts in Europe.
Behold the post-Brexit 22 Bishopsgate, already under construction. My earlier take on why it's so damaging https://t.co/Aw0F9hvL6H v @n1rob pic.twitter.com/KaoDSqQpPu

— Olly Wainwright (@ollywainwright) December 2, 2016

In terms of the building's visual impact, the Guardian newspaper was considerably spot-on in 2015 when its journalist Oliver Wainwright wrote of Twentytwo:
If you can't envisage what the resulting mess would look like, help is at hand – because someone has already designed it. At 22 Bishopsgate, in the heart of the Square Mile, a gargantuan office building has been proposed that will utterly dwarf all that has gone before, trumping every property developer's wildest dreams. More than twice the size of the City's biggest towers, it will contain 32 acres of floorspace heaped in an 80m-wide hulk, rising to just below the height of the Shard. Butting right into the middle of London's skyline, it will be inescapable from every angle, an urban cliff-face that will change the capital's profile forever. And this £1.5bn project is likely to be built by 2018, before you even knew it was happening. Source.
Its quite breathtaking to read that the building's progenitors claim their new structure will be 'quiet' and 'not too flamboyant!' As Wainwright points out, Twentytwo is going to smother the entire skyline and blot out most of London's other iconic skyscrapers. The Gherkin will be obscured, the Cheesegrater and others will too, we are told of Twentytwo that "The building makes the Cheesegrater look like a fun-size wedge of parmesan, the Gherkin like a bonsai pickle."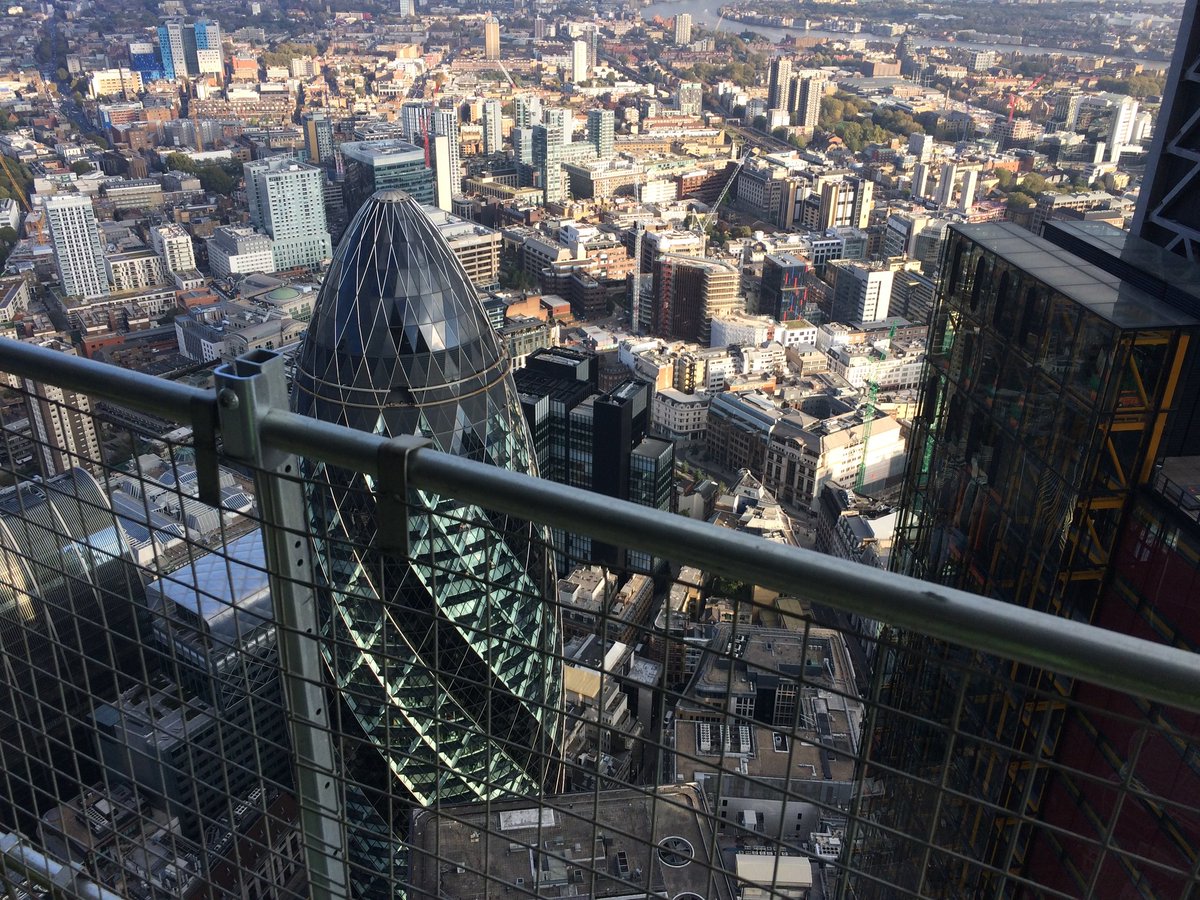 That 'bonsai pickle!' The Gherkin, once a tall tower is now quite diminutive as Twentytwo progresses upwards. October 2018. Source: Twitter
Twentytwo was originally intended to be the Pinnacle Tower, at a height of 288 metres – a design that was much liked by many because of its graceful curves. Work began on that tower in 2008 but was soon halted with just a few floors having been built. That partially built structure became known as The Stump. It is said the project had been too expensive. Some of the curved glass sections costed as much as £1 million apiece! No wonder the building's investors got nervous! The site was eventually sold and new plans drawn up for a new structure with a height of 278 metres at 22 Bishopsgate. Work began in 2015 first of all demolishing what had been built of the abortive Pinnacle.


The site was originally intended for the Pinnacle Tower, just the first few floors were partially built! Source: Skyscraper City.
The final plans for Twentytwo have been modified slightly. In response to the criticism about its huge size invading the City's skyline, four floors have been lopped from the top of the building. Its not really much of a concession given that entire bulk of the building still remains considerable.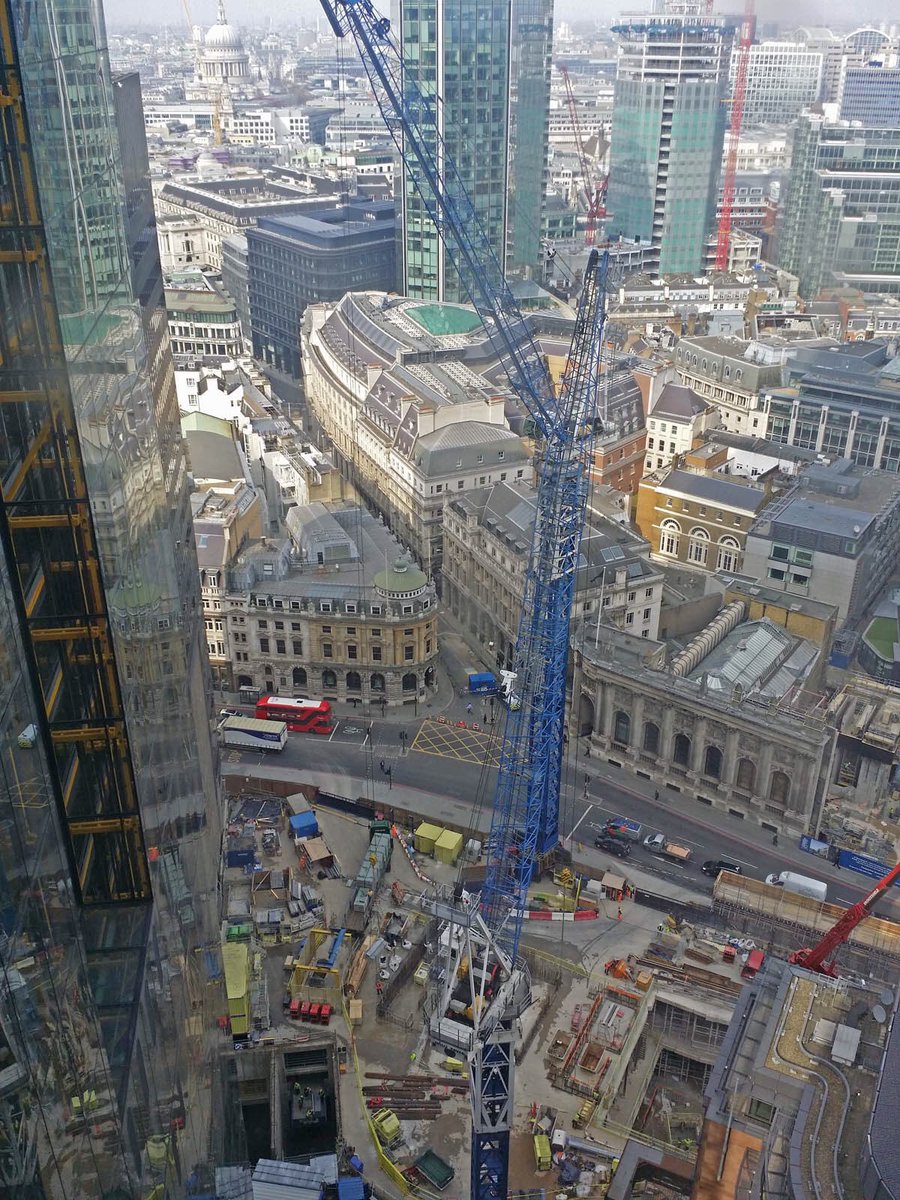 The beginnings of Twentytwo in late 2016. Source: Twitter


Photo of mine showing the early stages of Twentytwo, June 2017.
One certainty about Twentytwo is it has quite honest intentions. As well as being a right in your face sort of building, it wants to have the best viewpoint of any tower in London. Let's face it, London has always been a bit of a cheat when it comes to extolling the height of its observation viewpoints and Twentytwo will be putting this right. For example the Post Office Tower (1965) was touted as the tallest building in Great Britain thus giving the impression it also had the tallest observation platform in the country. Actually the famous restaurant was at 520 feet, whilst the lower of the three observation decks I think were (if my memory serves me right) was at a height of 484 feet, however these barely beat the total height of Blackpool's famous Tower, built in 1894 and reaching a height of 518 feet. The topmost observation deck (now out of use) at Blackpool was most certainly higher than those public galleries at the Post Office Tower! If one really wanted to be sure of beating Blackpool's total height the option available back in 1965 was to use the not quite so public Post Office Tower's cocktail bar, located on the next floor up from the famous revolving restaurant.


The penultimate day at the old Woolwich ferry – and yes Twentytwo can be seen! Its to the right of Canary Wharf's HSBC/Barclay towers.
Similarly people bang on about the Shard being so high but its essentially a swizzle. The top most bit of the Shard is no less than a decorative piece of architecture with no floors in it, therefore the observation deck doesn't go that far up. This deck's height of 244 metres/801 feet is essentially quite low compared for example to Emley Moor tower in Yorkshire. That tower is considerably over a thousand feet in height. Its control room, essentially an observation deck too, is at 900 feet (274 m) and though its not a public facility it very easily beats the Shard's own attempt. See this You Tube video for the fantastic views from the observation deck at Emley Moor. The most surprising element in all this is the majestic Emley Moor tower was built almost fifty years ago! It is only now we are seeing buildings (Twentytwo being the first) which beats the Yorkshire tower's impressive record – and only just!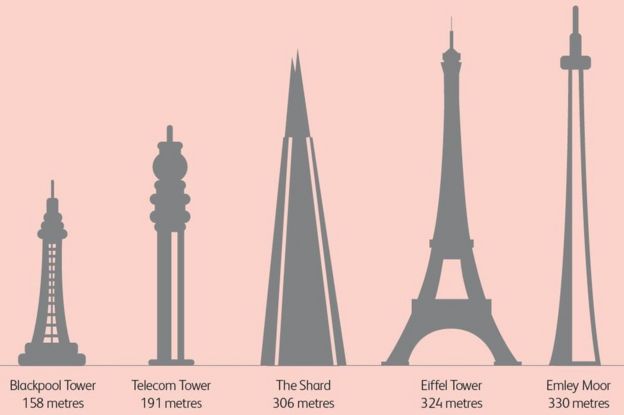 Diagram showing how the UK's towers (and the Eiffel too) lag behind Emley Moor! Source: BBC
(Note: I am using this diagram merely to illustrate heights of the various buildings. This is in relation to a comment that was directed at me. I am not condoning the BBC's incorrect use of total heights – however it shows the heights of the various observation points are considerable and that for the Shard is well below that for the Eiffel Tower and Emley Moor – which means in my view people are to all purposes and intents short-changed in terms of the claims towards the Shard of being the tallest in Europe. I mean if one really wants to be up there in terms of height then go to the Eiffel Tower – or one of those special tours to the observation deck at Emley Moor!)
22 Bishopsgate attempts to resolve all this obfuscation of viewpoint heights by providing a proper observation deck which is right at the very top rather than at some intermediate location lower down as in the case of both the BT Tower and the Shard. This in my view is at least is an improvement and that will no doubt add a huge respect to the building and its designers.
There's far more to the building besides observation decks as its designer, Sir Stuart Lipton, tells us:
At Twentytwo, large swathes of the building will be used for activities other than office space, all of which will be aimed at improving the health and wellbeing of the 12,000 people who will soon occupy it. The tower will feature a fresh-food market, an innovation hub, a gym and spa, and a curated 'art walk' in its lobby. It has been claimed that the skyscraper will be the first of its kind in Britain to contain more than 100,000 sq ft of space designed for alternative activities to traditional office-working. Lipton believes that great design requires one to shift the focus from the architect's vision of how a building could look to the user's desire of how a space should work. Source.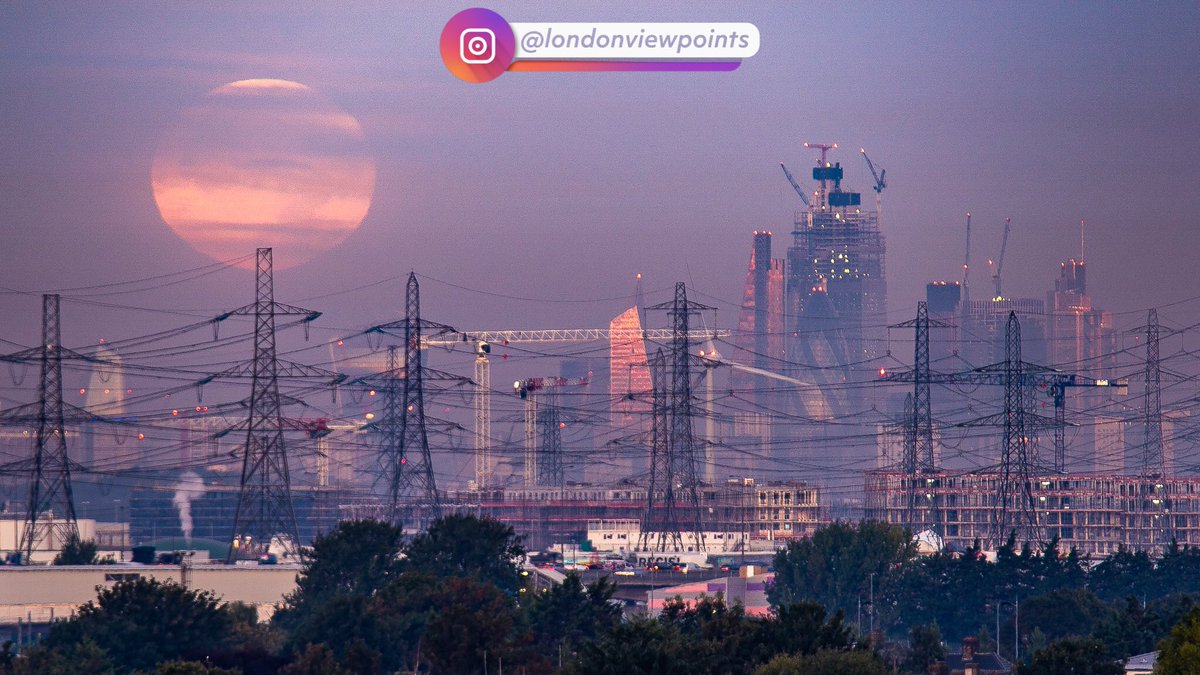 Even from Rainham (Essex) 22 Bishopsgate commands a huge presence. Source: Twitter
Twentytwo will be the City's tallest for a while as well as the second tallest in the EU, the Shard taking first place. But where will it actually stand when one considers New York, Chicago, Dubai, Kuala Lumpur and many other cities? There isn't an official list that places Twentytwo among the various contenders, however it seems it'll be in about 210th place or thereabouts in the world-wide listings. The Shard doesnt even make the top 100 so despite London gaining an impressive skyline, its a bit like the UK's mountains, these buildings are quite impressive but among some of the smallest throughout the entire globe…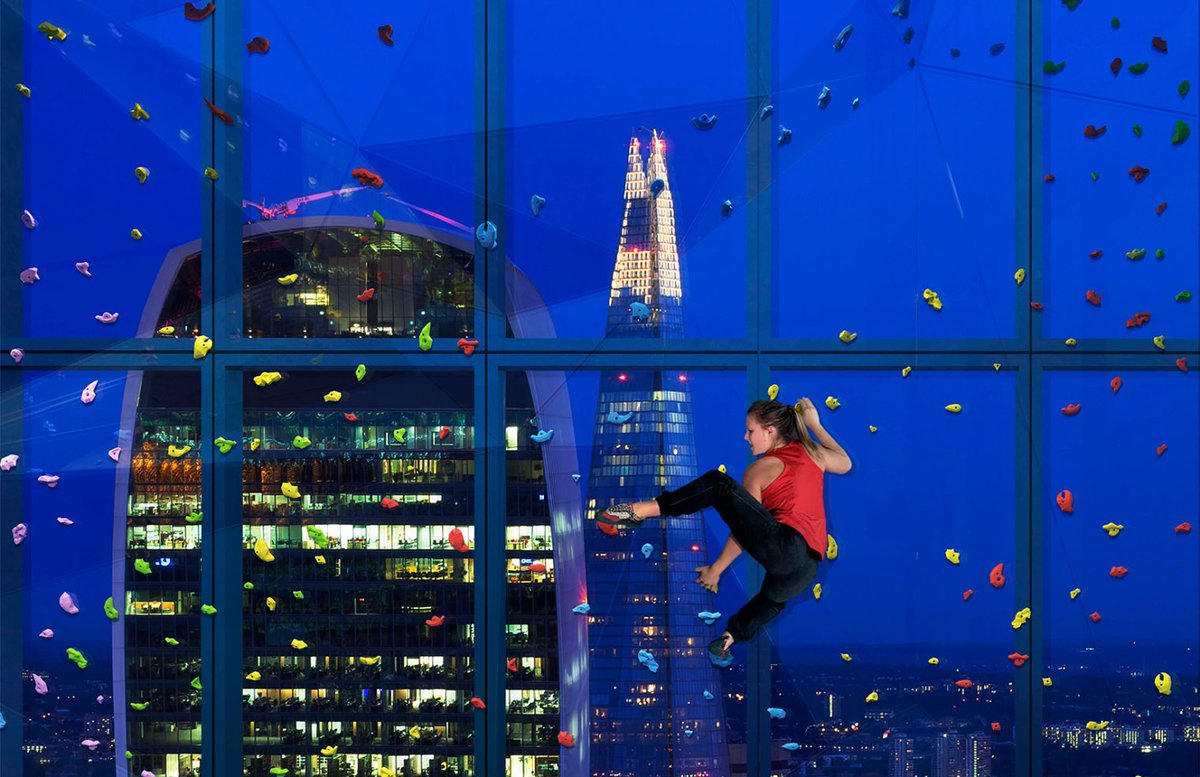 The climbing glass wall at Twentytwo. Source: Twitter
The new building is even going to have a glass climbing wall about halfway up. People will be able to gain a sense of what it is like to climb the outside of the building even though they are actually inside! It will have a food market on the second floor which is open to anyone as well as several art galleries or lobbies. There will be gyms, parking space for 1,500 bikes, a different way using the building, and there will be facial recognition etc (for example the lifts.) The developers are trying to give Twentytwo a different ken compared to the usual skyscraper. As mentioned its going to have a public viewing gallery right at the very top and what's more, this is going to be free! That'll be complemented by the fastest lifts in Europe, these will be known as 'SkyRise carriages' which are also double deck lifts too.


Article on Twentytwo's lifts from the London Standard last week.
The lifts will be some of the first to have the facility to be called up by apps on staff mobiles so in theory a lift will be waiting at its floor for the person who called it up. I've been up the Telecom Tower a few times, Tower 42 once (I once arranged a tour for a small group) and what is being offered at Twentytwo is clearly going to be very different. I have never been been up the Shard or the Walkie Talkie, but essentially I dont need an introduction to these as I have watched the many videos on You Tube (including the Shangri la hotel and its famous swimming pool) so I don't think I have missed much! Of course Twentytwo wont have a hotel or a pool, but its still going to be a game changer in spite of its enormous size. I think it will have even more of an impact than the Shard. The fact its viewing platforms will be free will be a huge magnet for the public who wish to extol in the fantastic views of London. No-one will want to go up the Shard anymore!


All railway lines lead to Twentytwo! The building as seen from Metropolitan Junction on the Blackfriars/Charing Cross lines.
It is perhaps quite fitting Twentytwo is in the City, as this has always traditionally been the location in London where the tall buildings have been – from the Monument to St Paul's and the many church spires. This changed only somewhat in the thirties when both Senate House and 55 Broadway were built, but more so in the sixties when the Empress State, Millbank and the Post Office Tower became the first really tall structures well away from the City.
22 Bishopsgate could be the first building in the UK to use lifts to evacuate people in case of fire https://t.co/v11m96FzHV #innovation #WSPproject pic.twitter.com/lBWVoJBFfc

— WSP (@wsp) July 26, 2018

Twentytwo is going to be the first building in Europe where people can be evacuated by the lifts in case of an emergency. There's a full explanatory document which details how the lifts will be used when there is an emergency, for example a fire, and the building needs to be evacuated.
Twentytwo is simply a taste of what's to come – should the human race not suffer some terrible mishap! Eventually buildings will be sooo tall (the limit will depend on the materials and strengths that can be offered.) Some buildings could even be linked to space, what I mean by that is these may be the first steps from the ground upwards for a foray into space by way of space elevators. Take a normal high speed elevator to the top and then a space elevator onwards to a space port or whatever that may be at the end of that particular run. If we are lucky perhaps in twenty five years or so London will have some super facility that also doubles as the first step to a space port!


Images that show the finished building close up are few. One of the examples I could find was from Twitter.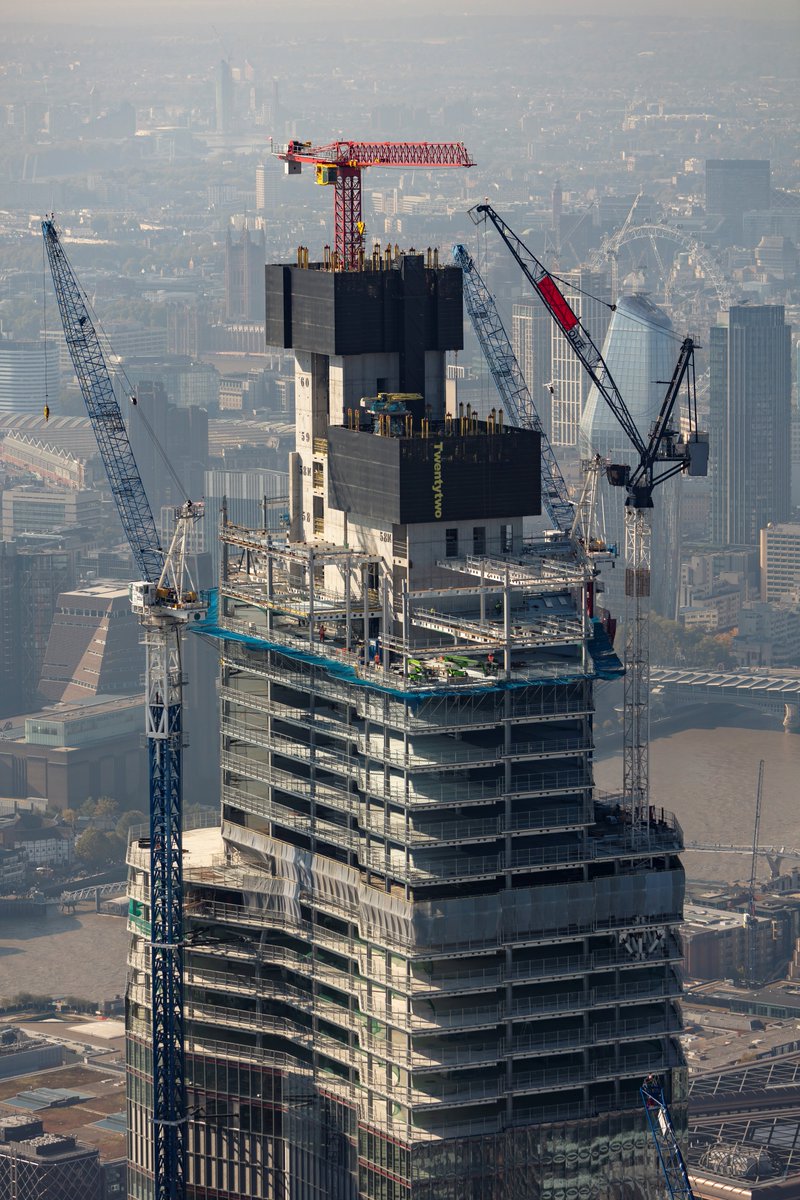 The unfinished tower with the Tate, Waterloo station, Parliament, Westminster cathedral and London Eye in the background. Source: Twitter.
In terms of Twentytwo and its relationship to dimunitive St. Helens church, one of its important messages from the church was that all about seeing the light. With Twentytwo up there, obviously it means even less light that's visible! As I have mentioned in my other posts I'm certain St. Helens church wishes it had invoked the ancient lights law. This still stands as long as one has a sign on the side of the building declaring it a zone free of obstruction to any light and that this sign had been put up at least twenty years before the Bishopsgate structure had been mooted – ironically at the time the law was first introduced no-one ever envisaged buildings attaining the height they now do.
In fact many people were suitably concerned at just how much Twentytwo would be removing from areas of the City in terms of light. A huge number of objections were lodged. The City of London, in an unusual move, intervened to protect Twentytwo from possible litigation brought about by those who objected to the loss of light. See this legal document from the City itself and this report from the Construction Enquirer. Quite surprisingly the City somehow seems to think the building doesn't severely compromise the St. Helens conservation area as this report shows. In fact the City's committee members wanted Twentytwo's observation deck to be higher!


Let there be less and less light. The diminutive St. Helens church, dwarfed by a partially built Twentytwo.
I think in terms of the many skyscrapers that crowd into the small area between Bishopsgate and Fenchurch Street, the definition of conservation doesn't really apply so much. I once worked in a planning department and have always retained an interest in planning and conservation. Alas I think conservation in this particular concept is one which no longer applies to this part of the City. Yes St. Helens, St Andrew's, St. Katharine's, Bevis Marks and a number of other historic buildings exist in this small envelope of land however their historic setting has been irrevocably altered and I seriously think in terms of modernity – the skyscrapers themselves and the need to conserve these historic structures it seems 'conservation' needs to be perhaps combined with another word, or replaced, perhaps this being complementary. By that I mean the historic buildings and the skyscrapers complement each other however that relationship is fluid, its ever changing. Its all about listed buildings and the ultra fast pace of modernity, and how the different elements can be made to work together without severely compromising the area's history. Perhaps zoning the different areas will help to define the roles of each building and properly illustrate how a revamped sense of conservation could work in these new and quite difficult circumstances.
The huge 22 Bishopsgate dominates the view from the Barbican Estate
.#archi #architektur #architects #architect #architecturaldetails #archilovers #architectural #architecturephotography #architecture #construction #buildingsite #skyscraper #skyscrapers… https://t.co/XwYP4bpJtm pic.twitter.com/6ZvnuaCBkU

— Neil (@NPPhotographer) September 12, 2018

Twentytwo seen from the Round Pond near Kensington Palace.
Hyde Park and Kensington Gardens are places from where one can see most of the tall buildings. The BT (Telecom) Tower barely makes it over the parks' tree tops. Yet much of the Shard, by decree of its location, can be seen from the Albert memorial. Even in some areas of the parks the London Eye itself makes an appearance. Twentytwo is no doubt the biggest of the lot and its taking a big slice of a viewpoint as seen from the Royal Parks.


The City's new tower seen from Waterloo bridge. The image below shows how the completed view will look…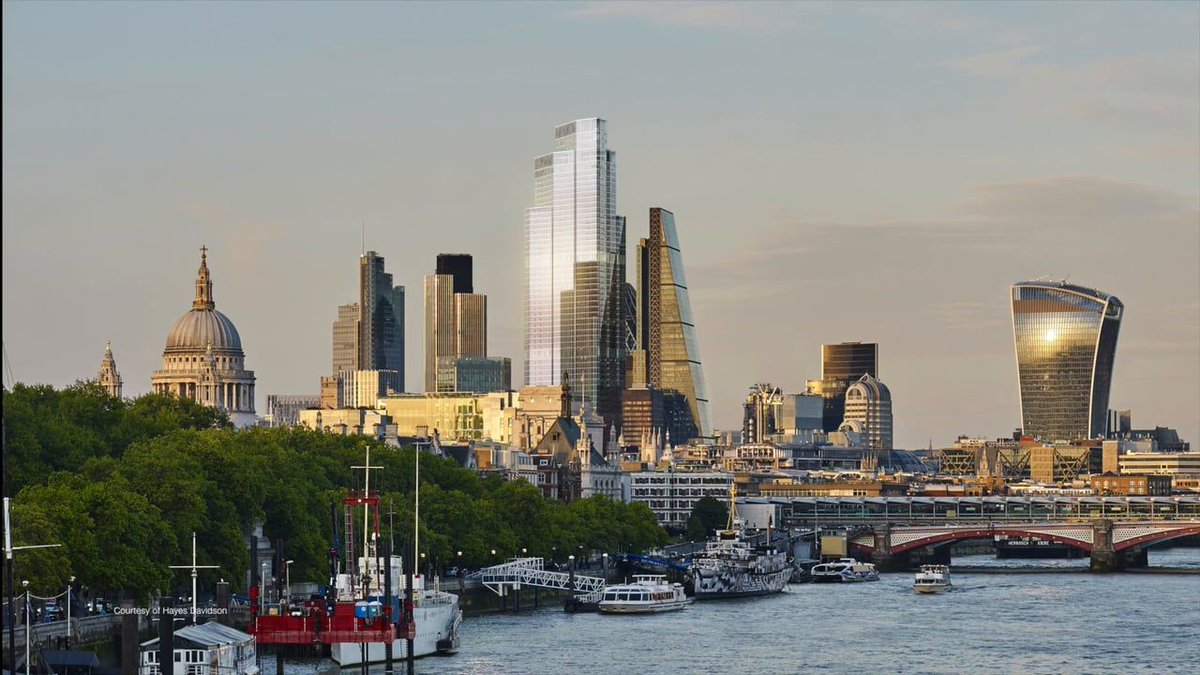 Architect's depiction of the finished tower. This is actually an old image as The Scalpel (aka 52 Lime Street) isn't depicted. Source: Twitter
What are the downsides of Twentytwo? Its clear with buildings like this St. Paul's is no longer the sacred ocean it once was. Although there are protected sightliness which we know have already been compromised. I think these will be reduced even more. St. Paul's itself is in a game of chess. It is the Queen herself. There isn't a King so to say, he was dragged down to Whitehall where he lost his head! The City's church spires are the pawns, however some are more important and are Bishops or Rooks (we've got one BIG Rook, aka The Tower of London, but even that is under threat) and what is happening is the skyscrapers which are part of a new and different game of chess, in fact what we can call Hyper-Rooks and Bishops, are taking all the Rooks, Bishops and pawns down one by one. The Queen is the apple in their eye, but she will go too, she will be their victim.
We might be looking at the City's skyline, admiring it and saying isn't technology and modern construction fantastic? We should be proud that, as humans, we can achieve these sort of things. But let's take a parable from Macbeth and sort of jiggle it about. "Macbeth shall never be vanquished be until Great Birnam wood to high Dunsinane hill shall come against him."


The new kid on the block getting bigger and bigger. Even Tower 42 is but a pale imitation of itself….
Instead of the evil Macbeth it'll be the good St. Paul's and Dunsinane hill the promontory upon which St Pauls stands. Great Birnam wood being the skyscrapers all around. Its not a wood in that sense but we can paraphrase. Its getting taller, more dense, more powerful. Its also getting closer. We can see the woods as a powerful good that are slowly growing and turning to what can only be constituted an evil of sorts. Eventually the good St. Paul's will have to cower, maybe loose her crown or even fall from majesty.
The question is, okay, how much of these skyscrapers do we want? In the context of a new city, such as Dubai or elsewhere, its not a problem. Upwards and outwards is the game there, there is no history to speak of. Yes we have lost quite a bit of history in London, but we still have St. Paul's as the biggest and most visible historical element of the lot. These new towers are no doubt going to spoil the views of St. Paul's very badly. Its going to be quite a jiggling game and possibly new and stronger legislation will have to be introduced to protect the remaining sightlines as well as the area around St. Paul's itself which at the moment, is still quite thankfully free of these intrusions. I suspect this situation wont last much longer unless we take action, and I mean seriously.