This past week it has been a special anniversary in terms of the Beatles. Whilst not an exact jubilee anniversary, its certainly 51 years since the Fab Four visited the iconic studios for the very first time ever.
The famous shop has on display a series of pictures with reminiscences from noted musicians about the studios. Here are some of the pictures which were put up to celebrate this particular occasion. It wasn't easy to get top notch pictures of these due to the shop's lights, so these are the best I could manage.
There are at least eleven of these pictures placed about the Abbey Road shop. I chose five for this post.


Abbey Road reminiscence from Sir Paul McCartney


Abbey Road reminiscence from Florence Welch


Abbey Road reminiscence from Nile Rodgers


Abbey Road reminiscence from Ella Eyre


Abbey Road reminiscence from Sir George Martin
The Beatles visited the studios on 6 June 1962 for the first time to be auditioned by George Martin. As Abbey Road studios says, this is 'where it all happened.' Certainly that day was when EMI, somewhat hesitatingly, decided to take on the Beatles and promote their music under the Parlophone label. It was a risk that soon proved to be one of the best investments ever made for a pop/rock band.


Abbey Road Studios – Where it all happened!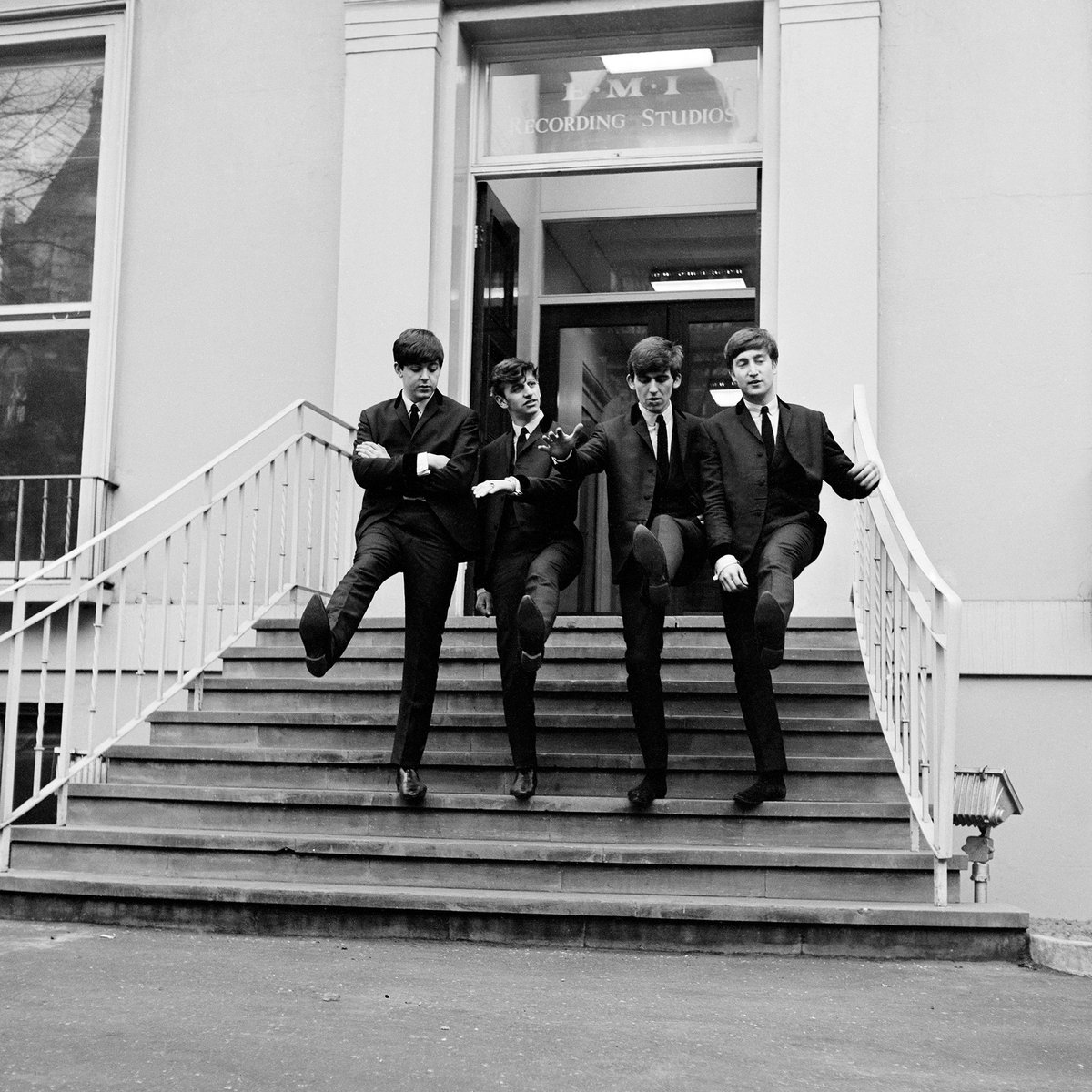 Abbey Road Studios tweeted this picture on 6th June 2018. Its clear this is exactly the same moment as that shown on the one exhibited in the shop! Even though it was a different photographer it was somewhat unusual to capture exactly the same moment as the other. 1962 wasn't the age of digital cameras where dozens of frames per second could be taken! Professionals of that day and age would have used cameras such as the Nikon F with a capability of three or four frames per second, as much as some the lower end digital SLRs found today. These days this is actually a quite slow capture rate!
The other question is, when was the above photograph actually taken? Looking at other records, even tweets, its clear the visit on 6th June 1962 consisted of three of the Fab Four plus Pete Best. Apparently Ringo Starr hadn't yet joined the band. Other sources claim Ringo Starr had already joined and duly post pictures showing him at the said session on 6th June1962. At first hand it looks a bit of a mystery however the picture below shows Best was clearly in attendance.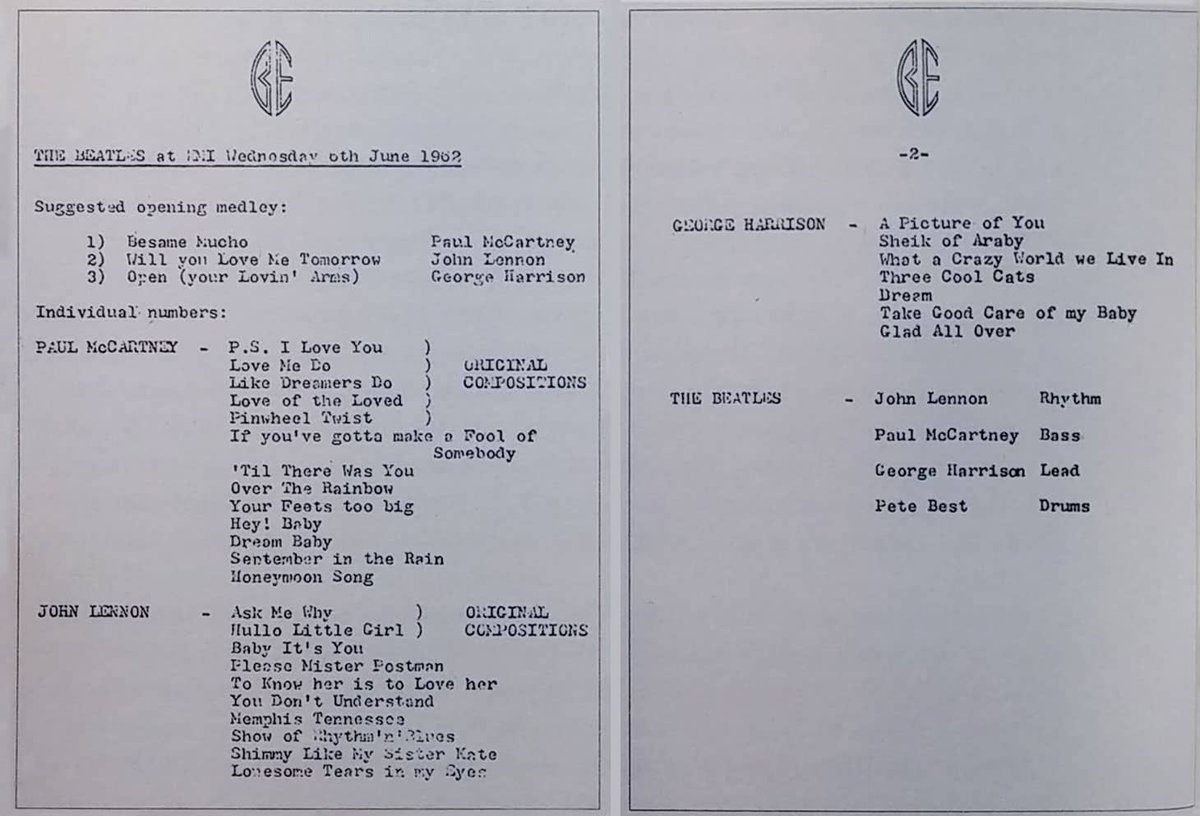 EMI Abbey Road playlist 6 June 1962 – showing Lennon, McCartney, Harrison and Best. Source: Beatles Bible
It is clear the pictures of the Beatles on the steps of Abbey Road studios was not taken on 6th June 1962. Some sources claim it was taken that day by photographer Dezo Hoffman. A simple search revealed it had actually been taken on 3rd March 1963. The photographer was John Dove. The full proof can be seen in this series of photographs shown here. Another page on this subject can be seen here.
Let's clear the Pete Best/Ringo Starr inconsistency up for once and all. Wikipedia at least seems reliable and tells us it was certainly Pete Best on that day in 1962. Wiki adds that George Martin thought Best was a poor drummer and advised the Beatles their drummer be replaced. Wiki says Ringo Starr joined the band sometime in August 1962. From other sources (such as here) it is said Pete Best left the band on 16th August and Ringo Starr immediately joined afterwards, playing his first ever session on 18th August at Port Sunlight gig.
One thing that certainly surprised me during this research to settle the Best/Starr irregularity was just how much George Martin was prepared to pay the Beatles in June 1962. The rate was just one farthing for each record sold (blimey!) I know its 2018 and farthings have since long gone from the British consciousness, but even so in those days a farthing would have been near worthless. Very fortunately the Beatles' popularity was at the time almost about to begin upon an exponential curve – within half a year or so everyone would be wanting their records and the Beatles became the most popular band ever. And just one word comes to mind – Beatlemania!